By Reid Nakamura
The vibrant neighborhood of Boyle Heights bursted in piñatas and festive flair over the weekend with music, laughter, and an undeniable feeling of community at the second annual Sabor de Mi Centro celebration. The Pride-themed block party, organized by the Los Angeles LGBT Center in partnership with the Latino Equality Alliance, aimed to empower and uplift the LGBTQ+ Latine community (clients and providers) in Boyle Heights and Southeast LA.
Mi Centro, a community center and safe haven for LGBTQ+ people and their allies in East Los Angeles, provides crucial programs and services to the surrounding community. For the second year in a row, Mi Centro welcomed a diverse crowd of community members, allies, and supporters for a day of celebration at the Sabor de Mi Centro block party.
"Mi Centro is the Eastside's dedicated space to hold community, provide immigration support, and offer culturally competent, LGBTQ-specific services for the whole family. Our clients face mounting challenges from rollbacks on healthcare, education equity and basic civil rights," said Caín Andrade, Mi Centro's Program Manager. "This event showcases the resiliency and power of our communities and shines as a lifeline partnership with the Latino Equality Alliance."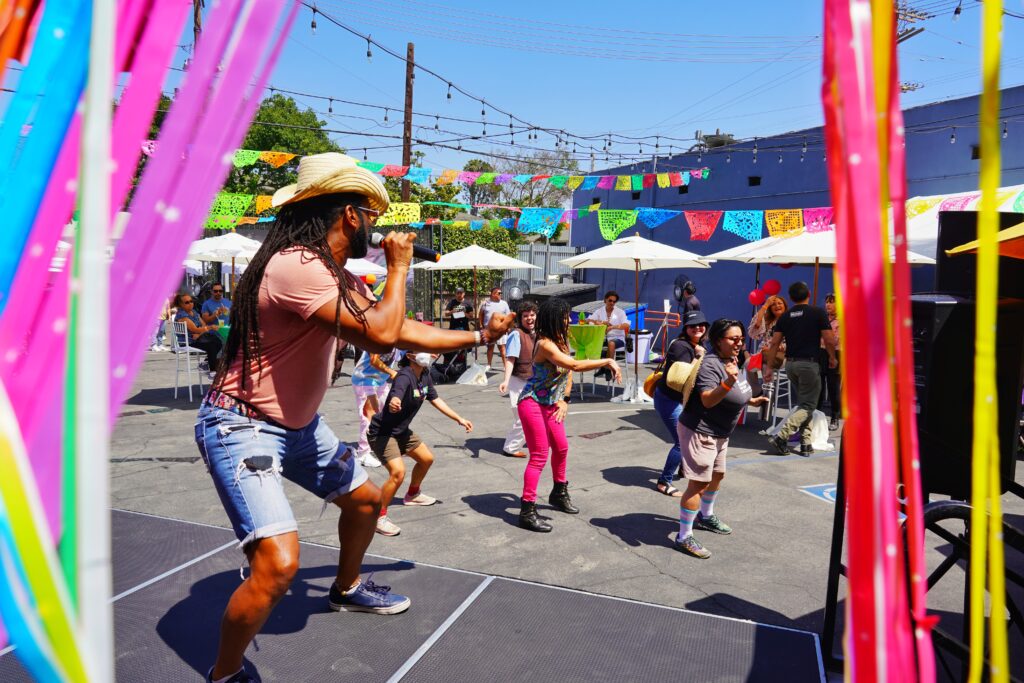 The stage came alive throughout the day with the enchanting performances by drag artists Crystal Angelina, Fresas Con Crema and Bibi Discoteca, as well as Paloma, Cheer LA, and other local performers. Attendees could also get connected to services such as mental health support, legal assistance, and HIV testing, ensuring their overall well-being and promoting a healthy community.
Throughout the afternoon, the air was filled with color and excitement as raffle prizes were awarded and Rainbow Painted Smiles provided colorful face paintings that turned participants into living works of art. An R&B line dancing session led by E. Talley brought the crowd to their feet.
Since opening in 2015, Mi Centro has become a vital lifeline, especially among Spanish-speaking Angelenos. When the COVID-19 pandemic hit in 2020, it slowed some of Mi Centro's hard-earned momentum. Sabor de Mi Centro's programming is part of the community site's reintroduction to familiar faces and new ones alike.
Sabor de Mi Centro is a completely free event, highlighting the unity, empowerment, pride of the LGBTQ+ Latine community. This year's celebration came to a close, but Mi Centro's doors are open year round, providing an inclusive empowering space for the Boyle Heights and Southeast LA community. Mi Centro is located at 553 S Clarence St, Los Angeles, CA 90033 and reachable at (323) 286-7224 to set up an appointment or drop-in.