Every year, AIDS/LifeCycle brings together individuals from all walks of life, united by a common purpose: to combat the HIV and AIDS epidemic and raise funds for vital support services. A seven-day cycling journey from San Francisco to Los Angeles, AIDS/LifeCycle has grown from a few hundred participants in 1994 to thousands each year, raising millions of dollars for the San Francisco AIDS Foundation and the Los Angeles LGBT Center.
As riders bike the 545 miles down the coast of California each June, they carry the memory of loved ones lost, hope for a brighter future where HIV and AIDS are a thing of the past, and the spirit of a vast community united in pursuit of a common goal. Here, three riders share why they ride, from a first-time participant to someone who's been there from the very beginning.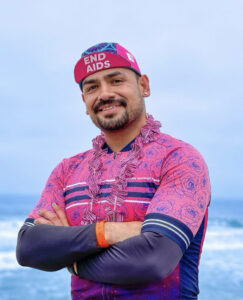 Carlos Briones
AIDS/LifeCycle is so much more than a bike ride or a fundraiser—its participants have come to see it as a family reunion. That's exactly what drew Carlos Briones to the ride this year—after years of social distancing, he needed to dust off the cobwebs of his social life, meet new people, and be in community. Weekly rides and meetings with his ALC group, The Trudging Buddies, helped Carlos forge new bonds and hold space for conversations about his own journey.
After immigrating to Los Angeles from Mexico at 19, Carlos accessed services at the Center, where he was diagnosed with HIV. "I knew nothing about it. In fact, I used to have really bad judgment towards people who were living with HIV," he says. "But then, I got my medication and attended support groups. If I would have known that this kind of love and community existed when I was first diagnosed, I wouldn't have been so scared."
Carlos is riding to support the life-affirming services of the Center and the Foundation, and to pay respect to those we've lost along the way to HIV/AIDS. "I think of them every time I train," he says. "I'm no longer embarrassed to say I'm living with HIV. It's important for Latinos like me to break the stigma."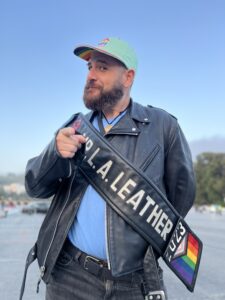 Colin MacDougall
"I've wanted to do this ride for 10 years," says Colin MacDougall, the reigning Mr. Los Angeles Leather champion and a first-time AIDS/LifeCycle participant this year. Growing up in Arkansas, MacDougall was kicked out of his home for being gay when he was 15. "The last thing my mom said to me was that I'd die of AIDS," he says. The memory stuck with him for years as he navigated life as a young gay man. "I was terrified of even touching people."
It was becoming part of the leather community and learning more about LGBTQ+ history that would go on to help open MacDougall's mind. "The leather community was hit massively hard by AIDS epidemic," MacDougall says. "There are entire swaths of our history that are gone."
MacDougall views it as his responsibility and the responsibility of the community as a whole to carry on the memory and traditions of those who came before. The jacket he wore during the ride from San Francisco to Los Angeles was given to him as a gift by someone who passed. "Growing up and seeing the evolution of HIV/AIDS makes me want to do my part to help find a cure," he says.
Marki Knox
Dr. Marki Knox, a Los Angeles-based obstetrician-gynecologist, has participated in every AIDS/LifeCycle since the Ride's inception in 1994. "I lost everyone to AIDS," she says. "I did the first ride in '94 because all my friends were dead and this was a way to do something in light of that."
The first Ride had fewer than 500 participants, and "we all thought we were going to die," Knox says. "But it was immediately—immediately—a community. It was just unbelievable. We all came back sort of in a daze about what we had just experienced as a group."
These days, Knox participates in the Ride as a medic, offering support to the now thousands of participants who come together every year. ("We treat a lot of butts," she jokes.) She continues to participate year after year because even as the Ride has grown, the feeling of community has remained.
It is also a way for Knox to grieve and carry on the memory of the people she lost. "Ricky was my best friend. He was the person who gave me safe haven when I was a teenager and coming out. He showed me the road, taught me how to do drag," she says. "I do the ride for Ricky and John and Terry and on and on and on."
Ready to meet the cyclists behind this year's tour de force? ALC rides into Santa Monica on June 10th, where a Finish Line Festival with food trucks, music, and fun awaits. Join us on Lot 4 on Santa Monica Beach– you can't miss it!