By Reid Nakamura
With an estimated 1,700 attendees across two days and a three-hour Trans Town Hall in the Renberg Theatre featuring some of the biggest transgender figures in sports, politics, media, and entertainment, Trans Pride LA returned this year with its biggest event yet.
The two-day festivities shut down McCadden with food stands, market and resource vendors, live entertainment, and more attendees than Trans Pride LA has ever seen. But organizer Gina Bigham, who has spearheaded Trans Pride LA for more than a decade, says the original grassroots spirit of Trans Pride hasn't changed. She likens the annual gathering to Old Home Week in the Northeast. "We're always seeing people who have come through our groups and programs over the years," she says. "So I've seen a lot of these people blossom over the last 12 years."
Bigham was surprised on stage at the Trans Town Hall with a staff award presentation by Rep. Zooey Zephyr and a special commendation by Los Angeles City Councilmember Hugo Soto-Martinez. In her speech, she remarked on how much Trans Pride has grown since she first came on board. "The first year of Trans Pride, we were barely a blip on the radar," she said. "But look at us now. We are immense, and we are abundant."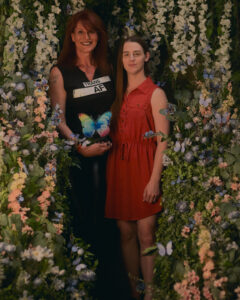 Below, Bigham reflects on 12 years of highlights from Trans Pride and looks ahead toward even bigger things to come:
What was the feeling when they surprised you with that award on stage?
It was surreal. One of the people I was most looking forward to meeting was Rep. Zooey Zephyr. When I heard Raquel say my names, it was like, That doesn't sound just like a regular introduction. I walked out there and she said, "We have something for you." Then I turn around and here comes Zooey Zephyr with this proclamation, and I was like, "You have got to be kidding me." It was magical. It really was.
How long have you been involved with Trans Pride LA?
Well, Trans Pride has been around since 1999. At the time, it was called Trans Unity Pride, and it was a much smaller—very, very small—event. I came on board in 2012. I had just started at the Center, so I felt like this was a good opportunity to try and get my face out there and help out, because I was only working part time. We came up with the idea to reimagine the event, officially changing the name to Trans Pride LA and making it a two-day affair, as opposed to just one afternoon. At the time, we got a lot of help from the Cultural Arts department. [Then-Artistic Director] John Imperato and Ruben Romo, who was head of our Learning Curve program back then, spearheaded the idea of incorporating the Big Queer Convo into Trans Pride on Friday nights in the Renburg. And then Saturday, we did the festival in the Village courtyard. We had the idea to bring on people of note, but at the time our visibility was not quite as robust as it is now, so there just weren't that many big names. That first year we had Kate Bornstein, the famous author, and Kate was good friends with Mara Keisling, the founder and executive director of the National Center for Trans Equality in D.C. We flew them both out, put them up in a hotel, and they did the Big Queer Convo. And that was kind of the new beginning of everything in 2012. And we just took off from there.
What's it been like to see the event grow year after year?
Well, it's more work, for one. But it's just so gratifying to see because when I came on board, we had a $3,000 budget, and this was a much smaller organization at the time. It was quite a challenge for us. So, to see it go from this tiny little event that we did in a couple of rooms to now, where we're estimating around 1,700 people over two days—closing the street, taking over the campus, and seeing the support of the rest of the Center—has just been unbelievable. This was the first time in 12 years that I have seen it be as packed as it was. The Renberg is always full for the Big Queer Convo, but I've never seen both the theatre and overflow packed like it was for the Trans Town Hall, with even more people milling about in the courtyard.
What do you think it was about the Trans Town Hall that got people so excited to come out?
I think just the array of names. For me, it was Zooey. When we were coming up with potential names, she was top of my list. For me, the goal with Big Queer Convo was always to inspire people. I want our people in the audience to sit there and say, "I could be that person." I could be the next Zooey Zephyr. Or Raquel Willis. Or Chase Strangio. It's like, "Yeah, why not? Why can't I do whatever I want?" So I think that had a lot to do with it, just the star power of it. But I also think we've put a lot of effort into fostering a community space. So people know that Trans Pride LA will always be free, and it will have that grassroots feel of a community event. Even though our event was polished and beautiful and amazing, it still has that grassroots feel because of the accessibility. And that accessibility shows itself in the joy that people have here. They know that they're going to be safe, they know they're going to be welcomed, and they know they're going to be comfortable in the surroundings.
Do you have any favorite memories from Trans Pride over the years?
In 2015, when we were doing the VarieTy Show, we had Alexandra Billings from Transparent. She did a version of the song "Creep" that will blow your mind. When she was on stage, she said, "I've been a performer and actress for over 20 years. And this is the first time that I, as a trans performer, have performed for a trans audience." And then she gave just the most moving and powerful performance. I had three people come up to me after who said they had to leave because they were ugly crying so hard. They were just so moved by the performance and by the words and everything she said.
Trans Pride is sort of like Old Home Week, because we're always seeing people who have come through our groups and programs over the years. So I've seen a lot of these people blossom over the last 12 years. When I first started, I talked them into letting me do a trans-specific Facebook page, and I got a message one day from someone saying, "I want to come to a group tonight, but I'm really scared." And I was leading the group, so I messaged back saying, "If you want to come, I'll meet you out front and walk you in, and you can sit next to me. I got you. I got you." So they came to the group and had a great time, but then I didn't see them again. Fast forward a few years, and this person comes up to me at Trans Pride and says, "Do you remember me? Coming to that group changed everything for me. I'm in school, I have my own apartment. I just had top surgery." And someone captured a photo of him telling me this. I've got my hands on my heart, and just by my face, you can tell how much that moment meant. I still have that photo on my wall. I have it at home. It's just one of the all-time highlights. And this year, he cornered me again. He was like, "Well, do you remember me now?" Now he's working for UCLA and thriving. So that was a huge highlight this year, just seeing all those folks who came through our doors and now out there living authentically and just being their best selves.
What excites you most about the future of Trans Pride?
I think the sky's the limit. I think I'm most excited about the continued growth, because the community is growing—and growing in so many different ways. Eventually, I think we're going to come to a point where we're gonna need to rebrand it again, because trans is just part of this beautiful gender expansive umbrella. There's so many facets to it now, and trans is just a little part of it.
You know, I've had 12 goes around the block with this event, and this year, I really felt like it could use some fresh eyes, a different perspective. Jon and I were able to get this event to the place that it is now, but we wanted more input. We wanted this year to be more of a Center-wide event. And having the events team has been such a game changer. I was talking to Aurelia [Taleb-Ahmed, special events manager], and they were like, "You've laid the foundation for us, you've done the work. You've earned the right to sit back a little bit." Of course, I'm still involved in the decision making and everything, but they were like—and I'm gonna get choked up just thinking about it—they were like, "You've earned a little rest." The team really took the reigns and created all this magic. So I think the sky's the limit.