By Greg Hernandez
AIDS LifeCycle is back with a vengeance with more than $4 million raised so far for the 2022 ride benefitting the HIV/AIDS-related services of the Los Angeles LGBT Center and of the San Francisco AIDS Foundation.
The COVID-19 pandemic had forced the 2020 and 2021 in-person rides to be cancelled but the world's largest single event HIV/AIDS fundraiser is set to make its return this year June 5–11.
While fundraising is off to a blistering start, there are still plenty of volunteers — known as Roadies — needed to work behind the scenes of the 545-mile bike ride that begins in San Francisco and makes its way down to Los Angeles over the seven days.
"If you're the kind of person who thrives from helping others and working towards a positive goal, then there is nothing better than this," says Terry Asten Bennett, who volunteers as a bus liaison captain. "We've got people who are going out there marking the roads, people setting up the camp each day, a complete medical team, route teams, food teams. It's literally everything you would need to create a moving city. You wouldn't believe the number of people that it takes!"

It takes approximately 650 volunteers to successfully move the event down the coast each day with overnight stops in Santa Cruz, King City, Paso Robles, Santa Maria, Lompoc, and Ventura. The volunteers are divided into 32 Roadie teams for jobs that vary in skill and physicality.
Wendy Hiller, who spent six years as a volunteer Roadie before joining the AIDS/LifeCycle staff as Roadie Coordinator, shares that it didn't take long for her to become addicted to the experience.
"This is the toughest week you'll ever love," Hiller explains.  "The energy is amazing, something that is super hard to put into words. Being able to support this ride that raises millions of dollars is unparalleled and being part of what we call 'The Love Bubble' is one of the best highs l've ever experienced in my life."
While some Roadie teams are already filled, Hiller says least 25 more volunteers are needed for the medical team including doctors, nurse practitioners, and registered nurses. More people are also needed for the advance set-up, pack-up, bike parking, and food service teams.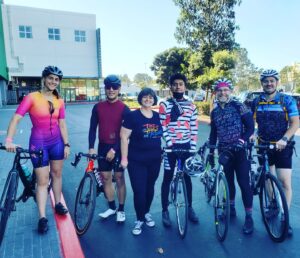 Bennett takes a week off from running her store, Cliff's Variety, in the Castro District to volunteer for very personal reasons. Her family has long owned the store and she was raised in the Castro during the worst years of the AIDS pandemic. A team representing the store (pictured with Bennett) will be taking part in the 2022 ride.
"The week out on AIDS/LifeCycle is the hardest I work all year but it is also the most emotional and fulfilling," she says. "I was raised on the idea that community is important. This is all the best of everything you hope community would be. The love that comes towards you as a Roadie, you get to give back to other people. It's so incredibly emotionally fulfilling."
During the most recent in-person ride in 2019, participants raised more than $16.7 million—the highest fundraising amount in the event's history. While roadies have no fundraising minimum, the community of volunteers typically raises more than $700,000 each year.
To volunteer or to register for the ride go to www.aidslifecycle.org