By Greg Hernandez
Lorri L. Jean and Darrel Cummings don't officially retire from the Los Angeles LGBT Center until July 1, but their decades of leadership were celebrated by more than 400 guests at an often emotional and sometimes funny tribute dinner last weekend.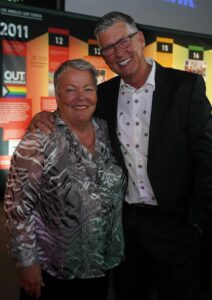 The Legacy Celebration in honor of the Center's longtime Chief Executive Officer and Chief of Staff took place April 9 at the California Science Center's Wallis Annenberg Building and raised more than $700,000 for Center programs and services.
"I truly stand in awe of what they have given to the movement," guest Peter Paige told LGBT News Now at the massive outdoor cocktail party precededing the dinner. "There really aren't words. There are very few people who have guided us with such joy and clarity and purpose over the last three decades in such powerful and important ways."
Paige was among the former and current members of the Center's Board of Directors who joined staff members past and present, longtime donors and other supporters at the event.
High-profile Center supporters Lily Tomlin, Kathy Griffin, Wilson Cruz, and U.S. Congressman Adam Schiff made live or video appearances during the event.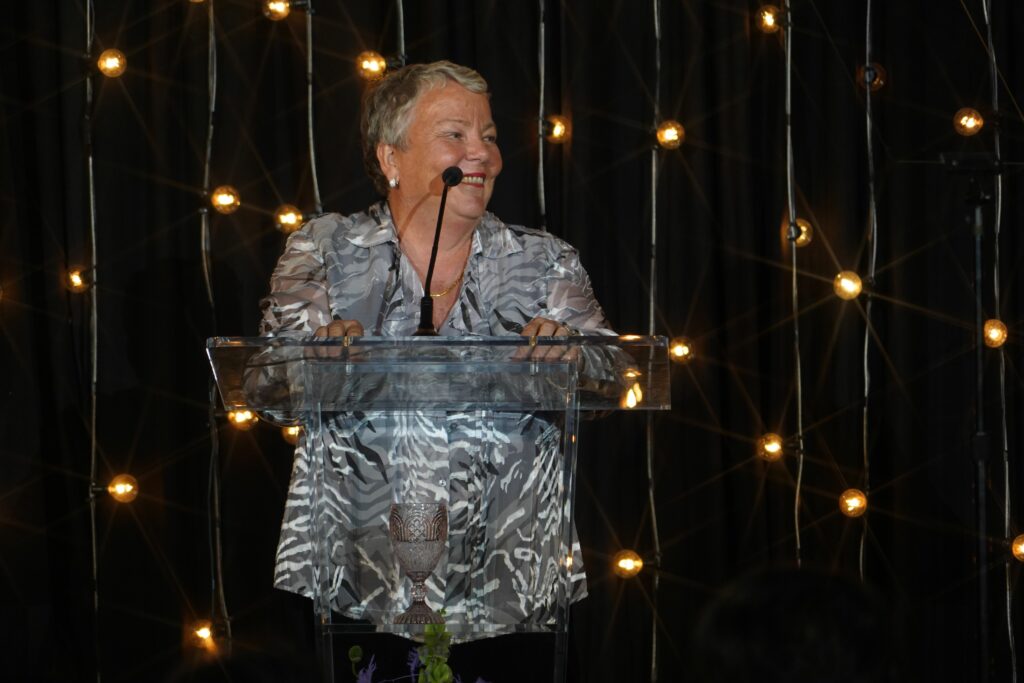 "Together we have not only made history, we have made miracles happen," Jean said during her speech. "When I accepted this job in September of 1992, I had no idea what this experience was going to be nor did I ever dream that leading the Center would become my life's work. No one ever retired from these jobs, it was simply not imaginable. Leading the Center for so long has been the greatest honor of my life. That I have been privileged to spend these decades with people like you has been the greatest joy."
In the evening's opening remarks, Schiff said the legacy of CEO Jean and Chief of Staff Cummings "will last forever."
"The Center wouldn't be what it is today without Lorri and Darrel," he said. "They have shepherded it through areas of transition and growth and occasional struggle dedicating themselves wholeheartedly to see the Center succeed so we can serve the community for generations to come. We are incredibly grateful to you both for your years of selfless service."
At the time of their retirement, the Center leadership of Jean and Cummings will have totaled 25 years. They led from 1993-99 before stepping down to take the reigns of the National Gay & Lesbian Task Force then returned to the Center in 2003 for a second uninterrupted stint of 19 years.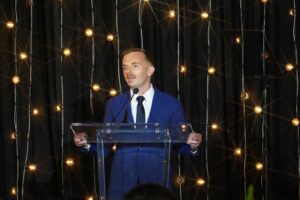 The Center's incoming CEO Joe Hollendoner, who has worked alongside Jean and Cummings for the last nine months under the temporary title of Executive Director, joked that "there is nothing like a four-hour event honoring my predecessor to remind me of the big shoes that I'm filling."
"This period of working together with Darrel and Lorri will be one of the most significant professional and personal experiences of my life," Hollendoner shared with the crowd.
He is impressed with Jean's "expert ability to dissect any problem only to arrive at a brilliant solution … and Darrel's genuine care for the staff of the Center and his focusing every discussion on what is best for our community."
Hollendoner praised the pair for leading two successful capital campaigns that raised more than $70 million in private donations to complete The Village at Ed Gould Plaza and The Anita May Rosenstein Campus.
He also cited, among other things, the creation of The Audre Lorde Health Program, the International Emerging Leaders Program and Center expansions that have included the Trans Wellness Center in Koreatown, Triangle Square senior housing in Hollywood, Mi Centro in Boyle Heights, Center WeHo in West Hollywood, and Center South in Leimert Park.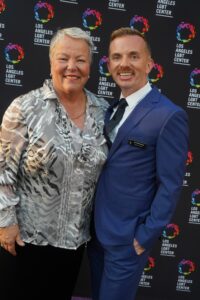 "These two have accomplished more than any two leaders in the LGBT community in the process of building the largest LGBT organization in the world," Hollendoner said.
Jean admitted to the audience that among her greatest worries as she contemplated retirement was finding a successor "with both the competence and the courage to be our next leader.  Someone who wasn't going to screw up my baby."
She believes the Center's Board of Directors found that in Hollendoner, most recently CEO of the San Francisco AIDS Foundation and someone with nearly 25 years of LGBTQ movement experience.
"As we've worked closely together over the last nine months, I've seen that his heart is big, his passion for justice is strong, and that he is the right leader for the next stage of the Center's journey," Jean said. "Joe will lead the Center differently than I have but these are different times so that is as it should be. He brings fresh eyes and is already developing a new vision for this organization we all love."
Pair Beyond Compare
Cummings was nearing the end of his speech Saturday night when he paused, cleared his throat, and emotionally thanked "my best friend of more than 35 years, Lorri Jean. For asking me to join an organization she was about to lead and for making possible a partnership that has endured like very few.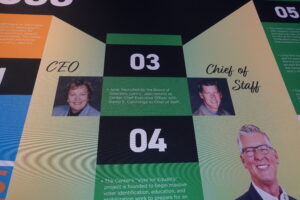 "We met each other during the Reagan era and we have lasted and thrived through the national tragedy that was the Trump presidency and through two pandemics," he said. "Through it all, we strived to serve more people in more places, we advanced our human rights movement in L.A., the United States, and globally and I would not have wanted to take this trip with anyone but you Lorri."
Jean publicly thanked Cummings "for all you have taught me."
"Thank you for being my professional partner, my right hand, and my left hand, my hilarious co-conspirator, my backstop, my beloved boy soulmate, and my friend," she said.
Jean called Cummings and wife Gina M. Calvelli "the two most important people in my life. I love and admire and respect them with every fiber of my being."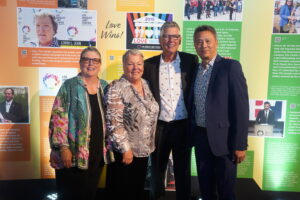 "I cannot imagine my life without both of them," she said.  "Darrel and I have worked side-by-side for almost 30 years. Gina and I just celebrated our 30th anniversary. For the past three decades, these two have been there constantly with me and for me."
Jean also paid tribute to the board members and co-chairs who served and shared the vision of what the Center could become.
"The Center is what it is today because these relationships are invaluable partnerships filled with mutual respect, guidance, support, and trust," she said. "Sometimes we disagreed and sometimes we made mistakes but we never once lost sight of our fundamental purpose: building the health and strength of the LGBTQ community and making the Center better."
Cummings thanked the audience "for your unwavering support of the work of the Center no matter how big our ambitions, no matter how controversial or outlandish they might have seemed, has helped to make all we have accomplished possible. … I know this work will continue long after Lorri and I are gone."
Star Power
While Jean and Cummings were clearly the stars of the celebration, they shared the spotlight a bit with some familiar faces including Cruz who currently stars on TV's Star Trek: Discovery as Dr. Hugh Culber.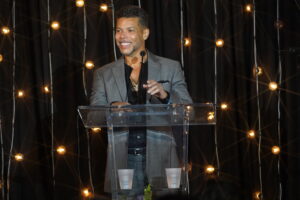 Cruz made the official introduction of Cummings at the dinner and said he is "but one example of a life that has been made richer and a person who has been made better because of the fierce love, strength, and guidance of one of my favorite people in the whole world, Darrel Cummings."
He had burst onto the scene in the mid-1990s on TV's My So-Called Lifeas the first openly gay man to play an openly gay character on prime-time television. He longed to be of service to the LGBT community but didn't know how until he met Cummings at a few Center events.
"It was Darrel who helped me understand the opportunity I had to affect change and who inspired me to give voice to a generation who was ready to join the struggle for our liberation," Cruz said.
When acting jobs were scarce for Cruz in 2002, he said Cummings "didn't let me wallow in my own self-pity" and put him to work at the Task Force.
Then during another difficult career lull, Cruz shared how Cummings and husband, Tim Dang, opened up their home to him for a time.
"You put a roof over my head, fed me, you kept me safe, in an act of generosity that I promise you I will never forget," Cruz said directly to the couple from the stage. "It was during that time in your home that my already enormous respect for your commitment to this Center and our community grew exponentially. … I really could go on and on and tick off a staggeringly long list of impressive ways he has worked to make the lives of LGBTQ people better and safer."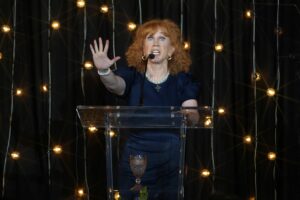 For two-time Emmy winner Griffin, who described herself as "the token heterosexual," the Legacy Celebration was her first live stand-up comedy appearance since undergoing lung cancer surgery last year which left her left vocal cord paralyzed and her speaking voice altered.
While her voice was different, Griffin's comedy style was not as she relentlessly roasted Jean for a small dinner party she recently invited Griffin to at her home "in one of these secret high rises in LA where it's like $80 to park."
Tomlin explained that she could not attend because she injured her knee while filming a dancing scene for the movie Eighty For Brady with Jane Fonda, Sally Field, and Rita Moreno.
She said she didn't want to get political herself so Tomlin stepped into her famous alter-egos Ernestine and Edith Ann to aim barbs at anti-LGBT Republican politicians such as Florida Governor Ron DeSantis.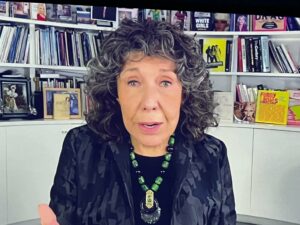 Tomlin described Jean "as a great leader" and said she was "thrilled" to be honoring the service of "my dear friend." She praised the CEO's determination "to represent every single member of our beautiful, diverse community. … Thanks for accomplishments we fought for and won, we've never had so much to lose. Lorri has been in the front lines of all the battles."
Tomlin spoke of how early in her career, Jean spent 10 years as an attorney with FEMA (Federal Emergency Management Agency) and that "her expertise in managing the damage caused by fires, floods, earthquakes and other catastrophes left her uniquely qualified to protect us against the countless disasters championed by duly elected governmental homophobes."
Of new CEO Hollendoner, Tomlin said: "Take a look at him. You can see he's up to the task. He's young, he's strong, he's determined, he's smart and mostly, he's young – really young. I have regrets older than him."
True Believers
While there was no way for Jean and Cummings to speak personally with all of the guests who had gathered for the celebration, many were eager to talk about them.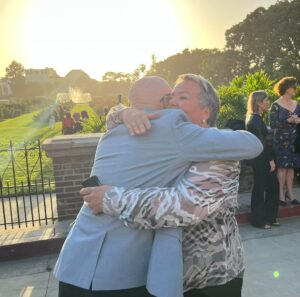 "Lorri, when she starts to speak, you open your hearts and your wallet," longtime Center supporter Andrew Kohler said before the dinner. "But we know the Center remains in good hands."
Martha Orellana described Jean as "an icon."
"She's my icon and I will follow her anywhere," she said. "Unfortunately, she has to go and do her own thing. She has done so much for the Center. She really put it on the map and she's been the driving force behind it. I'm going to miss her and I know all of LA is going to miss her."
Susan Rosenbluth agreed and said: "Lorri has always been an inspiration to all of us, a model for the person I would like to be."
Gordon Morris has been a Center supporter for 25 years and donated to building of the Anita May Rosenstein Campus that opened in 2019.
"I'm certainly going to miss them, there's no doubt about that," Morris said. "There's no one like Lorri Jean, she is absolutely amazing. The campus is one of the miracles she pulled off. She is a force of nature."