By Greg Hernandez
Levi Vieira couldn't make the short walk from the parking lot to Colorado Center Park in Santa Monica on Saturday without bursting into tears.
Happy tears.
"I can't believe we're here," Vieira said shortly after arriving at the site of the AIDS/LifeCycle Socal Kickoff Ride. "I had like three crying sessions—maybe four. It's so exciting to see everybody and to be able to hug people and to get back on the road."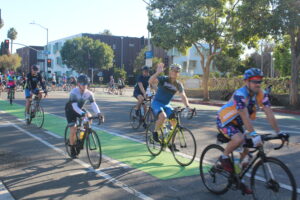 Vieira, captain of the New Bear Republic team, was one of more than 300 people who took part in either a 37-mile training ride that began and ended in Santa Monica with the halfway point in South Los Angeles or a 13-mile ride for first-time participants.
It was the first major in-person gathering for the world's largest single event HIV/AIDS fundraiser since 2019. The COVID-19 pandemic had forced the 2020 and 2021 rides to be canceled.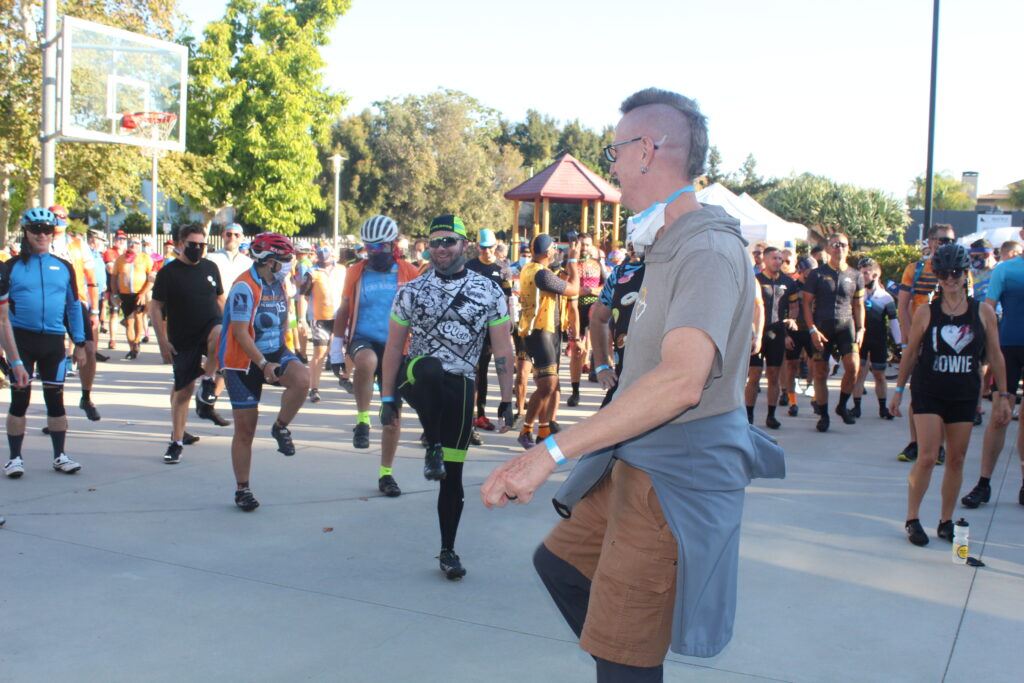 The kickoff ride was an opportunity for joyous reunions between cyclists who, for the most part, had not seen each other in nearly two years.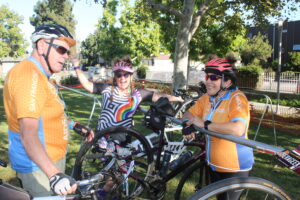 "When we first cancelled, I was literally devastated," admitted Vieira, who will be doing his fourth ride. "It's something I'm very passionate about. I'm very excited to be back. It was hard being away."
Elena Sherman will also be doing the ride for the fourth time and was already feeling the love on Saturday.
 "It is absolutely awesome. It cannot even be described," Sherman said of reuniting with fellow riders. "It's just the best day after this horrible,horrible period of no hugs, no socializing. Human beings are social animals so we need that social contact."
The 545-mile bike ride from San Francisco to Los Angeles returns as an in-person event on June 5–11, 2022 and benefits the HIV/AIDS-related services of the Los Angeles LGBT Center and San Francisco AIDS Foundation.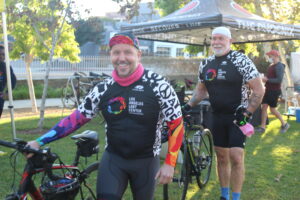 Virtual fundraising events were held during the pandemic, including the first-ever AIDS/LifeCycle@HOME which raised a total of $8.1 million last year and this year's TogetheRide which raised $2.6 million. In 2019, ride participants had raised more than $16.7 million—the highest fundraising amount in the event's history.
"I can't believe that I get to see all of these beautiful faces today in person," ride Director Tracy Evans, speaking through tears, told the crowd before the training ride. "It's been way too long, and I don't know about you all, but I'm a little emotional today. It is hard to believe that it has been 20 months since we've been all together. Twenty months that we've been all taking care of our health and each other's health in a way that's different than we usually do. We thought today would be a great day to get the party started."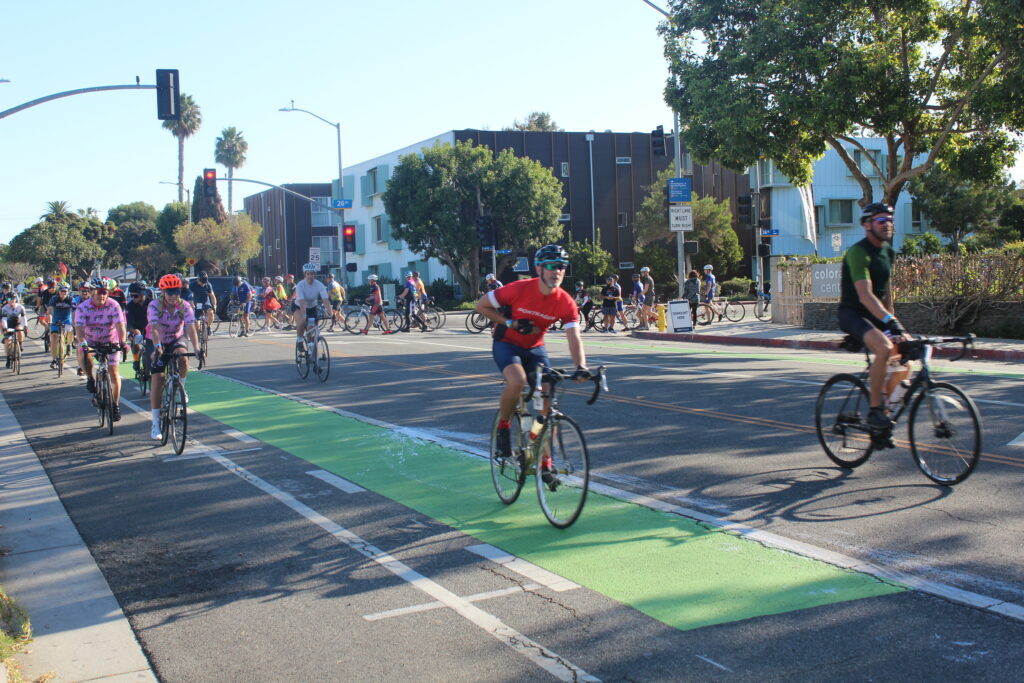 The Santa Monica event was one of nine AIDS/LifeCycle training events that took place on Saturday, with several others throughout California as well as rides in Houston, Atlanta, Seattle, and Portland, Oregon.
Off to a Strong Start
In late September, fundraising for the 2022 ride broke through the $1 million mark—something that usually doesn't happen until around Thanksgiving.
About 800 people from Southern California have already signed up for the ride and Evans said organizers would like to increase that number by 400–500 more riders.
"We hope to get back to where we were back in March 2020 when we were on track to break through $17 million for the first time," she said to the group. "What do you say we all get there and do that and even more this year?"
Evans pointed out that throughout the pandemic, both the Center and the Foundation were able to shift their work to serve the community as needed.
"Both agencies have always been at the forefront of the HIV/AIDS pandemic, and now the COVID-19 pandemic," she said. "We've never closed our doors for a day throughout the crisis. We did not shut down or reduce services. The truth is, they got expanded."
Heading South
The 37-mile route offered glimpses of the ocean while participants pedaled from Santa Monica to Marina del Rey, continued onto the Ballona Creek bike path and into South Los Angeles where their turnaround point was at the Los Angeles LGBT Center South which hosted a rest stop and offered micro tours.
"This is a location where things are happening that you are helping to raise money for," Evans explained to the riders. "This location broadens our reach with a key area of focus on people who are most vulnerable for HIV infections—young, gay, and bisexual Black and Latino men and transgender women of color. Center South is intended to be an especially welcoming place for these folks."
Many riders took part in a quick tour of the location which opened its doors in January 2020 near Leimert Park.
"It's really great to ride in this community because I haven't ridden in this community before," Julie Rosenberg said as she took her break. "It's something different and it's exposure for AIDS/LifeCycle and for the LGBTQ community and it's amazing."
First-time rider Anne Gaw said after touring Center South that seeing it personally will help her when it comes to raising money.
"This will help with my storytelling," Gaw explained. "I can tell my friends and family what it's like, how it helps people, what is done here. I get to see first-hand this beautiful location that's been opened and the great services they have that are so targeted. They are located right in the community."
Second-time rider Daniel Leblanc agreed.
"I think it's great that you get to see the hard work that everyone puts into raising the money and to see where some of it goes," he said. "It's a really cool space for the community to come and to feel safe and learn about HIV and AIDS."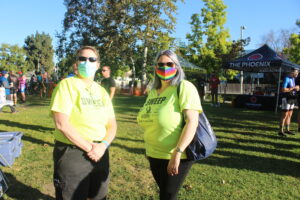 Missing the Love Bubble
Many AIDS/LifeCycle participants have described the ride as a life-changing experience and veterans talk about a utopian "love bubble" that exists among riders, volunteer roadies, and anyone else involved from the moment they set foot at Cow Palace in San Francisco on the first day until they reach Los Angeles on day seven.
On the day of the kickoff ride many were clearly eager to begin recapturing that experience, including Sara Chacon who will be riding for the 10th time and took part in both virtual fundraisers over the past two years.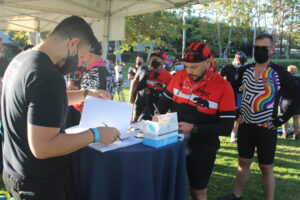 "I think the love bubble is one of the reasons why I keep coming back," Chacon said. "It's something to keep me going the rest of the year. I think it's just the sense of community and the overall accomplishment as a collective and the money we raise."
Michael Rolla will be riding for the fourth time and was overjoyed at the prospect of training again. He was also pleased with the breakfast food offerings at the starting point.
"It's kind of like one of those post-COVID trigger points where certain things happen and you're like, 'Oh my God, I feel like we're almost back to normal again,'" he explained. "Just getting to see people who we haven't seen in person in two years. This is also my first Pop Tart in two years so it's all kind of amazing."
Standing near Rolla was Michael Ivey who announced to those nearby: "Chicken Lady just drove up!"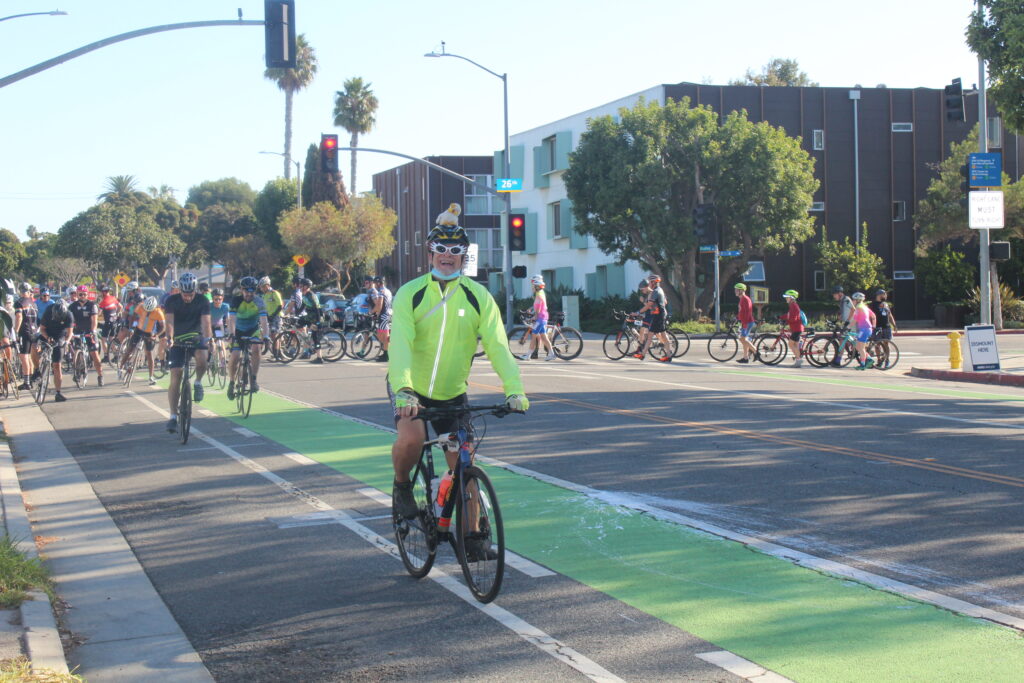 Chicken Lady is Ken Thomason, a ride institution whose uniform includes a stuffed chicken attached to his helmet and a chicken purse he bought at a carnival.
"A friend of mine who was HIV-positive came over to my birthday party fundraiser the first year I registered and he brought me this stuffed chicken that he had gotten at a bar out of one of those arcade claw machines," Thomason (pictured) recalled. "He passed away two months later. I thought I would put the chicken on my helmet for people to know Rick."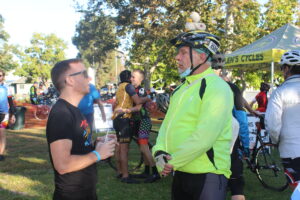 This will be his 26th AIDS/LifeCycle and Thomason said it comes at just the right time.
"I retired after 22 years as a flight attendant and that was a nurturing, giving job for me to do," he shared. "With the ride not being available, I wasn't giving. Coming here today, I'm very emotional to be with everyone again."
Register now at www.aidslifecycle.org