Los Angeles LGBT Center Health Services Compliance Coordinator Alejandra Galindo began shaking when she received the first dose of the Moderna COVID-19 vaccine.
It had been a long nine months leading up to this day.
Galindo (pictured above) has worked inside the Center's McDonald/Wright Building throughout the pandemic. During that time, her sister-in-law died after becoming infected with the virus, her 79-year-old mother tested positive for the virus, and Galindo herself became sick with COVID-19.
"It's been hard and scary," Galindo shared. "This virus is for real—it's no joke. Having it was just a horrible experience. I went through it, and I thank God I'm good."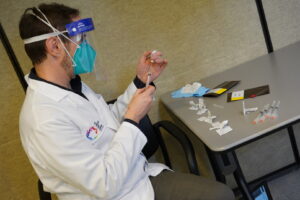 The Center administered the first batch of vaccines to its frontline workers on December 29. This included Health Services staff members and the Security and Facilities workers who support the Center's various health care sites.
The Center received 400 total vaccine doses in this first batch. Phase 1 of the vaccinations began during a deadly surge of COVID-19 cases in Los Angeles and beyond. A second dose is required 28 days later for the vaccine to be fully effective.
David Flores, senior program manager for Center South, said that he felt "excitement and joy" to be getting vaccinated, but he also felt a little bit of guilt because of "a lot of people who aren't around for this opportunity." Just a few days earlier, the brother of one of his closest high school friends died from COVID-related complications.
"I'm being afforded this opportunity that, unfortunately, he wasn't," Flores said through tears. "So, I'm grateful to the Center and for all the research that's been done and for the expeditious manner in which these vaccines have been rolled out."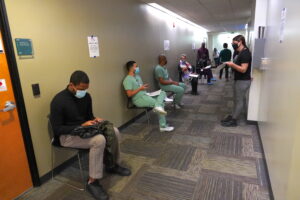 Health Services Coordinator Daniel Garcia also didn't hesitate to get vaccinated. He shared that his grandmother had survived polio, and her struggles helped him to learn the value of vaccines at an early age.
"There wasn't a polio vaccine then but there is now," he pointed out. "Vaccines have been helping human beings for a long time already, and I have to trust in modern medicine. To those who are undecided, look at history and how (vaccines) have played out. We're on the right side of things."
Ace Seidel, an intern counselor with Mental Health Services, describes the vaccine as "the ticket. It's the key to getting our lives back—to being able to see our families and hug our loved ones. It's our road to freedom. We know it's backed by science. There has been some amazing, large-scale clinical trials."
Health Services Manages of Integrated Care Linda Santiman said she had been praying for this vaccine.
"In our lifetimes, we've never seen anything as dire or as lethal as this, and I know this is a part of how we're going to heal," said Santiman, who started at the Center as an HIV counselor 14 years ago. "I've seen how vaccines help. We don't have smallpox, we don't have polio. We don't have these big things.
Getting vaccinated is honoring everyone—the first responders and everyone who has passed."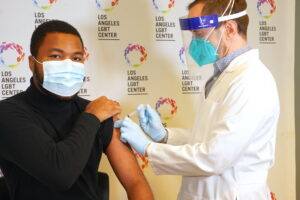 Keith Leach, the very first Health Services staff member to receive the vaccine, understands the reluctance of some people.
"As a Black man in this country, I completely understand," said Leach (pictured, left), a Health Services quality coordinator. "The way we've been treated ethically in terms of unethical medical testing and medical discrimination, it's been horrendous. I understand why you'd be skeptical of a vaccine that came out in about eight months. But I would say not only to trust the science, but to also think about those who you know who have been affected by the virus. Think about your family and relatives who are at high risk."
Unlike Leach, Steven Valladarez had been nervous about getting vaccinated but thought of his grandparents who are both battling COVID-19.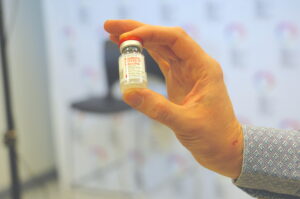 "You hear all these myths about the vaccine, but they are not facts," said Valladarez, housing navigator for the Center's Stop Violence program. "The Center was able to provide us with a fact sheet that helped ease my mind. Do your research on facts, not myths. This is a pandemic, this is a health crisis. Knowing there's a vaccine that's available, I think we should jump on board."
Epidemiology assistant Ryan Assaf, whose two brothers are emergency room doctors, gave this advice after he was vaccinated: "Don't fear the vaccine. It's here to help you—it's not here to hurt you. The benefit of the vaccine will always outweigh the risks of getting the virus itself."
To amplify its support for COVID-19 vaccination, the Center will launch a social media campaign. Those who plan to receive the vaccine are encouraged to tag @lalgbtcenter on social media and use the hashtag #VDay.