By Dan Allen
After a three-year hiatus wrought by the pandemic, AIDS/LifeCycle returned triumphantly in 2022, raising $17.8 million in critical funds for San Francisco AIDS Foundation and the HIV and AIDS-related services of the Los Angeles LGBT Center, and smashing the previous AIDS/LifeCycle fundraising record by more than a million dollars.
"The AIDS/LifeCycle community is one of love, joy, and togetherness," says Ride Director Tracy Evans. "I don't know that any of us realized just how important this week is every year. After three years away, it was like the best family reunion you have ever been to."
The world's largest single-event fundraiser for HIV and AIDS, the ride debuted in 1994 as the California AIDS Ride before being reconfigured into what's now known as AIDS/LifeCycle in 2002.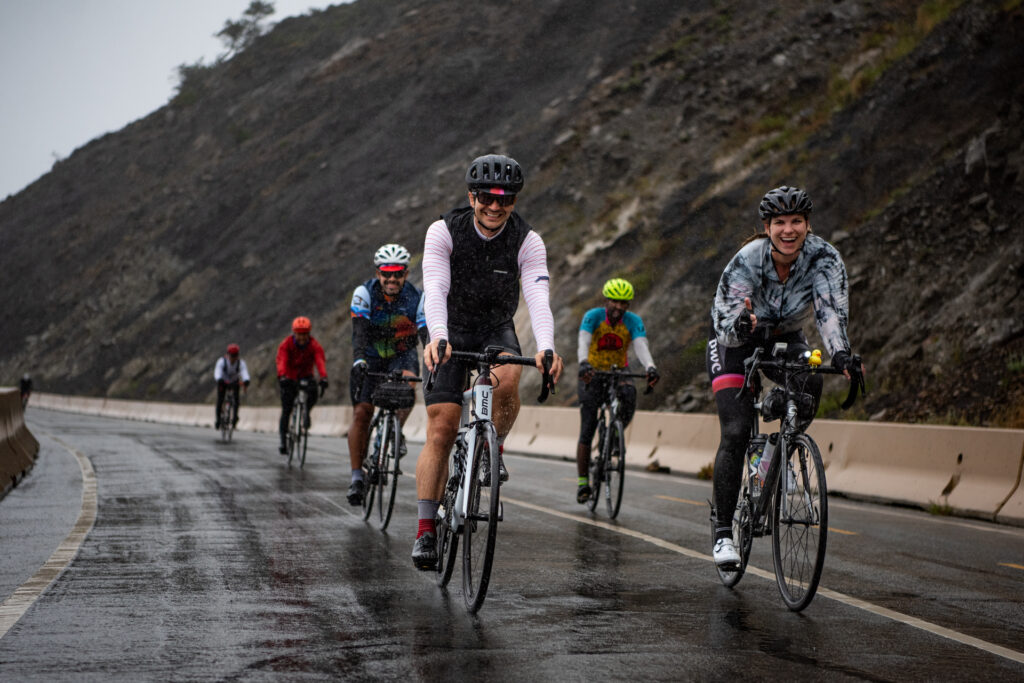 The seven-day non-competitive ride, which encompasses 545 miles from San Francisco to Los Angeles, wrapped up at L.A.'s Fairfax High School on June 11. The ride raises important awareness about the ongoing HIV epidemic, and helps fund services for HIV testing, medical care, prevention, and harm reduction.
"I wasn't sure I was going to do AIDS/LifeCycle again this year," says veteran rider Alan Meier of Los Angeles. "There were a lot of other items on my schedule this year, we're coming out of a pandemic, etc. But sometimes life leads you in the direction you need to go, and you need to just listen.
"One of my deciding factors was that I've lived through two pandemics in my lifetime. The latest one I have no control over, but the first one I realized I could do something really positive towards that would help a lot of people."
This was Meier's third AIDS/LifeCycle, where he rides with the team Trudging Buddies. He raised $4,000 on his own, then did another team fundraiser that donated an additional $1,000 to his teammates.
An unprecedented number of first-time riders also took part in this year's ride. "We had the highest ratio of new rider registrations that we have ever had," says Evans. "Fifty-seven percent—which is phenomenal!"
Those freshman riders included Richard Brower of Allentown, Pennsylvania, who rode with the newly formed Gotham Boy Wonders team. The team included ALC veterans and newbies alike, many of whom are members of New York City's LGBTQ+ cycling group Outcycling.
"I love cycling, and I've wanted to challenge myself with something like this for a while," says Brower. "I was going to do a smaller ride before jumping into ALC, but I knew some great guys who were forming a team and asked me to participate. I also feel like I'm never doing enough to give back, so I was attracted to ALC because of the amazing organizations that the work benefits. I know many people living with HIV and it's so important to eliminate the stigma attached to the virus so that we can move forward and end AIDS."
Brower says he'd previously done a few long-distance personal rides, including a five-day ride last summer from Pittsburgh to Washington, DC—but this year's ALC was his longest ride to date. "Living on the East Coast makes our training season short," he says. "We trained all winter indoors either on our Peloton or Zwift setups. We started outdoor training in March, meeting every Saturday to do rides in the New York area. We unfortunately had an abnormally cold and wet spring, so they weren't always fun rides."
As a first-time fundraiser, Brower says he was blown away by the generosity of his friends and family. "I raised a little over $4,100, which I am extremely grateful for," he says. "I'm extremely proud of my team—we raised almost $168,000, and there are only 19 of us! It's incredible that ALC raised over $17 million this year, a record. I'm very proud to be part of that."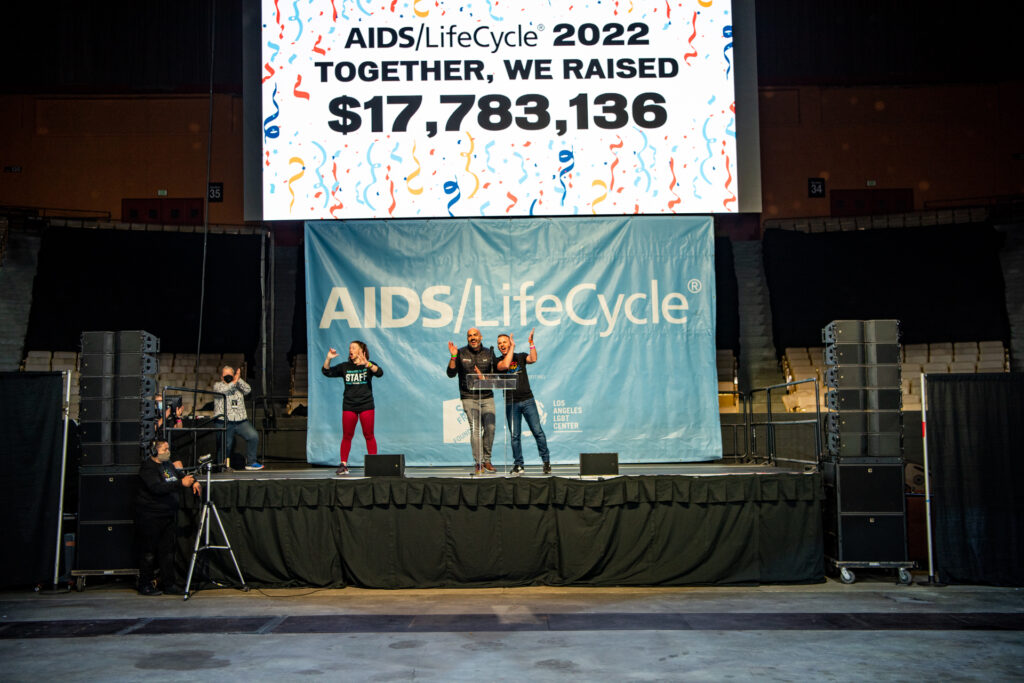 Brower's favorite thing about the AIDS/LifeCycle experience? That's impossible to answer, he says. "There were so many things that made this week special and incredible," he explains. "The obvious thing is that riding across California is pure magic. From the coast to the farms and even the cities, ALC makes you completely fall in love with California.
"People who ride in ALC always talk about the 'love bubble,' and there really is nothing like the camaraderie on the ride. During some epic climbs, there was a group of women who were singing showtunes to make the time pass. I got a flat on the first day and the number of people who stopped to ask if I needed assistance was overwhelming.
"Really, it's the culmination of the entire week that is so incredible. You disconnect from reality, ride your bike with amazing people, bond and go through this unique, magical experience."
That's not to say that the ride wasn't without major challenges, he admits. "I learned a lot about myself during this week," he says. "I know that sounds cliché, but it's true. This is the hardest thing I've ever done, and I learned a lot about how I handle physical and mental challenges. I had a stomach bug on day three and thought I was going to have to sit out day four. The way I approached that, as well as anything else that came my way, was eye opening.
"I ended the ride feeling more intimate with myself, extremely close to my team, and feeling like I could conquer anything. As somebody with limited self-esteem, those aren't feelings I usually have, and it was pretty great."
Given all of that, it's not surprising that Brower says he's already signed up to ride again in AIDS/LifeCycle 2023.
In all, more than 2,400 riders ages 18 to 81 took part in this year's event, hailing from nearly every state and 14 countries. More than 600 volunteers and roadies also contributed their time and efforts to help make the week-long ride happen.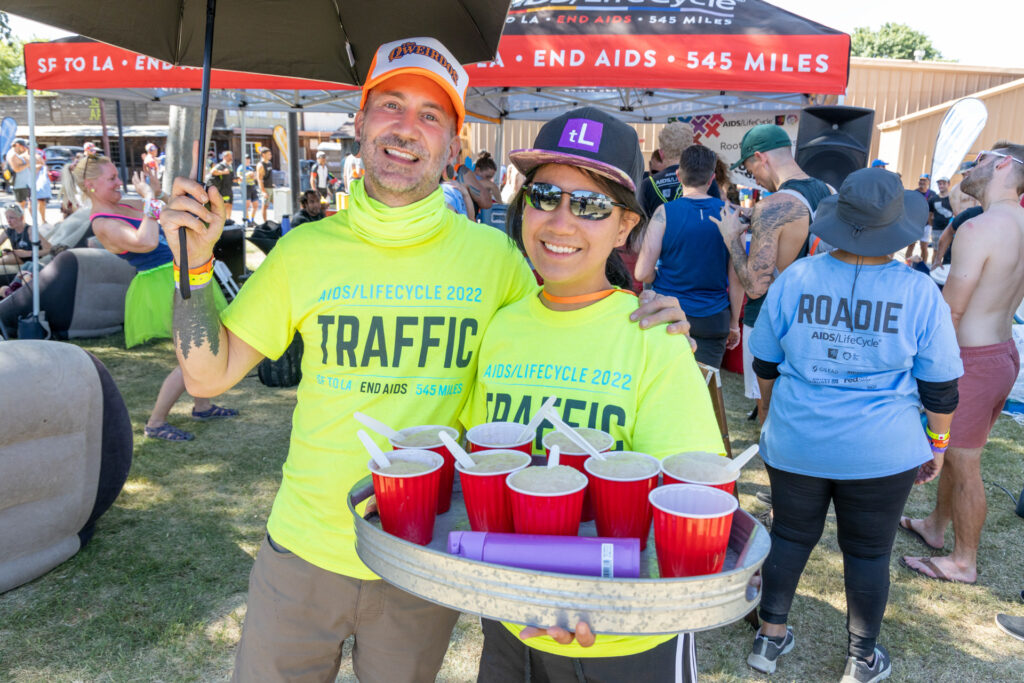 "COVID-19 made every aspect of this event very interesting," says Evans. "Supply chain issues, labor issues, and then the reality that we are still in the pandemic and had to manage it made the planning and execution of the event a challenge."
Evans says she was particularly moved this year by a new team of young BIPOC folks, Puro Pinche Papi. "This team touched my heart in so many ways—but especially when I heard about some of the devastating loss they have experienced due to HIV and AIDS," she says. "My generation held so much loss in the early days of the epidemic. I was profoundly touched by their stories as it reminded me of my younger days. This team brought joy, love, and care all week to the whole ride."