Edward Kakish patiently stood in line in the courtyard of the Los Angeles LGBT Center's Anita May Rosenstein Campus with his loyal pet parrot, Buddy, perched on his shoulder.
Kakish (pictured above) and approximately 60 other people in line on November 30 were also given a second boxed meal filled with roasted chicken, saffron rice, cannellini beans, and tomatillo.
"It sure is an added bonus: quality, good-tasting food," Kakish said, as he and Buddy inched to the front of the socially-distanced line. "Everything tastes so good—even their spinach. They have made some delicious food."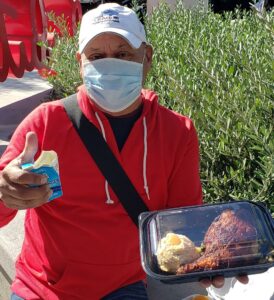 Since the early days of the COVID-19 pandemic, to-go lunches prepared by students of the Center's Culinary Arts program have been distributed each weekday to clients outside the Harry & Jeanette Weinberg Senior Center at the Center's flagship Campus.
Amazon Studios provided something extra—tasty gourmet meals—to them every Monday, Wednesday, and Friday in November.
Senior client Lynn Carolina sat on the edge of a planter and tucked into the roasted chicken which he quickly proclaimed as "delicious."
"It's good food. I appreciate them having done this," Carolina said.
Steven Abeyta asked for a vegan option and received a meal that included roasted tofu instead of chicken.
"I think it's amazing. I'm so grateful for it," Abeyta said. "It's quite substantial. It's dinner!"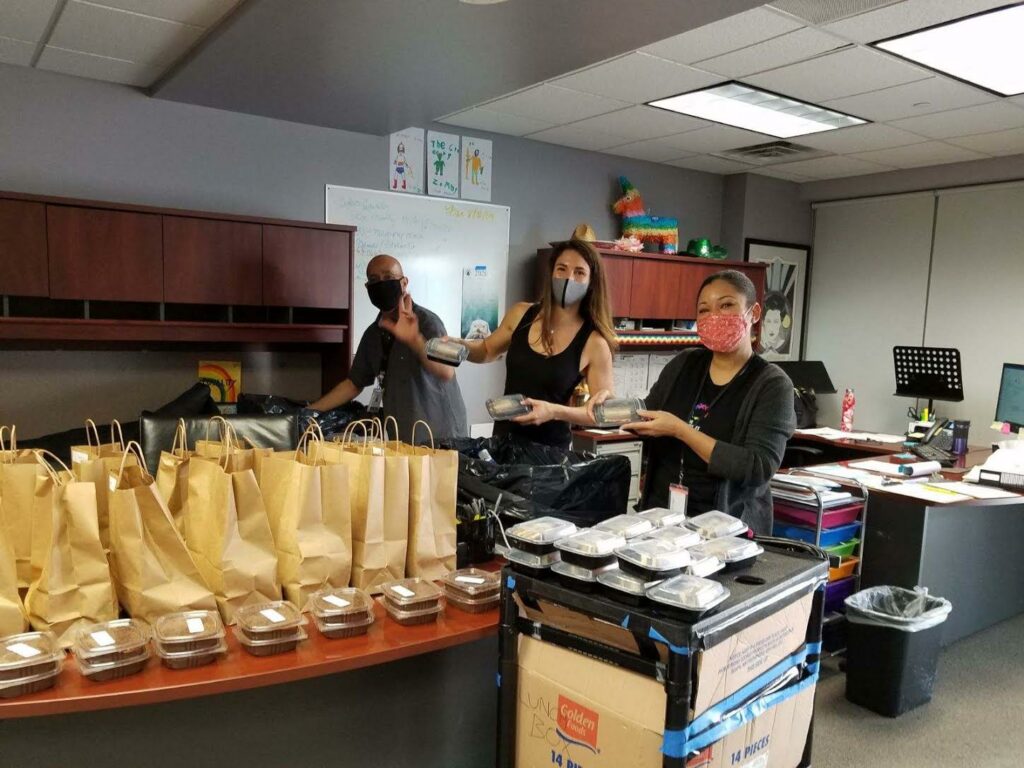 Other lunches throughout the month included Classic Tuna Nicoise, Caribbean Fish Chowder, Spaghetti Bolognese, and Seared Salmon.
"We are really appreciative of Amazon Studios for providing these amazing meals. They've been so well-received by our participants," said Arlene Rodriguez, activities coordinator for the Center's Senior Services. "We've had an increase in attendees during lunchtime and serve 60 people each day whenever we have Amazon's extra meal."
In all, Amazon distributed more than 3,600 meals and desserts throughout the month at the main campus as well as some of the Center's other locations including Mi Centro in Boyle Heights, Center South near Leimert Park, Trans Wellness Center in Koreatown, Youth Center on the main campus, and Triangle Square senior housing complex in Hollywood.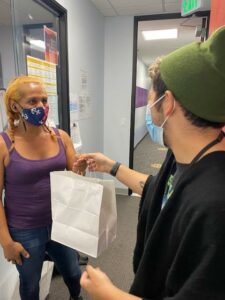 On four occasions during November, for example, 240 meals were delivered to the Mi Centro including on the day before Thanksgiving when a feast consisting of confit turkey leg, mashed potatoes and gravy, stuffing, green beans, and cranberry sauce with a brownie desert was distributed. A day earlier, 200 of the same Thanksgiving meals were delivered to Center South which also received multiple meal deliveries.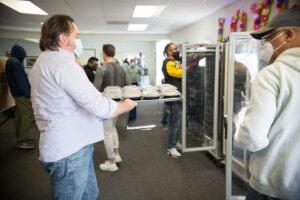 The meals and desserts were prepared by Carmelized Productions, the full-service catering company owned by Jon Shook and Vinny Dotolo, the duo behind such restaurants as Jon & Vinny's, Son of a Gun, Animal, Petit Trois, and Helen's.
"We've been working with Amazon since the pandemic started. We've gotten into different sectors in the community where they need help. It's been an amazing situation," explained Shook. "They're having us support local farmers and bakers, and we're able to continue producing food for those still in need."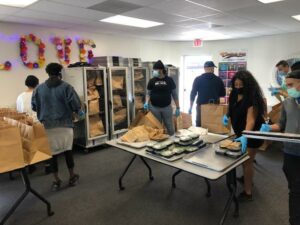 On November 23, more than 100 clients of Center's Senior Services, including residents of Triangle Square housing complex, were given a gourmet meal consisting of sliced steak with green peppercorn sauce, potato gratin, Brussel sprouts, and a pear tart dessert with whipped cream. Vegans were served cauliflower steak with the same side dishes and vegan chocolate cake.
To complement their dinners, the seniors were given access to an exclusive online preview screening of the Amazon Original Movie Uncle Frank. The LGBT film's advertising budget paid for the month-long meal program.
"We worked with the Center to get guidance of what was needed. We crafted a menu, stayed on budget, and tried to maximize Amazon's donation," said Shook. "Our company is set up to do large-scale catering and events. And to be able to pivot and provide meals to those in need during this pandemic has been a blessing."