By Reid Nakamura
The premise is simple and ripe for parody: A panel of celebrities answer fill-in-the-blank questions, and contestants try to match their answers. The Match Game, one of TV's most enduring and iconic game show formats, first debuted on CBS 60 years ago and has held a place in pop culture consciousness ever since. The MisMatch Game, comedian Dennis Hensley's uproarious spoof of Match Game, likewise has a storied history of its own.
Hensley put together the first edition of MisMatch Game more than 20 years ago as part of a "big, silly" birthday celebration, trading the original show's panel of celebrities for comedian friends doing celebrity impersonations. The show retained the same format when it moved to the Los Angeles LGBT Center's Renberg Theatre in 2004, where it has lived ever since.
"I always thought the Center would be done with it at some point. We were kind of like these unruly kids with our dirty answers and our cardboard set," Hensley said. He describes the show's style of comedy as "very smart and very stupid at the same time."
MisMatch Game will return to the Renberg on Oct. 15 and 16 for a pair of Halloween-themed shows produced by the Center's Lily Tomlin/Jane Wagner Cultural Arts Center. Proceeds from the show will go toward the Los Angeles LGBT Center's programs and services.
Across its 18-year run, MisMatch Game has raised more than $200,000 for the Center. In addition to ticket sales, notecards with the cast's dirty answers are auctioned off at the end of the show, sometimes going for hundreds of dollars.
"I'm gratified that we've been able to keep going and raise all the money that we have," Hensley said. "People tell me they've got a wall full of these random cards saying really horrible, inappropriate things. Some of them are from, like, 12 years ago."
But the true history of MisMatch Game goes back even further than that, as Hensley recently discovered when he returned to his hometown of Holbrook, Arizona for his 40-year high school reunion. While going through a closet at his mother's house, Hensley came across an old Match Game board game from the '70s.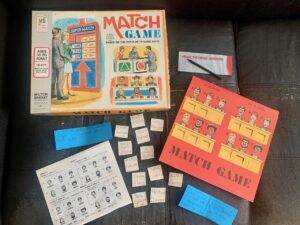 "I opened it up, and I found all these questions I had written myself," he said. "They're basically MisMatch Game questions I wrote when I was like 12 or 13."
Twelve-year-old Hensley also wrote down the names of celebrities he wanted on the show, including Mary Tyler Moore, Carol Burnett, Betty White, and Charles Nelson Reilly. (Reilly, at least, has made an appearance on MisMatch Game, played by comedian Tony Tripoli.)
"A few of the questions hold up," Hensley said. "They're there in my own handwriting. These are my own components that I literally added to the game. All these years later and this is still what I'm doing."
Fans of RuPaul's Drag Race may recognize similarities to Snatch Game, the VH1 competition's own spoof of Match Game in which drag queens are tasked with impersonating iconic celebrities. Hensley declines to take credit for the idea, noting that Match Game itself dates back to the '60s—but MisMatch did come first. "We were doing it right in their backyard for five years," he said.
In fact, Willam Belli, a fan-favorite contestant on the fourth season of Drag Race, had previously tried out a version of his Jessica Simpson impersonation for Snatch Game on stage at the Renberg. (It was a hit both times.)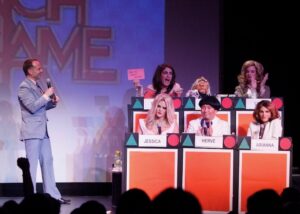 "I do think that, laugh for laugh, our panelists are funnier," Hensley said. "And, if I may say this, I think my questions are better. This is maybe too granular, but I don't think you should have blanks in the middle of a question. You should have the blank at the end! It sets up the panelists to land their jokes better that way."
Regardless, Hensley counts himself a fan of both shows. "I think what they've done is phenomenal. What a profound impact that show and RuPaul have had on the world," he said. "They've just changed the game for so many people out there that see themselves in that show. It's remarkable."
When MisMatch Game returns to the Renberg, it'll be with a few upgrades following a run of virtual shows during the pandemic. The online version of MisMatch Game worked "surprisingly well," according to Hensley, but he is looking forward to getting back to The Village, which he calls his "favorite place in the city."
"MisMatch Game has never been anything but joy to work on," Hensley said. "Like, sometimes I'm helpless with laughter. I remember at a show not long ago, I was hunched over laughing, and I was getting lightheaded. And I thought, I'm gonna pass out," he said. Thankfully, he was able to finish the show without losing consciousness.
"But maybe that's something to look forward to. People should buy a ticket so they can be there," Hensley said, before filling in the blank: "When I pull a Marie Osmond on Dancing with the Stars."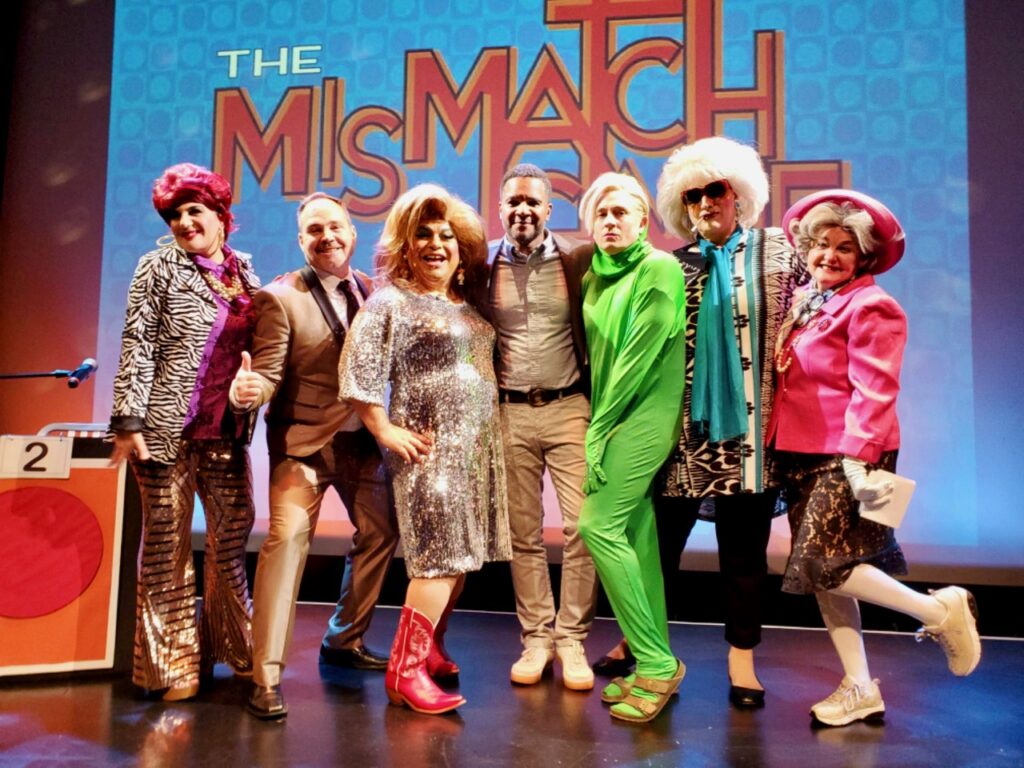 The MisMatch Game returns to the Renberg Theatre on Saturday, Oct. 15 at 8 p.m, and on Sunday, Oct. 16 at 7 p.m. For tickets and more information about the Lily Tomlin/Jane Wagner Cultural Arts Center, visit culturalarts.lalgbtcenter.org.