By Greg Hernandez
Throughout the COVID-19 pandemic, the Los Angeles LGBT Center has been able to maintain and expand its services largely because 1,025 volunteers stepped up to do their part during such a challenging time.
They were honored with a virtual celebration on January 22 for donating a whopping 32,240 combined hours of their time and talents during a turbulent and unpredictable 2020.
"We could not do all that we do without our wonderful volunteers, and we thank each and every one of you for what you've done for us," Center CEO Lorri L. Jean told the group. "I wish we could be gathering to thank you in person and, hopefully, it won't be long before we'll be able to do that once more."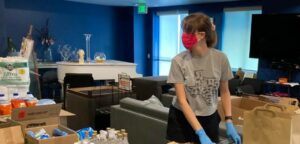 Volunteers have been critical in enabling the Center to launch new programs in response to the pandemic, including Pride Pantry, the Hello Club, and Senior Angels. Some of them performed important tasks, such as screening visitors who entered the Center's health clinics and pharmacy.
"It's easy to be overwhelmed by anxiety and darkness that all this uncertainty brings, but our volunteers have literally been a beacon of light," Director of Community Engagement Rani DeMesme-Anders said during the celebration. "What has been most gratifying to me has been watching us reimagine how we embody and serve community. It's been a challenging year for all of us."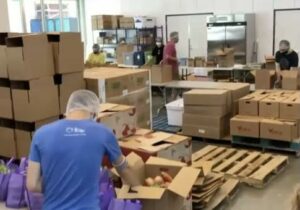 Volunteers have also continued to donate their time, often virtually, to a breadth of Center departments, among them Senior Services, Health Services, Legal Services, Cultural Arts, Policy and Community Building, and Children, Youth & Family Services..
"(Volunteers) have poured out of the woodwork asking how they can help before we even ask them to," shared DeMesme-Anders. "They've worked alongside our frontline staff at our clinics, delivered meals, made wellness calls to clients, helped deliver democracy in this past election. More than anything, they've reminded us that serving and connecting with others strengthens us in each and every way."
Time to Give Back
Some volunteers were singled out for their extraordinary work.
"I've used the Center for some of the resources over the years, and it was my time to give back," said Salvador Galati, awarded as Outstanding Volunteer for the Pride Pantry program. "It's been a rough time for everyone. A lot of us were not employed but there are people less fortunate, and I just thought it was my duty to help out finally."
Galati is among the 170 volunteers who donated a combined 1,500 hours of their time in assisting Center staff run Pride Pantry which launched in June to help people experiencing food insecurity due to the pandemic.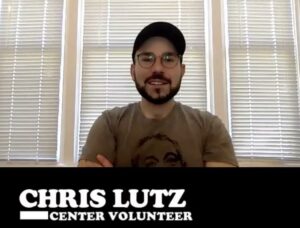 Launched around the same time was Senior Angels, an emergency delivery system which received help from 125 volunteers—with a combined 1,700 hours of their time—who packed and delivered groceries to LGBT seniors.
"I really just wanted to do Senior Angels selfishly to get myself out of the house, but I was able to really help people that need the help," said Chris Lutz, awarded as Outstanding Senior Angels volunteer. "Every time I show up and pack or deliver groceries, I just love seeing the seniors' faces—seeing how thankful and grateful they are. It's always such an honor to go out and help these seniors."
Senior Angels works in concert with the Center's Hello Club, an army of more than 300 volunteers who regularly call more than 2,600 seniors to check in on them and assess their needs.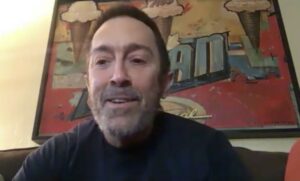 Outstanding Hello Club Volunteer Jeff Lerner (pictured, right), who's made more calls than anyone else, described the work as "so meaningful to me. To be acknowledged and appreciated is just a huge added bonus."
So far Lerner and the other Hello Club volunteers have made more than 7,000 calls.
"When the pandemic struck, a lot of our seniors were pushed into their homes and are now facing severe social isolation, and we recognized that it was the Center's role to do something about that," explained Danny Gonzalez, community engagement associate with Volunteer Resources. "Hello Club connects our warm, friendly volunteers to our isolated seniors and offers them joy and compassion."
Volunteering to Adapt
The pandemic has changed how the Center offers many of its programs and services with nearly all in-person activities canceled or postponed. For the Cultural Arts department,  going virtual was a necessary step to still reach clients and community members participating in social networking groups.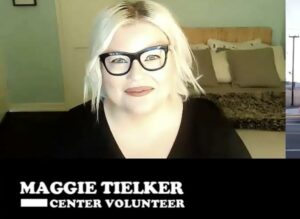 "Having the group each week has kept me sane," admitted Maggie Tielker who now manages the Her Stories group online and was named as Outstanding Social Networking Groups Facilitator.
"The other volunteers that I get to see each week are a light in my life and so are the participants in the group," Tielker said. "Although it's been really challenging having the groups (virtually) and not being able to see people face-to-face, it's also been an opportunity for people from other places to join in the groups. We have an amazing turnout—20 to 30 people every week. It's great and I think people really do need it, and I need it."
The Center's Legal Services currently represents LGBTQ immigration and asylum clients from more than 70 countries. Throughout the COVID-19 pandemic, the demand for these legal services has only grown.
Among those volunteering their time and legal expertise in the effort is Suzanne Goulet who was named Outstanding Legal Clinic Immigration Attorney by Legal Services.
"Working with everyone at the Center has been fantastic," Goulet said. "Without exception, the Center makes it very easy to be a volunteer, and I do appreciate that. And I appreciate being appreciated! I feel like I get just as much out of the volunteer experience as I provide to the clients at the Center."
Special Thank You Messages
Dozens of Center staff members made videos expressing their gratitude to the volunteers as did several celebrities, including Pose cast member Jeremy McClain who called the group "my heroes."
"It goes without saying how difficult this year has been for our community," McClain said. "Your efforts and work are imperative to how our brothers and sisters get back on their feet when times are better."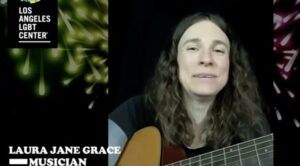 Singer-songwriter Laura Jane Grace performed for the group and paid tribute to their efforts: "It's been a hard year. All your hard work and effort has been that much more important and that much more needed. There's still so much more work that needs to be done. Please know how important it is—what you're doing—and please know how appreciated it is."
Author, activist, and actor Jabob Tobia (pictured, right) shared how often the Center has been there for them over the years from therapy to Trans* Lounge, the Center's groundbreaking education and empowerment program dedicated to serving the trans and gender expansive community.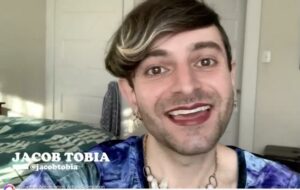 "Thank you to all of the volunteers and anybody who's giving your time to help support the Center," Tobia said. "I am not exaggerating when I say that the Center has saved my life on multiple occasions. Your contributions are so appreciated. They are vital and community happens because of you. So give yourself a pat on the back, and a high five and a big hug because you deserve it."
Here is a full list of honorees:
Julian Agnat: Outstanding Education Program Tutor, CYFS
Aiden & Mary Aizumi: Outstanding LifeWorks Program Instructors, CYFS
Caín Andrade: Outstanding Volunteer Engagement Leader, Community Engagement
Marco Beghin: Outstanding Workshops & Activities Instructor, Senior Services
Sable Boruff: Outstanding Workshops & Activities Instructor, Senior Services
Albert Epstein: Outstanding Queer MaskerAider, Health Services
Barbara Friend: Outstanding Center Crew Member, Community Engagement
Salvatore Galati: Outstanding Pride Pantry Volunteer, Community Engagement
Bella Gavilan: Outstanding Hello Club Staff Volunteer, Community Engagement
Christie Gilmore: Outstanding Staff Volunteer, Community Engagement
Suzanne Goulet: Outstanding Legal Clinic Immigration Attorney, Legal Services
Tracy Hough: Outstanding Resistance Squad Leadership Councilmember, Policy
Jeff Lerner: Outstanding Hello Club Volunteer, Community Engagement
Melissa Lutek: Outstanding General Support Volunteer, Legal Services
Chris Lutz: Outstanding Senior Angel, Senior Services
Andy Perez: Outstanding General Support Volunteer, Community Engagement
Eric Sand: Outstanding To-Go Lunch Volunteer, Senior Services
Lindsay Swain: Outstanding LifeWorks Mentor, CYFS
Ozgecan Tapa: Outstanding Yoga Instructor, Health Services
TOMS: Outstanding Corporate Volunteer Team, Development
Maggie Tielker: Outstanding Social Networking Groups Facilitator, Cultural Arts
Karla Torres: Outstanding Career Training Facilitator, Children, Youth & Family Services
Jenna Stelmar: Outstanding Trans Wellness Center Volunteer, Health Services