By Greg Hernandez
Honoree Alexandra Grey could not hold back the tears during the Los Angeles LGBT Center's The Future is Black event on February 23.
"I just have all the feels," Grey said as she accepted the Bayard Rustin Award for her prominence in advancing the social movement of black and LGBT rights.
The actress and singer recalled coming to Los Angeles as a youth with "absolutely nothing" after being disowned by her family for being LGBT and finding emergency overnight housing at the Center.
"Every time I come here I get so emotional," Grey told the crowd of 200 people inside the Center's Renberg Theatre. "As a black, trans woman, I'm not supposed to be here. So many of us don't make it. To be here means so much to me, I'm so grateful to the Center and the work that they do because it really changed my life."
Grey was among the honorees at the Center's day-long community celebration in honor of Black History Month.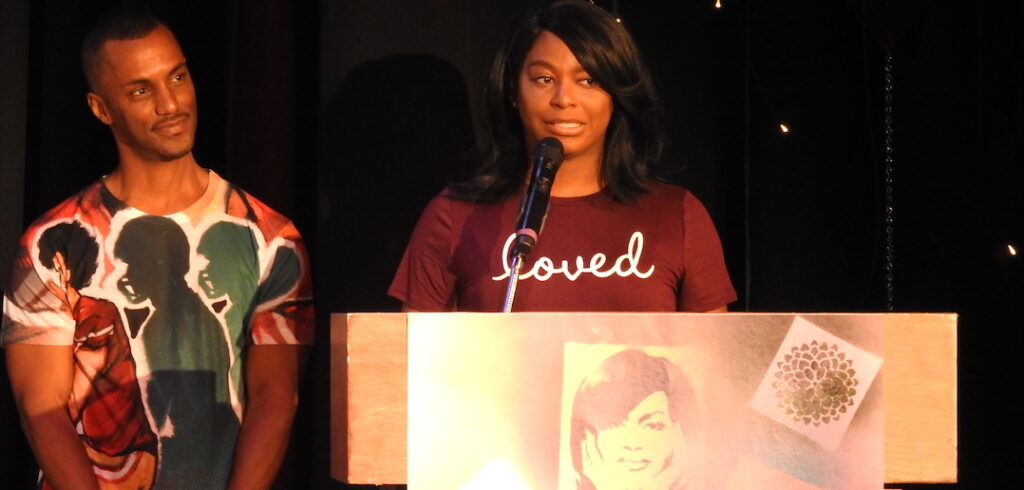 Center youth member Florence Franklin was presented with the Marsha P. Johnson Award given each year to a burgeoning community activist.
"I'm really grateful for every opportunity that you all keep throwing at me. Keep on throwing them at me because I keep on moving, I keep on going," said Franklin who later participated in a spoken word performance from the perspective of a trans person.
"Until the lion gets to tell his story, the hunters will always tell theirs."
The inaugural Freedom Riders Award was presented to Ebony Sage Circle, one of the Center's Senior Services social groups. The award is given to an organization or group that strives to do outstanding and impactful work in the black community.
"There's an African proverb that says: 'Until the lion gets to tell his story, the hunters will always tell theirs,'" Ebony Sage Circle member Clarence Williams said on stage. "Through our lens, we are hoping to make a difference here at the Center and actually create more of our living history with millennials here and to continue our stories."
In addition to awards, the ceremony included a series of powerful musical, dance, and spoken word performances, and a keynote address all inspired by the event's theme: Be the Revolution.
The theme was to pay homage to the work of leaders who started the revolution in the past, to inspire today's generation to continue that fight, and to propel future activists to keep the revolution alive.
"The only thing I was guilty of was being frightened."
Spoken word performer Malachi Maisha presented a powerful monologue about an experience being pulled over by a white policeman and the terrifying moments that followed:
"He said if I didn't step out of the car the only thing I would look was guilty. Yet as I stepped out of the car the only thing I was guilty of was being frightened — ashamed that his red, white, and blue lights caused me so much anxiety. The only reason I swerved was because my palms were too sweaty to grip the wheel trying to pull in to the least likely area I could not die in."
Keynote speaker Jarrett Hill, an award-winning journalist, alluded to the impact of the situation involving out actor Jussie Smollett of TV's Empire.
"It's been a very difficult time—especially if you are black and gay in this country," Hill said. "The week has been very difficult, but it's also been illuminating. In the last month, I've had more conversations with black folks—specifically black gay folks—about how they're doing than I probably ever have before. All of those conversations haven't been warm and fuzzy, but they have been important."
Singer-songwriter Tish Hyman got a standing ovation after performing her original songs All That I Can Do and Subway Art.
Former American Idol finalist Rayvon Owen closed the ceremony with a three-song set that culminated with a rousing version of the classic Marvin Gaye protest song What's Goin On.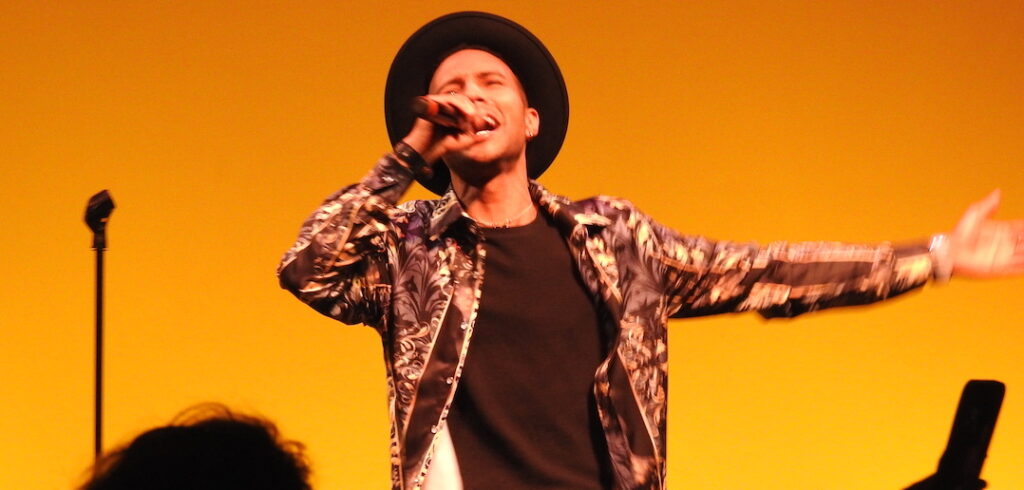 After the ceremony, guests moved to the courtyard of The Village at Ed Gould Plaza where they were treated to live music from Mike Xavier and his band and later danced to tunes provided by DJ Benjamin Walker.
The courtyard was peppered with signs adorned with such statements as "Make Racism Wrong gain," "Black Lives Matter," "End Police Brutality," "Resist!" and "The Future Belongs to Those Who Plan For It Today."
Guests also took in the art exhibit Unbound inside the Center's Advocate & Gochis Galleries and had access to a community resource fair that included representatives from PATH (People Assisting The Homeless), Volunteers of America, Stuzo Clothing, Year Up, Black Lesbians United, Minority AIDS Project and the Center's Youth Center, LifeWorks, Senior Services, RISE, Community Health Programs, and Trans Wellness Center.
A buffet dinner was provided by local favorite Chef Marilyn's Southern Cuisine and desserts by A Pinch of Brown Sugar pastry chef Vanessa Parish.