By Greg Hernandez
It was clear from the beginning that the more than 300 Los Angeles LGBT Center Sustaining Donors who gathered on Sunday afternoon were more than ready to celebrate.
Pride Hall and the Bayard Rustin Courtyard at the Anita May Rosenstein Campus were immediately filled with people from the 3 p.m. start time through the end of the festivities nearly three hours later.
All were invited to an inspiring and celebratory donor appreciation event as a thank you for their ongoing and impactful support during the challenges of the COVID-19 pandemic.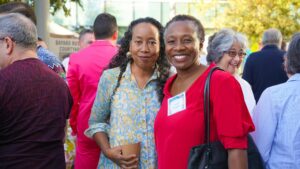 "It's great to be out with people again and to see a happy, healthy, thriving crowd that is enjoying being here and is happy to be supporting the Center and its great work," longtime donor Paul Lerner said as he and other guests enjoyed an array of appetizers and cocktails.
"We've been really impressed at how the Center has been able to keep its activities going and continue to provide the life-affirming services that so many people need and have come to rely upon," Lerner added. "We know how great the Center is, and they've lived up to all of our expectations about keeping things going through these very difficult times."
Donor Melinda Garcia had taken her very first tour of the Center just before the pandemic hit and said what she saw "just blew my mind away."
"All the things that are offered that are so needed—I was hooked!" she shared. "I was working on my Trust at the time and I put the Center in it. It's just incredible all that's been done during the pandemic."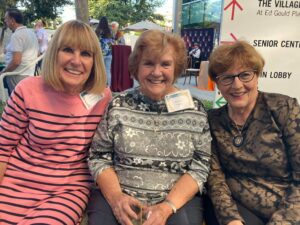 Donors Julaine Salem and her wife Sharon Congdon drove in from their home in Big Bear for the event, with Salem thrilled to finally be wearing her favorite necklace out in public again.
"I thought, I can wear it here if I want to!" Salem said, laughing. "It's amazing what the Center has done, coming up with new ideas to make this all work. I am very impressed. Truly."
Congdon said that after so many months of the pandemic, "it's just so special to be at a social event."
"We have tried to come to every Center function that we can and they are always wonderful and lovely," she said. "There was a level of trust that we had to have to come, to know we'd be safe."
All guests were required to show proof of vaccination to enter the party, which featured remarks by CEO Lorri L. Jean, Executive Director Joe Hollendoner, and Board of Directors Co-chairs Susan Feniger and Frank D. Pond.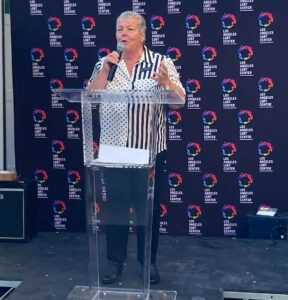 "You can never be thanked enough," Jean said to the crowd. "I want to thank all of you for sticking with us during the last 20 months. I especially want to acknowledge those folks who dug more deeply to help us compensate for some of our Sustaining Donors who had to put their giving on pause because their livelihoods were impacted by COVID. We really wouldn't have been able to have made it if it wasn't for all of you."
The Center has continued to provide front-line, essential services in person while other programs went virtual. New programs and services such as Pride Pantry, Senior Angels, and the Hello Club were launched, and all of the Center's nearly 800 employees kept their jobs.
The 98-unit Ariadne Getty Foundation Senior Housing also opened during the pandemic, as well as the 25-unit Michaeljohn Horne & Thomas Eugene Jones Youth Housing.
"The Center handled a second pandemic like they handled HIV/AIDS in the earlier years," observed longtime donor Jim Petrone. "They took in more people in need and expanded the campus. There was nothing going on but there was everything going on and they handled it."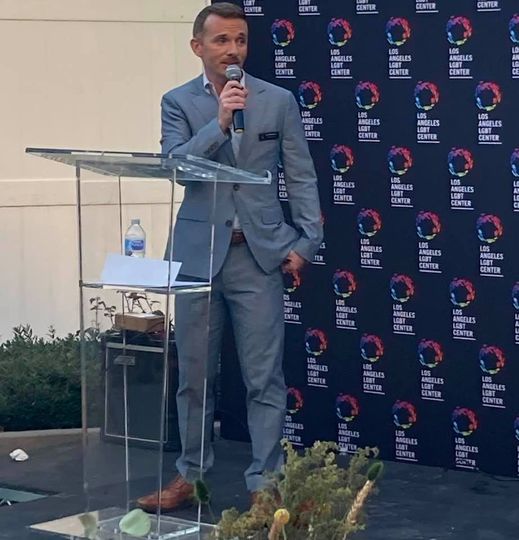 During his remarks Hollendoner shared that the demand for Center services are at an all-time high.
"Not only is the demand high, what we are seeing from our clients and community members is that the needs they are experiencing are more dire and more complex than before the pandemic," he said. "That's why I'm so proud that the Center has been able to evolve, to make sure we are responding to the ever-changing needs of our community."
Hollendoner, formerly the CEO of San Francisco AIDS Foundation, joined the Center during the summer and will succeed a retiring Jean as CEO in July 2022.
"The beauty of our organization is when our community comes together, because when we come together, we are truly unstoppable," he said. "I assure you that part of my vision is to continue to expand our services here at the Center while also making sure that we sustain our hard work."
Pond and Feniger presided as co-chairs as the Center was forced to cancel such major fundraising events such as AIDS/LifeCycle and the annual anniversary gala.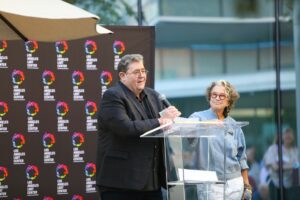 "This has been a long time coming," Pond said of the donor reception. "We saw some of you at some events on Zoom, we talked to some of you on the phone, but being here in person, together, is the magic that makes this place hum and brings the lifeblood here to the Center."
Feniger, the famed chef who has been a board member for more than 15 years, described it as "mind-boggling" to see such a large crowd of supporters gathered together again.
"It is you Sustaining Donors who kept us in business, so from the bottom of my heart, I just want to thank you all for all that you've done and all that you continue to do," she said. "We are excited about the future."