By Greg Hernandez
There were plenty of tears during Thursday's Trans* Day of Remembrance and Celebration of Life event held during a year when a record 53 known transgender and gender non-conforming people have been murdered.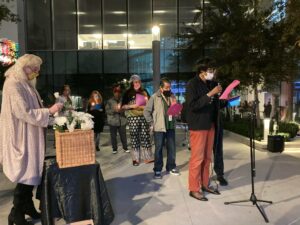 Several people took turns at a microphone in the middle of the Los Angeles LGBT Center's Bayard Rustin Courtyard to read the names of the dead during an emotional candlelight vigil. A white rose was placed inside a basket in honor of each person.
"I always cry when the names are read — every single year," attendee Maddie Simpson said after the reading. "Being trans myself, obviously I relate. I'm afraid of it happening to me and my friends. It's hard."
Transgender Day of Remembrance (TDOR) was started in 1999 to honor the memory of Rita Hester, a Black, transgender woman who was killed in 1998 just two days before her 35th birthday.
"She was stabbed multiple times and her life was snatched by hate and transphobia," West Hollywood Transgender Advisory Board Chair Luckie Alexander explained to the crowd. "Today her murder is still unsolved and her murderer is free to roam the Earth."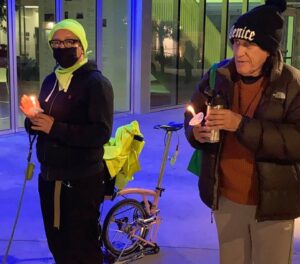 Alexander asked the crowd to say Hester's name out loud and said: "Every year, in memory of those lost due to transphobia, we say their names."
United Church of Christ Rev. Megan More gave a powerful address about how transgender people should be celebrated for their "affirmation of self" instead of being targeted for violence.
"It should in reality provide no greater risk than any other coming of age experience in our life," More pointed out. "We continue the struggle to be who God called us to be. We battle against the hate and ignorance we face in the world. But in the end, like a Phoenix rising from the ashes of our former lives or the caterpillar's emergence from the Chrysalis as a magnificent butterfly, we emerge into something new and wonderful as we leave behind something old, to become what is meant to be."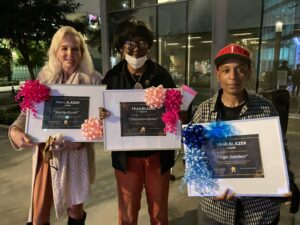 The event, organized by the Center's Senior Services department, also honored Vogue Chocolate, Ava Northcutt, and Tiger Sanders with Trailblazer Awards for being their authentic selves.
"We wanted to let these individuals know that we see them, we acknowledge them, we affirm them, and we respect them," said Spencer Robinson, an activities coordinator with Senior Services.
Robinson then said to the honorees: "We thank you for living your truest, highest self. You are living, you are thriving, you are here. Many of us know people who have not made it this far. We are thankful for all of you."
After the ceremony, Sanders said there needs to be more than one day a year to focus on the murders of transgender people.
"We need this day and many more days and as long as I'm here I'm going to make sure I am a part of these days," Sanders said. "I'm glad to not only be part of this but to be acknowledged as a trailblazer. I see some young people here tonight and when we were their age, we never had things like this. We have it now because of somebody like me. Tiger in the house!"
*****
The Center provides culturally competent care and services for transgender and non-binary individuals in all of its programs and services. In addition, the following programs are among those we offer specifically for the transgender community: Trans Wellness Center; Transgender Health Program: Transgender Economic Empowerment Project (TEEP): Trans* Lounge (Groups, Classes and Events): Trans Pride Los Angeles.