Lorri L. Jean stood before a microphone at Los Angeles City Hall and shared how proud she is of her city and its LGBT history.
"Contrary to common belief, our contemporary movement did not start with the Stonewall Riots in New York," explained the Los Angeles LGBT Center CEO, who was accepting the Center's honor as part of the city's LGBT Heritage Month.
Jean pointed out such things as the founding of the Mattachine Society nearly 20 years before Stonewall, opening of ONE Institute, Cooper Do-nuts Riot in 1959, and The Black Cat Protests in 1967.
"L.A. has always attracted people with big dreams, people seeking freedom, people who want to change their own lives and make the world better—people who are willing to be creative and think outside the box. Pioneers in every sense of the word," Jean continued. "The same has been true of LGBT Angelenos. We have had the courage and the audacity to dream big and turn those dreams into reality even when nothing like it had ever been done before."
Los Angeles City Councilmember Mitch O'Farrell described the Center as "an angel in the City of Angels."
"The Center's influence can be seen throughout Los Angeles," O'Farrell said.
Jean pointed out that the Center now has locations in four of the city's 15 city council districts, joking: "We may be coming to the council district near you."
Gender non-binary actor Bex Taylor-Kalisz and Archbishop Carl Bean were also honored before the City Council. Preceding the presentation in Council Chambers, one person from each of the city's 15 council districts was honored in a City Hall courtyard for their contributions to the LGBT community.
Gina Bigham, the Center's Trans* Lounge program manager and organizer of Trans Pride LA, was honored by Councilmember David Ryu who lauded Bigham for "leading by example."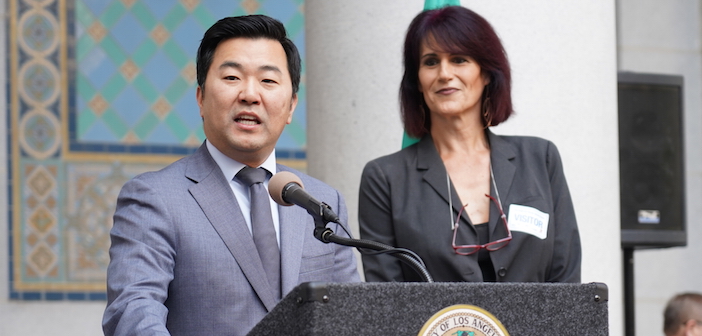 "Without a doubt, she saves lives in the trans community," Ryu said of Bigham.
Bigham thanked the Center which she said eight years ago "gave me the opportunity to empower and inspire our community. I would not be here if it had not been for the Center and what it has done for me."