By Greg Hernandez
Before a crowd of nearly 250 spectators, Ryan Wooten bravely shared why the Los Angeles LGBT Center's first-ever expansion into South Los Angeles means so much to so many people.
"A center here in this location means accessibility. It means representation. It means community," he said at the January 11 grand opening of Center South.
When he was younger and diagnosed with HIV, Wooten (pictured above) explained, he would have to take two busses and a train to travel to the Center's McDonald-Wright Building in Hollywood for treatment.
"I remember being on the train. I remember being nervous. I remember having symptoms. I remember all of those things," he recalled. "I hated it. I'd be thinking, 'Why isn't there a place to go in this [South L.A.] neighborhood?'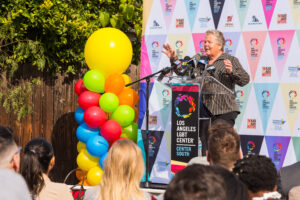 Programs and services at the 5,500-square-foot facility near Leimert Park will include HIV testing, access to PrEP and PEP services, housing case management, mental health services, CyberCenter computer lab, drop-in safe space, and more.
"Today is the realization of a dream of many years, but today is just the beginning," Center CEO Lorri L. Jean said in her remarks. "By working together with our partner organizations and local community leaders, I have no doubt that, together, we'll ensure that Center South becomes a vibrant, vital and beloved part of our South Los Angeles community."
The Leimert Park location is the latest step In the Center's long-term strategic plan approved by its Board of Directors in 2008 after a community survey of thousands of people. The plan focuses on how to best meet the needs of the LGBT community moving forward which includes expanding Center services to a much wider geographical area. Just over four years ago, the Center opened Mi Centro in Boyle Heights in partnership with the Latino Equality, and in 2018, opened the Trans Wellness Center in Koreatown with a handful of partners. 
All the programs and services at the location will be provided for free or at low cost to everyone, with a focus on serving the needs of young gay and bisexual men of color ages 12 to 29.
The Center received grant support from Los Angeles County and has teamed with local organizations Bienestar Human Services, Black AIDS Institute, Children's Hospital Los Angeles, and The Wall Las Memorias Project to address the societal and health needs of LGBT people of color living in South Los Angeles.
"The County agreed to fund a new location in South L.A. where we could focus on HIV prevention, testing, and treatment among gay and bisexual men of color," Jean explained. "But we knew that we wanted—and we needed—to do much more than that. We wanted this to be a mini service center, a gathering place for all LGBT people in the area. So we've been raising money to add to what the county is giving us so we could get a bigger space and create this wonderful location."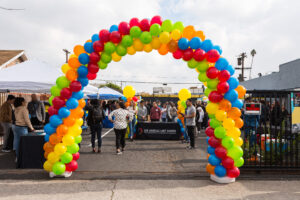 Mario J. Pérez, director of the Los Angeles County Department of Public Health – Division of HIV and STD Programs, was credited by Jean as a longtime ally who worked hard to steer money and resources to the area and to the Center South project.
"I grew up a mile and a half from here so this is a homecoming for me in many ways," Perez said from the podium. "This opening is a culmination of visioning, planning, negotiating, physical reshaping, and rebuilding."
Dr. Wilbert C. Jordan, founder of the Oasis Clinic, was recognized at the opening for his four decades of work on the frontlines of HIV and AIDS in South L.A. before the epidemic was identified by the Centers for Disease Control in 1981.
"I saw my first patient in 1979," he said after receiving commendations from the Center and the City. "I didn't know what he had. I think the hardest thing was seeing a young man in the 80s and 90s because, in my mind, I would wonder, 'What is he going to look like a year from now?' and 'Will he still be alive two years from now?' So we have come a long way."
Jordan pointed out that patients once had to take dozens of pills a day to stay alive and now a single dose of PrEP (pre-exposure prophylaxis) daily can help prevent infection.
"I've been waiting my whole life to see something like this"
Center staff member Paul Chavez could barely contain his emotions as festivities for the opening got underway.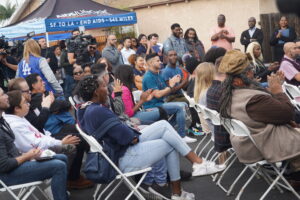 "I'm from L.A., and I've been waiting my whole life to see something like this," said Chavez, the Center's community engagement manager for Health Services. "There are out, proud queer people in these communities who have amazing lives, and now they have something here that they can adopt and make their own—a safe space for queer people of color."
Center South is housed in a space once owned by actress Marla Gibbs (The Jeffersons, 227) who for nearly 20 years operated a jazz supper club called Marla's Memory Lane.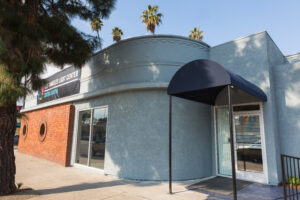 "[This was a] place where [Gibbs] trained African American actors, writers and directors to go on," Los Angeles City Councilman Marqueece Harris-Dawson said. "It is the spirit of activism that is in the very bones and the cement and all the wood and all the materials—activism and resistance is in the very essence of where you are today."
Jeanette Bronson, who lives in the neighborhood and is chair of Black Lesbians United, was among the volunteers giving tours at the opening.
"This is Marla Gibbs' old place and that makes it even better," she said. "I was so sad when it closed, but I'm so happy to see it repurposed. It's a huge occasion and truly exciting. It makes you feel not only represented, but also feel the general community cares for us as well. People were always running off to Hollywood or West Hollywood to get services—or not going at all."
Center South is located at 2313 W. Martin Luther King, Blvd.