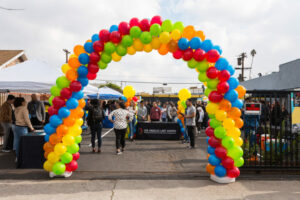 By Greg Hernandez
It was on January 11, 2020, when more than 300 people gathered for the grand opening of Center South, the Los Angeles LGBT Center's first-ever expansion into South Los Angeles.
Palpable excitement and joy were in the air. Social distancing was not necessary, there was not a mask in sight, and COVID-19 was something that didn't seem to exist in the U.S. at that point.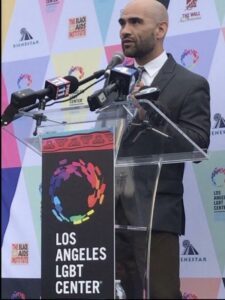 "It was a way of letting people know we are here, and services were about to begin," Center South Senior Program Manager David Flores (pictured, right) reflects a year later. "Then the pandemic happened. It only really gave us less than three months to make an impact and really engage with folks out here."
All of the programs and services at the facility near Leimert Park are provided for free or at low cost to everyone, with a focus on serving the needs of young gay and bi men of color ages 12 to 29 and trans women of color.
In addition to HIV and STI testings, services at Center South include PrEP (pre-exposure prophylaxis) and PEP (post-exposure prophylaxis) services; linkage and retention to HIV care; housing and employment navigation; mental health services; legal services; a drop-in space for community meetings and events; and a CyberCenter stocked with new desktop computers, made possible through the David Bohnett Foundation, for the community to use.
"We had to transfer just about everything online," Flores shared. "It's been a slow, steady process of building momentum online, letting people know we're here, we're open, and we're still a resource for people to access services."
Focused on Curbing HIV Transmissions
The location opened its doors on the northeast corner of W. Martin Luther King Jr. Boulevard and 2nd Avenue at a critical juncture when statistics show that 1 in 4 gay and bisexual Latino men—and 1 in 2 gay and bi Black men—will test positive for HIV sometime in their lives if nothing is done to curb transmissions.
In opening the 5,500-square-foot facility, the Center received grant support from Los Angeles County and joined forces with local organizations, including Bienestar Human Services, Black AIDS Institute, Children's Hospital Los Angeles, and The Wall Las Memorias Project, all of whom have a part-time presence at Center South.
Throughout the pandemic, Center South has offered free condom pick-ups each weekday, the opportunity to speak with on-site navigators and to get connected to PrEP/PEP, HIV and general health care, and HIV/STI testing.
Among the programs launched online include the The U/O Project which is an intervention helping Latinx and African American MSM (Men Who Have Sex with Men) between the ages of 18–29 gain a better understanding of the prevalence of HIV and STIs in their communities. It gives tips on reducing risk behavior and using effective forms of communication to define and build healthy relationships.
Another program launched is the anti-stigma and empowering The B3 Project for queer men of color ages 16–29 who are living with HIV and AIDS in Los Angeles County.
"In South LA, unfortunately, not everyone has access to technology and so a lot of the services have been very much word-of-mouth," Flores explained. "We've promoted online, and there's a segment of our population that gets that message but the reality is a lot of our rapport is built on in-person interaction. Although we are limited to how we can do it, we've somehow managed to create that rapport."
Linkage to Care Coordinator Victoria Alexander (pictured, right) says that, while the pandemic has limited a lot of the face-to-face contact that will be eventually common in the future, trust has been built over the past 12 months.
"Initially they were curious but really wouldn't engage with us," she revealed. "We have gone from the community being weary of us to people coming in and saying, 'I need this service.' We're gaining a lot of trust with the community, and they are more and more comfortable with us."
That growing connection was illustrated when a mother came to the facility and shared her child's recent coming out experience with Alexander.
"She just didn't know what to do," Alexander recalled. "She came to us and was like, 'My kid just came out. They're 14, and I just really need some resources.' We were able to talk to the kid, talk to the family, and really connect both the mother and the child into resources that really help bridge that gap from the unknowing to setting them up for success."
Pride Pantry and Meal Giveaways
Beginning in July, Center South opened its Pride Pantry every second and fourth Friday of the month, providing to more than 200 people each month with boxes of fresh produce and dry pantry items.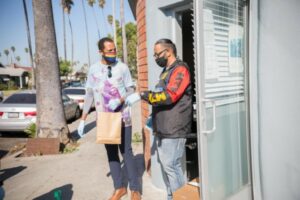 It also partnered with Frontline Foods to distribute more than 1,000 meals from Black and Latinx restaurants over the summer. In November there were a series of hot meal giveaways in partnership with Amazon Studios.
"Food insecurity is always going to be an issue in our most vulnerable populations," Flores said. "People have been so appreciative of the work we've been doing—especially in providing food."
Looking to the Future
Once it becomes safe to do so, Center South will begin hosting its community group meetings in person in addition to various events and activities. It recently achieved Federally Qualified Health Center status, along with the Center's Trans Wellness Center in Koreatown and Mi Centro location in Boyle Heights, which means health care services can be expanded at those locations.
Due to COVID-19, the current plan is to postpone health services, including primary care and mental health, at Center South until April.
"People are starting to understand the fact that this is their center and that we're really here for the community," Alexander said."
Follow Center South on Instagram @centersouth_