By Greg Hernandez
Five years ago, Jeffrey Rodriguez was walking down Santa Monica Boulevard and noticed a vacancy where the legendary Numbers Bar and Restaurant had existed for many years. He knew instantly that he'd found the ideal place for the Los Angeles LGBT Center to expand its presence in West Hollywood with a clinic to be called Center WeHo.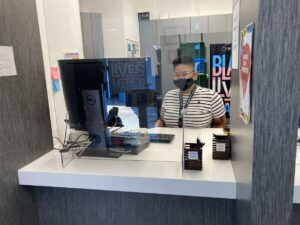 "I thought the location was perfect," recalls Rodriguez, the Center's associate director of community health services. "It was above Gym Sportsbar and The Coffee Bean and centrally located in the community. It just made sense."
Sadly, Gym Sportsbar went out of business during the COVID-19 pandemic and The Coffee Bean & Tea Leaf had shuttered long before that. But Center WeHo remains, marking its fifth anniversary in the heart of West Hollywood.
The clinic provides a welcoming sex-positive environment where people can feel comfortable talking to providers and counselors about their risk factors and symptoms as well as their interest in taking PrEP (pre-exposure prophylaxis) and PEP (post-exposure prophylaxis).
In its first five years, Center WeHo provided nearly 40,000 HIV tests, treated more than 9,000 clients for a sexually transmitted infection (STI), and conducted more than 3,800 consultations for PrEP. These numbers are triple the rate of which The Spot (the Center's previous and much smaller clinic in West Hollywood) had been able to provide.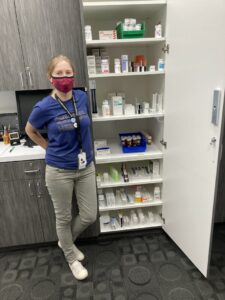 "The rates of testing shot through the roof almost immediately after we opened," says Center CEO Lorri L. Jean. "It's been very accessible to people, and I think it's one of the reasons that we've been able to make such a dent into the rate of HIV infections in our community here in Los Angeles."
The Center has long been one of the largest HIV testing sites in Los Angeles County.  For years, approximately 4 percent of clients who came in tested positive—a significantly higher rate compared to the United States' average positivity rate of less than one percentage point.
"Our rates were high which showed me that we were getting at the right population," Jean explains. "Thanks to PrEP and our really concerted testing efforts, we are now down to about 1 percent and a little under. We're seeing the results in our testing, and Center WeHo has been a big part of that."
Still Open During COVID-19
Before the pandemic led to shutdowns in March, Center WeHo was seeing up to 100 people on its busiest days.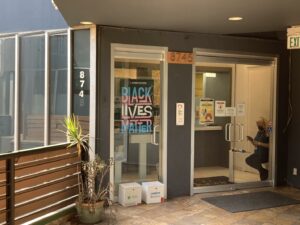 "We almost immediately outgrew the space," says Rodriguez, who was program manager for several years before being promoted to a Center-wide role. "A lot of people were surprised at how non-judgmental we are. What's special about West Hollywood: it's a sexual health clinic geared towards everyone. It's a very special place where you know everyone is there for the same reason. There's no shame and no guilt."
A medication dispensary opened at the location in July 2019, allowing clients to leave Center-WeHo with PrEP on the same visit. The dispensary has become key to achieving the Center's goal to increase the number of PrEP prescriptions. Additionally, the availability of a full-time pharmacist on-site provides an extra level of encouragement to stay on a regimen due to heightened monitoring and adherence. The pharmacist can have private, face-to-face consultations with clients about HIV drug regimens and their side effects.
West Hollywood city officials have been pleased with Center WeHo's presence.
"We are proud of the partnership that the City of West Hollywood and the Los Angeles LGBT Center have had, for many years, in addressing the HIV/AIDS epidemic," says Mayor Lindsey P. Horvath. "We are grateful to the Center for our wonderful partnership to support prevention, advocacy, testing, and services, as well as to realize a vision to end the HIV/AIDS epidemic in generations to come."
A Dedicated and Diverse Staff
The clinic now has increased to 20 staff members but, due to the pandemic, appointments are now required. As many as 50 clients are staggered throughout the day in order to maintain social distancing in the waiting room.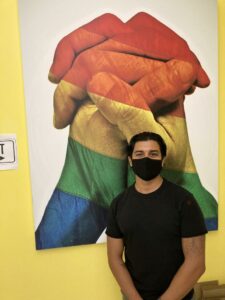 "We have a diverse staff so when clients arrive, they feel comfortable and see themselves," says Michael Rodriguez, the location's current program manager. "The message is the same: Get tested regularly, talk to your partners, get on PrEP and, if you are living with HIV, get yourself into care."
Rodriguez (pictured, left), worked at The Spot more than six years ago as a front desk staffer and has been with Center-WeHo since day one. He says the typical Center WeHo client has diversified over the years.
"I'm seeing more people of color coming in and feeling comfortable. At the very beginning, clients would say to me, 'Oh, I thought I wasn't allowed here—that this place was only for WeHo people.' I'd respond, 'Everyone's allowed, please tell your friends!' Rodriguez said. "We want to make sure people know we are a resource for everyone. I fear some clients are intimidated to visit because they think it's going to be a lobby filled with white, gay men—it's not."
Chris Reyes, a Center WeHo health educator who started working at its front desk, has counseled an array of clients including some who are experiencing homelessness.
"One guy was in his mid-30s, and everything was going wrong for him," Reyes recalls. "Someone told him we could help him. He had a lot of issues with drugs and STDs, health problems he didn't even know about, and he was hungry."
The man was set up with treatment, counseling, and sent to organizations where he could get food.
"He called back to say thank you," Reyes shares. "A lot of our clients appreciate everything that we do."
For more information about the Center's services and locations, go to lalgbtcenter.org