Midway through the September 12 Love in Action telethon benefitting the Los Angeles LGBT Center, co-host Jane Lynch told KTLA 5 and livestream viewers worldwide that she had a feeling in her bones.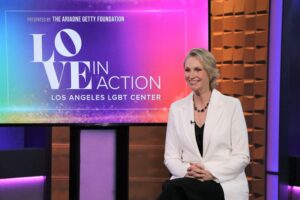 "I just know we're going to exceed our $1 million goal tonight," predicted the five-time Emmy winning actress and TV game show host.
Lynch was absolutely correct.
By the end of the incredible two-hour show a total of $1,273,063 had been raised for the Center's vital programs and services which have been in more demand since the start of the COVID-19 pandemic. As of Tuesday, the Center confirms donations were still coming in with a final total that could exceed the $1.3 million mark.
Lynch, a former member of the Center's Board of Directors, described the organization as "the model for centers around the world. It's an amazing place which is why I love it so much. The depth and the breadth of programs and services really blows me away. It's like 12 non-profits under one roof."
The Glee alum co-hosted the live show with KTLA 5 News anchor Cher Calvin, who shared with viewers that her father Roger Calvin, a former movie star in the Philippines, came out as a gay man when she was 18. Although her father was a big fan, it was her mother who insisted on naming her Cher after the famous singer and actress.
Then that Cher (the Oscar-Grammy-Emmy-winning icon) helped kick things off by asking people to donate, calling the Center "an unstoppable force in fighting bigotry for a better world. We need this desperately right now."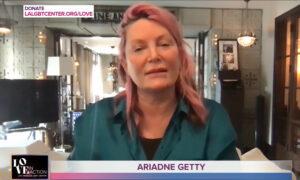 Love in Action was presented by The Ariadne Getty Foundation.
"Because both of my children, Nats and August, are part of the LGBT community, it should surprise no one that much of my work focuses on LGBT causes," Getty told viewers. "I've been a strong supporter of the Center for the past five years. The Center has continued to be a safe haven for all those who show up at its doorstep and call out for help."
k.d. lang Calls In From Canada
Throughout the show, Lynch and Calvin conducted live interviews with Center CEO Lorri L. Jean, singer k.d. lang, RuPaul's Drag Race alum Shangela, and Star Trek: Discovery co-stars Anthony Rapp and Wilson Cruz, who portray a gay couple on the hit science-fiction show.
Appearing from Canada, lang joked with the co-hosts about how her concerts during the 1990s "were the first Tinder." She also spoke about coming out publicly then and continuing to raise awareness today.
"I think it's important that we don't go backwards. It's important that we stay focused," lang said. "I think that's why the Center is so very important because it is an extremely eclectic community—senior and youth and everything in between. It really is the vortex of the community and has been for 51 years. It is immeasurably important to offer a community for the disenfranchised."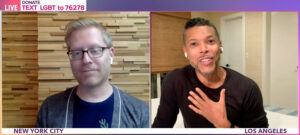 During his segment with Rapp, Cruz echoed that sentiment: "I feel the Center is like a starship. It is inhabited by these amazing, genius people who come together to save a community, and I'm inspired by the work that the Center does my entire life as an inhabitant of L.A. They have been here for me my entire adult life, and I couldn't love them more."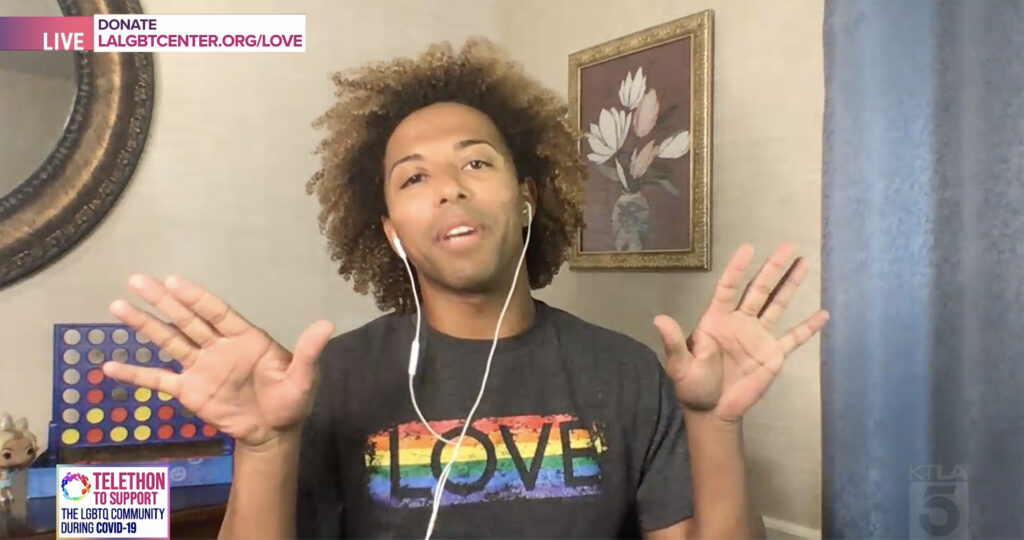 DJ Pierce, aka Shangela, recalled how actress Jenifer Lewis introduced him to the Center when he was working as her assistant.
"I saw the dedication she had to the Center and the belief she had in what they were doing," said Pierce, who video conferenced from Texas. "I took a stand-up comedy class at Center. It led me to the Comedy Store on Sunset to all around the world."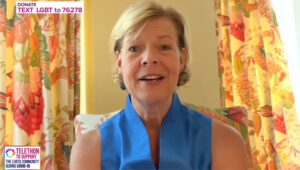 U.S. Senator Tammy Baldwin, the first openly LGBT women elected to the nation's Senate, called the Center's work "pivotal in changing the world around us."
"Right now, in the challenging times that we face with COVID, we recognize that the need for the Center's services are only growing," she pointed out. "I want to thank the Center for a half-century of advocacy, support, and resources for the LGBTQ community, and I look forward to seeing all of the transformative work you'll continue to do in the years to come."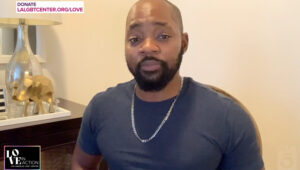 Trans actor Brian Michael Smith of TV's 9-1-1: Lone Star and Queen Sugar reminded viewers that throughout the COVID-19 pandemic, the Center's Trans Wellness Center located in Koreatown has remained open for essential services like food and hormone therapy.
 "Whether most people recognize it or not, the people representing the T in LGBT are some of the most at-risk members of our community," Smith said.
Sia, Billy Porter, RuPaul and More Take Part
Other famous faces who shared their personal experiences with the Center, or who introduced segments highlighting various programs and clients, included Sia, Alexandra Billings, Billy Porter, Billy Eichner, Frankie Grande, Meredith Vieira, Carla Gugino, Jesse Tyler Ferguson, Margaret Cho, Peter Paige, Gigi Gorgeous, Nats Getty, August Getty,  Coco Peru, Jay Leno, Bruce Vilanch, RuPaul, Pauley Perrette, Tyler Oakley, and Andrew Rannells.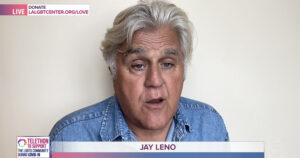 Leno told a touching story from his childhood about why his father would always insist he wear a jacket and tie whenever the family went out to dinner.
"My dad would always say, 'We want to show that we're proud,'" Leno recalled. "To this day, whenever I watch a civil rights march or a gay pride parade or any kind of protest, I always look at the faces of people and see that same expression my dad had when he talked about being proud. Fight the good fight my dad used to say. Do what you can to help out."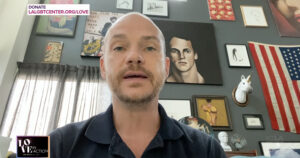 Queer as Folk alum Paige shared with viewers how the Center was there for him when he first arrived in Los Angeles 27 years ago.
"I was scared and alone and broke," Paige said. "Someone suggested that I check out the Center to get some help. I did. I found a therapist there for $10 a week. It changed my life and it changed what I believed was possible for me. There's a direct line from that scared boy to the man you see before you and it goes right through the Los Angeles LGBT Center. I am forever grateful."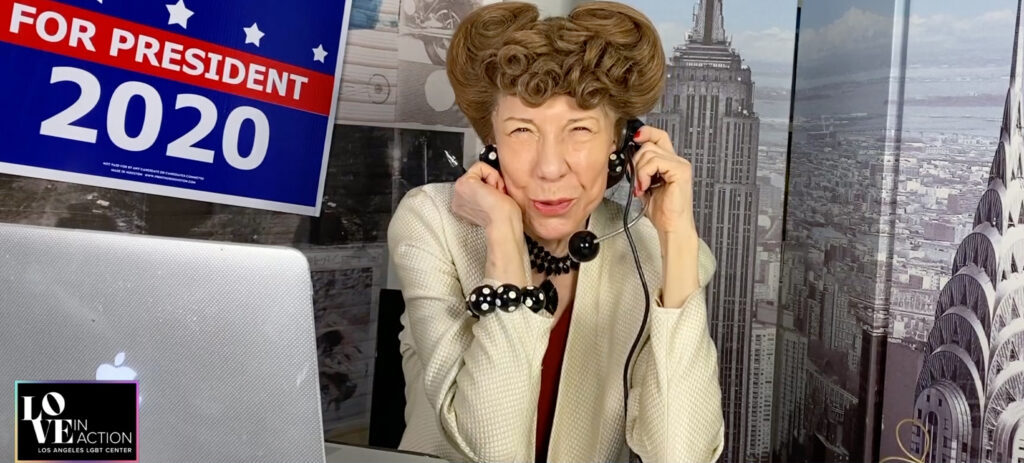 The Return of Ernestine the Telephone Operator
Lily Tomlin, a staunch Center supporter, used the telethon to step back into the hairdo of one of her most famous iconic characters: the brash, tough, and uncompromising telephone operator Ernestine.
According to the skit, Ernestine had left the telephone company and was an out lesbian helping out at the Center nowadays.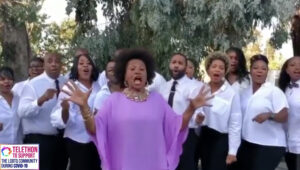 "A gracious hello. This is the LGBT Center. We're here, we're queer, get used to it," chuckled Ernestine with her classic snort. "No, I don't usually answer the phones here. I heard the Center was in additional need during the pandemic so, heroically, I stepped forward to man the boards. … Yes, I'm out and proud … spoken with pride and nothing to hide."
Love in Action also featured powerful musical performances by Leslie Odom Jr., Trans Chorus of Los Angeles, Tonality, and Jenifer Lewis.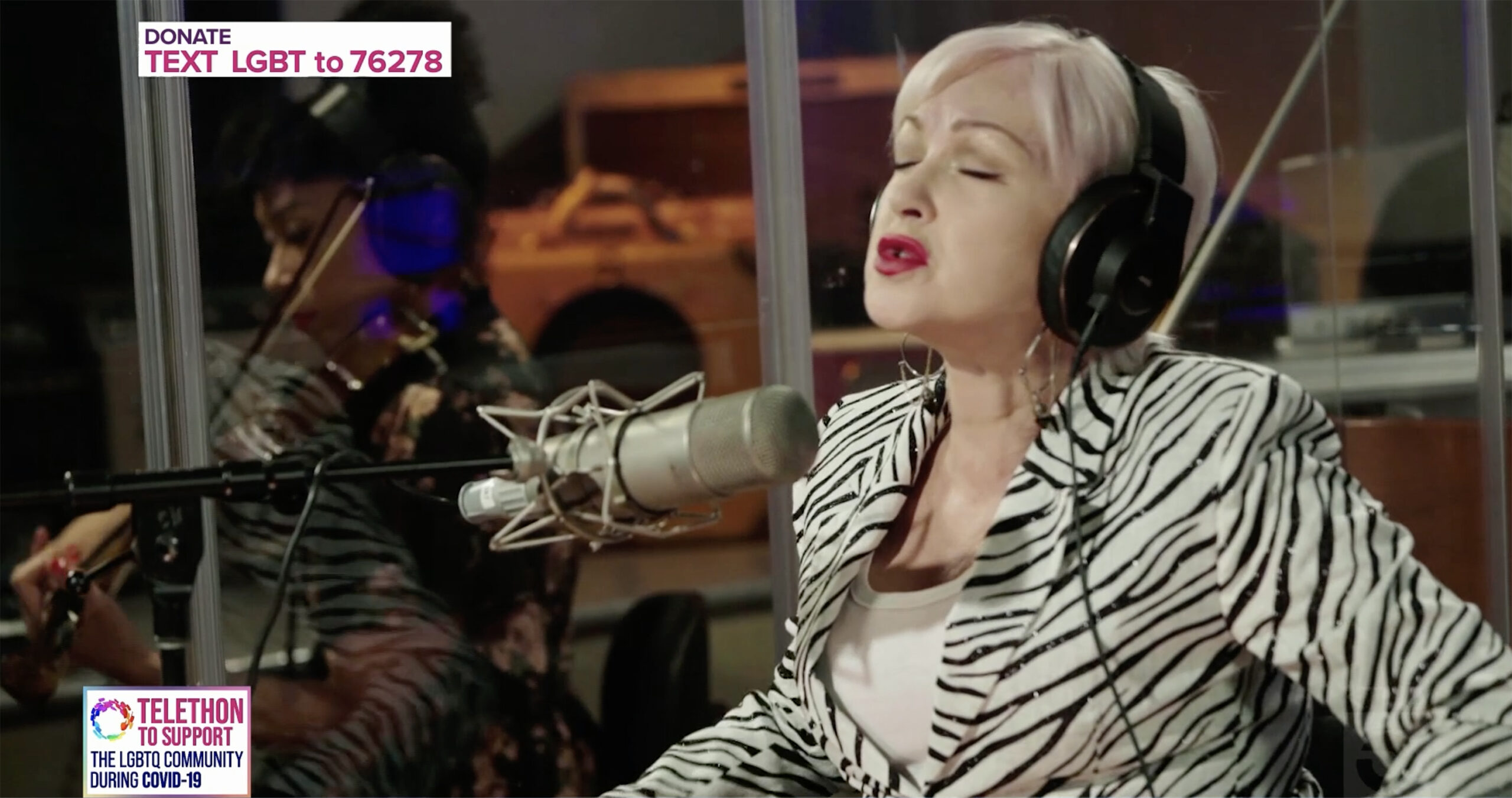 Grammy Award-winner Cyndi Lauper appeared in the show's first half-hour to perform one of her biggest hits True Colors. She shared a story explaining how it became one of her signature songs.
"I first sang this song in 1986 for a friend of mine who was an LGBT youth who experienced homelessness when he was thrown out of his home at the age of 12," Lauper explained. "For decades, when it comes to youth services, the LGBT Center has been giving young people, who have nowhere else to go, a home. In this age of COVID-19, we need the Center more than ever."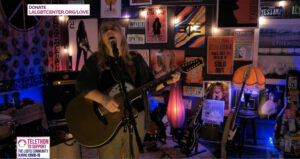 Melissa Etheridge performed her classic hit Come to My Window, which she released in 1993 soon after coming out as lesbian.
"The generation before me didn't always have the luxury of coming out and being accepted and even celebrated," she shared. "So, they turned to the Center for support. Tonight, I sing for the countless doors and windows the Center has kept open for all the LGBT people of all stripes for more than five decades."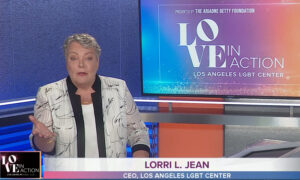 In her remarks near the beginning of the telethon, Center CEO Jean explained how the pandemic impacted the Center, which has continued feeding and housing people and providing medical care and social and educational programming.
"It's been really tough," she admitted. "Non-profits all over town have been closing. Our Center has been determined to keep going. A third of our staff are essential first responders, and they have courageously been on the job every day providing medical care, mental health counseling, services for seniors and homeless youth, affordable housing, and more. We couldn't stop those services—not when our community needs us more than ever."
She added: "We've had to develop brand new programs to respond to the pandemic at a time when we've had to cancel every fundraising event this year."
When asked what's next for the Center, Jean responded: "We just have to keep on keeping on. More people are coming to us every day for help."