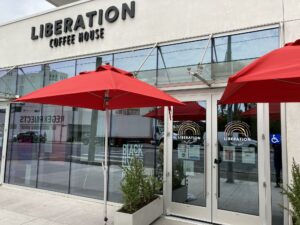 By Greg Hernandez
A delighted Lina Noel happened upon Liberation Coffee House on the northeast corner of Santa Monica Boulevard and McCadden Place completely by random—on the café's grand opening day.
"We were looking for coffee, thought this place looked great, and just walked in," explained Noel, who moved to Los Angeles from New York just weeks ago.
Because of the ongoing COVID-19 pandemic, the Los Angeles LGBT Center's new retail café opened its doors on August 17 with little fanfare yet the first-day customers were enthusiastic about the food and the cause.
"They told me this benefits the Center, and I'm so happy to hear that. So happy to help in this way," Noel said as she held a cappuccino in one hand and a bag with sandwiches and chips in the other. "It's a very easy way to help. That's how you build more community, and that's how you help people who need help. I will be back all the time."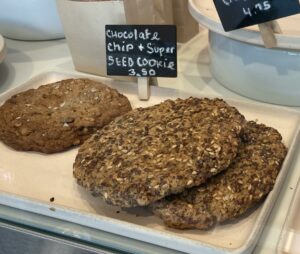 Another customer, Rick Llanos, heard about the opening and decided to head over from Lake Hollywood to check things out. He walked out with a bag filled with sandwiches, croissants, and cookies.
"I got a little bit of everything so I'll be happy for awhile," he said, smiling. "A friend of mine told me about it and said, if I need some lunch and want to come out and support the cause, to come on down. So, I did. It's a good way to support the Center, a nice way to help out. It will be even nicer when (post-pandemic) you can sit down and actually enjoy the lunch instead of having to take it back home."
Located at the Center's flagship Anita May Rosenstein Campus, the 1,600-square-foot coffee house is a unique social enterprise that will have its revenue reinvested into the Center's life-changing and life-saving programs and services. A socially-distanced line funnels customers through one door and out another, giving them a good look at the vibrant interior space which they will be able to fully enjoy once it is safe to do so.
"We want to showcase the space and have people see it as opposed to just serving them at the door," said Center Manager of Café and Catering Erin Muscatelli.
The café serves Verve Coffee, Rishi Tea, and pastries from locally-owned Bakers Kneaded. The menu of hot and cold sandwiches, flatbreads, salads, breakfast burritos, various bowls, and other gourmet grab-and-go food items are made entirely by students of the Center's intergenerational Culinary Arts program, a three-month training program launched last year to prepare the Center's LGBTQ youth and seniors for employment in the restaurant and hospitality industries.
Liberation Coffee House is staffed and operated by graduates of the program including 56-year-old Gio Bertuccelli who could not hide her joy over being a part of the new venture.
"I am a middle-aged trans woman, and the opportunity to be on the ground level at the opening of this amazing new experience was like a eureka moment," Bertuccelli said.  "The coffee house is more than a great place to get great coffee and pastries. It's a hub. It's a beam of beauty and love coming out of our community like open arms stretching out. I grew up around coffee houses in Italy, we call them café bars. I just love the environment."
Another café team member, Tryron, described it as "breathtaking" to be working each day in an atmosphere that is diverse and welcoming. In just three years, the 24-year-old went from experiencing homelessness to getting into the Center's Transitional Living Program to renting his own apartment and graduating from the Culinary Arts program in July.
"When I got the job offer, I was shocked," he admitted. "I was working really hard to prove not only to myself but to the teachers and to the Center that their time invested in me was well worth it. For me to actually be working for the Center instead of using their resources, it proves I took heed to what people were saying and did the best I could to make the right decisions."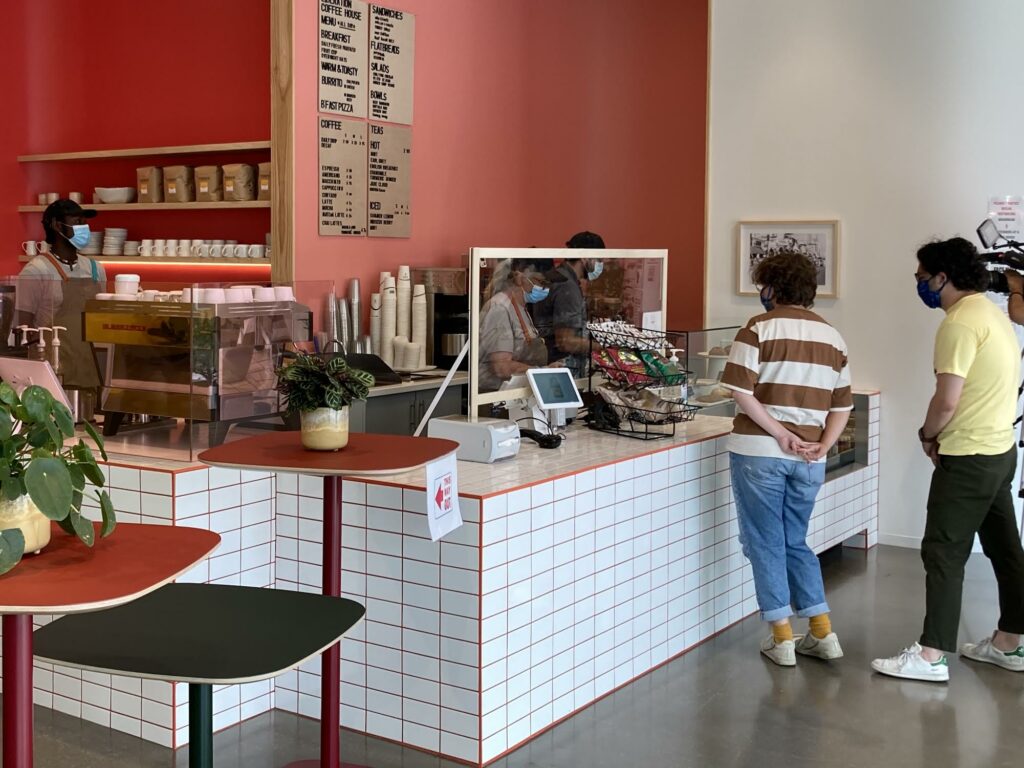 For now, food and beverage items are only available "to go" due to the pandemic. Safety precautions have been implemented, such as plexiglass windows at the ordering counter, hand sanitizers and disinfecting wipes, cashless payments by way of credit and debit cards, and the closure of indoor seating. Social distancing and face coverings are being enforced for all café team members and customers.
"We want to keep the space open despite the challenges and circumstances, keep our staff employed, and serve the community as best we can," said Muscatelli.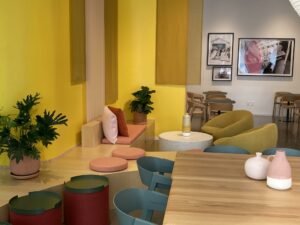 After purchasing a chocolate croissant and an iced caffè macchiato, customer Steven Halling took a moment to take in the café's décor, a palette of red, orange, yellow, and green.
"It's super cute — I love all the plants," Halling said. "I think it will be a nice place for people to hang out. And it's connected to the Center with all its other cool things."
Historical black and white photographs adorn the walls of the café including the first "Liberation House" opened in 1971 by the Center, known then as the Gay Community Services Center.
Liberation Houses provided room and board for $1.50 a day for homeless LGBTQ youth and adults. It was the nation's first facility of its kind. By 1972, six Liberation Houses were open throughout Los Angeles.
"It's liberation for a new generation at the Center," said Nick Panepinto, the Center's Director of Culinary Training and Operations. "Everyone has been wondering what this empty space was going to transformed into, and the vision has finally been realized. It's the first time the community is able to interact with the Center on a daily basis — actually just coming in for your morning coffee. We're excited that this brings our Center into the community on a whole new level!"
Liberation Coffee House is located at 6725 Santa Monica Boulevard and open Monday through Friday from 7:30 a.m.–2:30 p.m. 
For more information, visit liberationcoffee.org and follow @lalgbtcenter on social media.