By Greg Hernandez
The Senior Services staff of the Los Angeles LGBT Center didn't let the COVID-19 pandemic prevent them from moving ahead with a special Honor Our LGBT Elders Day concert on May 16.
The concert, comprised of both live and pre-recorded performances, was presented virtually and marked the first time in a few months that many senior clients had even seen each other's faces.
"We miss you all so much, we miss seeing you all in person," said Activities Coordinator Kira Preston, who organized the event and also performed with musician Molly Allis. "This is definitely the next best thing."
Honor Our LGBT Elders Day is an opportunity each year to recognize the lives of LGBT older adults and honor their contributions to history. Last year, the Center marked the occasion with a special luncheon.
"The rights and acceptance that LGBTQ individuals have today did not occur in a vacuum or happen by accident," said Associate Director of Housing and Training Tripp Mills at the start of the event. "Thank you so much. This is all for you today."
Activities Coordinator Stephanie Harris choked back tears during her remarks: "I'm really honored to be able to fight alongside you. Your resilience and your sacrifice and your passion really remind me to never give up. We really miss you, and we can't wait to see you."
The first performer, Brian Frank (pictured above), explained that his journey with music began at the Center in 2012 when he participated in "a jukebox hootenanny singalong." Encouraged by Center staff, Frank launched a thriving music therapy business.
"All these people over age 60 using computers!" he said of the dozens of people watching the concert before launching into a spirited rendition of Walk Right In.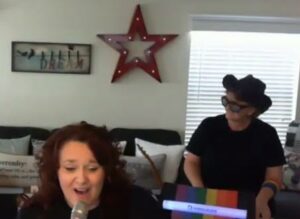 Other performers included Nora Rachel, Jyvonne Haskin, and Tiffany Anne with Alexander Burke.
National Community Center Policy Manager Tanya Tassi (pictured, left) closed the show with a four-song set that included the Beatles classic Let It Be and Creedence Clearwater Revival's Bad Moon Rising.
"Thank you so much for paving the way for so many generations of LGBT people to follow, including us," Tassi said. "There's still so much work to be done but we know that together we will continue to carry that torch and some day we will achieve equality, and we will do it together."