By Greg Hernandez
When U.S. Congressman Adam Schiff paid a visit to the Los Angeles LGBT Center's Anita May Rosenstein Campus on Thursday, he quickly got to work handing out free boxed lunches in the courtyard.
"Is that Adam Schiff?" asked a surprised Carolina Lynn as she waited in line for her meal. "I'm glad he came!"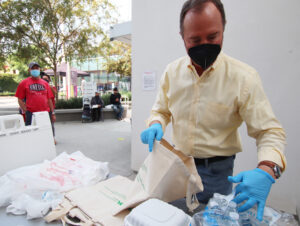 So were lunch recipients Vernel Primus and Dolly Boyd who, after receiving their food, excitedly asked the low-key Schiff to pose for some socially-distanced selfies.
Schiff helped to distribute boxed meals consisting of chicken and rice salad with roasted collard greens, Brussel sprouts, and squash. The meals also came with pieces of fresh fruit, and a carton of milk or bottled water. Thursday's meals—as well as the 400 meals each day—were prepared by students of the Center's Culinary Arts program in a commercial kitchen located just yards away from where Schiff was volunteering. The meals also feed the Center's youth clients and residents of the Center's Triangle Square senior housing complex.
"I come here to get lunch on the days that I can, and it's been very helpful," Lynn said. "We really appreciate the Senior Services here. They do a lot for the LGBTQ senior community."
Representing California's 28th district that includes the Center and now in his 10th term, Schiff said he is grateful for all the Center is doing during the COVID-19 pandemic including the creation of its Pride Pantry to help people experiencing food insecurity.
"The need right now is greater than ever for the community when people are isolated, when people are going hungry," the congressman said. "Not surprisingly, the Center has really stepped up in a big way preparing meals, delivering them to people who can't safely leave their homes, making meals available here at the Center."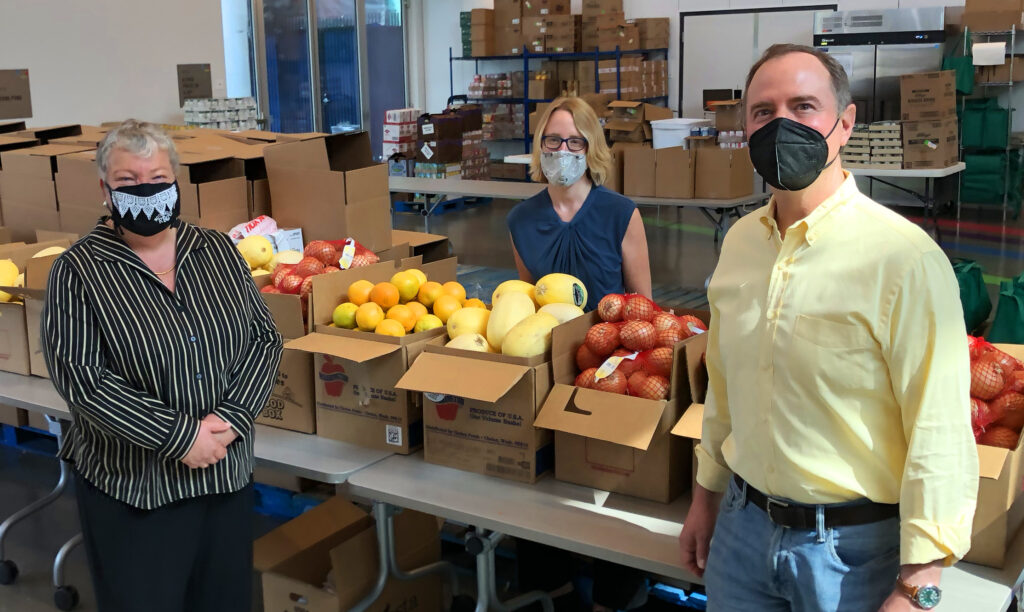 After handing out lunches, Schiff took a tour of Pride Pantry with Center CEO Lorri L. Jean and Kiera Pollock, director of Senior Services.
"We're not having meetings in here anymore so we thought we'd put it to good use," Jean said as she led Schiff into Pride Hall, the main meeting space now filled with boxes of fresh produce and pallets of boxed and canned food.
Pride Pantry also prepares boxes of food to be given at two additional Center Locations: Mi Centro in Boyle Heights and Center South in South Los Angeles.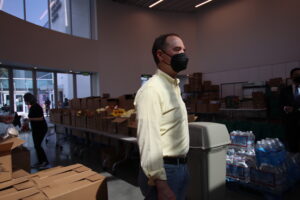 "It's just a tremendous effort and, of course, the volume tells the story how much need there is out there," Schiff remarked. "It's just such an impressive effort and not at all surprising because this is what the Center does best: They help the people in the community in times of need. One of the most uplifting things of this otherwise difficult, dark time is seeing how people are coming together to help one another and that's how we get through this—we get through this together."
A longtime staunch Center supporter, Schiff spoke at the organization's 50th anniversary gala in 2019 and at the grand opening of the Anita May Rosenstein Campus earlier that year. He has also been a participant in AIDS/LifeCycle riding the seven-day, 545-mile bike ride from San Francisco to Los Angeles benefiting both the San Francisco AIDS Foundation and the HIV/AIDS-related services of the Center.
"I see a tremendous sense of community at the Center and the wonderful people who are helping out, lending a hand, looking after each other," Schiff said. "It's just such a positive, affirming environment, and I am delighted to be a part of it and delighted to represent the community in Congress."