It was 1977 and disco was all the rage.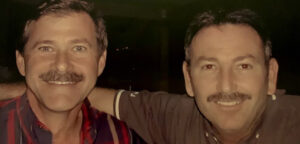 Chris Laib (left in above photo) and Lon Wahlstrom met at a gay dance bar in San Diego called West Coast Production Company and, 43 years later, they are still together.
"Chris and I are opposites in so many ways, but snatching him from across the dance floor was the luckiest moment of my life," Wahlstrom shared. "Thanks to him, our lives are never boring and seldom slow."
The couple's staunch support of the Los Angeles LGBT Center began when Wahlstrom decided to ride in the seven-day, 545-mile AIDS/LifeCycle several years ago. He is close to reaching his goal of raising $69,000 (in celebration of his 69thbirthday) for this year's event, which has gone virtual due to health and safety concerns over the COVID-19 pandemic.
"I was captured by the ride's 'Love Bubble,'" explained Wahlstrom, a licensed contractor who owns Wahlstrom Companies, Inc. "The staff, riders, and roadies are fantastic. And because of our generous friends, I am pretty successful at fundraising."
In addition to their support of AIDS/LifeCycle, the couple has also included the Center in their estate plan through its Circle of Life program.
"We are so proud of the Center—50 years of fighting for the rights of all of us who are LGBT," Laib said. "We want to invest in the next 50 years. We are all in and look forward to being part of the Center in every way we can."
"Personally, I find the Center to be the central square for us," added Laib, an agent in the Los Feliz office of Sotheby's International Realty. "Many of us went through a period of discovery, mixed in with degrees of rejection from our families. For me, growing up in a small town in Central California, it was hell. That there is a central place offering refuge, information, and acceptance is so important. I did not have that coming out. I want to try to ensure that others do."
The pair have been particularly inspired by the 2019 opening of the intergenerational Anita May Rosenstein Campus because it brings together a multitude of youth and senior services.
"I love that there are mature LGBT folks mingling with young, struggling kids," Laib said. "That is a really beautiful thing."