By Greg Hernandez
If the walls in the front lobby of the Los Angeles LGBT Center's Renberg Theatre could talk, they most certainly would have the voice of Jon Imparato.
The rich theatrical legacy built by the Center's charismatic director of Cultural Arts is literally hanging on the walls of the Renberg lobby where framed posters of shows starring the likes of Billy Porter, Carol Channing, Leslie Jordan, Kathy Griffin, Jenifer Lewis, Margaret Cho, and Alec Mapa are strategically on display.
"I rotate them sometimes," Imparato jokes. "If Jenifer comes here and she's not on that wall, she'd cuss me out. How could Coco Peru with Jane Fonda or Liza Minnelli not be on the wall?"
The 200-seat Renberg Theatre is part of the Center's Lily Tomlin/Jane Wagner Cultural Arts Center which also includes the 50-seat black box Davidson/Valentini Theatre, as well as the Advocate & Gochis Galleries.
"Leslie Jordan has done five shows over the years, Kathy Griffin has been our dear friend who has done at least a dozen shows with us, Margaret Cho has done so many shows," Imparato says as he scans the walls. "Joely Fisher did a show called From Here to Maternity when she was nine months pregnant and she had a full band, and Jenifer Lewis did Bipolar Bath and Beyond and a show called Getting It Off My Chest about her breast reduction. Quentin Crisp did his last shows here when he was 90."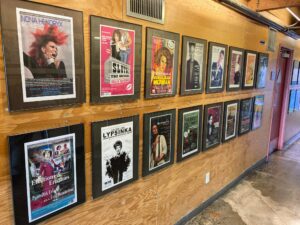 The Brooklyn native refuses to use the word "retire" but he does acknowledge that in June, he will be "moving on" from the Center and the job he's held for nearly 24 years. He remembers it all in great detail with each poster triggering some kind of anecdote—some more heady than others.
"When we were doing Joely Fisher's show, there was this moment when I was in this lobby talking to people who have gathered and I realize it's me, Lainie Kazan, Kathy Najimy, Holly Woodlawn, Michele Lee, and Melissa Etheridge all talking in a circle before the show," he recalls. "I was acutely aware this is quite the assemblage of people all together in one group."
A former actor in New York with some stage and TV roles to his credit, Imparato had "survival guilt over AIDS" after three former lovers died in the 1980s. He decided to head to the West Coast to try his luck with acting there. He quickly landed an agent but after a year, he knew he wanted to do something else with his life and knew it had to do with teaching kids how not to get HIV.
This led to his being hired at the Center to do just that. His acting background turned out to be ideal for leading group discussions and he worked tirelessly distributing condoms and safe sex materials.
Imparato became Outreach Director and had a key role in the opening of a youth center in the mid-1990s which he ran for three years. Thoroughly devoted to the work, it eventually took an emotional toll and Imparato left the Center in 1998 after a decade to explore other opportunities.
"I just got so tired," he remembers. "People have no idea how hard it was. Back then, there were pimps, gangs. It was an intense world and the hardest thing I've ever done in my life."
After about six months of unemployment, Imparato got a call that changed his life. It was from Darrel Cummings who was then the Center's deputy executive director and is now its chief of staff. They had worked together to open the youth center and Cummings wanted to know if Imparato could return as a consultant to help the Center open its brand-new cul- tural arts facility that would be called The Village at Ed Gould Plaza.
"He was incredibly passionate about working with young people and having a positive impact on their lives," Cummings recalls. "He was as dramatic then as he is now and that's why when we needed some help to figure out what The Village was going to be, I thought of Jon. It wasn't because he had been an actor or that he had worked at the Center before. It was the combination of his creativity and passion that I thought we would desperately need for a facility like this."
Cummings' instincts would prove to be beyond correct.
"I knew he was a keeper but I didn't know he was going to become the self-titled 'Mayor of the Village,'" he says, laughing. "He had a vision and he was going to realize that vision. I don't know that anybody else could have made the pro- gramming and reputation of The Village as big as Jon has. And he did it scratching two nickels together."
The Early Years
Imparato started his second stint at the Center focused on developing activities and classes to offer at The Village. He dove into the role with his typical zeal but he soon wanted to do more in the role.
"I'm a theater guy and I would think, 'I want to make real theater here," he shares. "So we started doing theater but everything was done with spit and chewing gum. We heard the Mark Taper Forum downtown was getting rid of all their lights. I ran down there with a truck and a friend of mine and we took as many out of the basement as we could take. I was always running around getting everyone's lights when they were going under and just trying to make it all work. Little by little we were able to build a real lighting grid. It was all done piecemeal, little by little by little."
In October 1998, Imparato produced the West Coast premiere of Eve Ensler's The Vagina Monologues which had a sold- out three-night run.
"That was the first play we ever did," he recalls. "It was a big, big deal. When that happened, we made a lot of money and it was well-reviewed. Poor Eve. I put her on blocks and in a big director's chair so people could see her and I got an old theater company to give me a followspot."
Through the Years
There would be so much more to come during the next 20-plus years including three official 25th anniversary productions: Jack Heifner's Vanitiesstarring Kathy Bates; Jane Chambers' lesbian classic Last Summer at Bluefish Cove; and an all-star staged reading of Larry Kramer's incendiary AIDS drama, The Normal Heart, directed by Joel Grey and starring Lisa Kudrow.
Especially memorable shows are remembered with large standing posters in the Renberg lobby. They include Search for Intelligent Life in the Universe Revisited, Tectonic Theater Project's The Laramie Project: Ten Years Later; and The Lost Plays of Tennessee Williams.
Of the latter he says: "When these short plays were found in a trunk, Tennessee Williams had written on it: 'I'll never live to see these produced.' Especially And Tell Sad Stories About the Death of Queens which is all about trans and non-binary and queer people."
The three short plays got rave reviews including one from the Los Angeles Times that is part of the lobby display and which Imparato proudly starts to reads aloud.
"I would sit in the back of the theater and go, 'Tennessee, those are your plays being produced and look where it's being produced,'" he remembers. "I would get chills."
Imparato considers that to be one of the top three plays he's presented along with Edward Albee's The Goat, or Who is Silvia? and the multiple award-winning Hit the Wall by Ike Holter.
Other producing credit highlights include the world premieres of Victory Dance by Jessica Litwak; The Break Up Notebook: The Lesbian Musical; Miss Coco Peru Is Undaunted; Adelina Anthony's Bruising for Besos; Nick Salamone's The Sonneteer; Sam Shepard's Fool for Love; and D'Lo's To T, or Not to T, the groundbreaking solo show by the acclaimed queer/transgender Tamil-Sri Lankan-American actor/writer/comedian.
The highly acclaimed revival of Ira Levin's Deathtrap is also featured in the lobby and as Imparato stands before it, he launches into a detailed story of how the production got shut down because of a brief nude scene of one of the leads.
"It says in the play, 'Take your clothes off, you're dragging mud into the room and it's evidence,'" he recalls. "The director had him take off his clothes and he's right by a fabulous fire. It looked like a real fireplace. You never see (frontal nudity). It's a really romantic scene. Some critic wrote they had done the part four times and that the nudity was unnecessary. We got so much press because of it. The London Times even called me. The foundation took the rights away."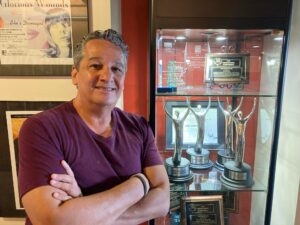 But over the years, Imparato's productions for the Center have had far more supporters than detractors and have been honored with 105 awards. That includes five LA Stage Alliance Ovation Awards including Best Musical: HAM! by Sam Harris and the highest award, Best Season from 2015-16. His Center career was also honored in 2018 by the Los Angeles Drama Critics Circle with their Margaret Harford Award for Sustained Excellence in Theatre.
The Tomlin Connection
It seems like fate that Imparato would end up overseeing programming for a venue proudly known as the Lily Tomlin/Jane Wagner Cultural Arts Center.
"I was obsessed with Lily as a kid because she is a genius," he shares. "I can quote her records verbatim. She always jokes when we're together that I know her material better than she does because I saw The Search for Signs of Intelligent Life in the Universe a million times. She and her wife Jane are the kindest people I've ever met. They hadn't lent their name to anything in all the years they were together until this."
Imparato first met Tomlin in 1977 while standing in line during the early hours of the morning to try and get tickets to her Broadway show Appearing Nitely.
"Lily pulls up in a van and she's dressed as Mrs. Beasley and she has tons of donuts and hot chocolate and coffee for people in line," he remembers.
Imparato saw Tomlin perform her one-woman show Search for Intelligent Life in the Universe on Broadway 17 times. After he had known her for 20-plus years, he pitched doing the show — written by Wagner — as a full-blown play for 12 actors. They agreed and even sat in on a few rehearsals of 2016's The Search for Intelligent Life in the Universe Revisited and helped publicize it.
When presenting him with the Ovation Awards Lifetime Achievement Award in 2021, Tomlin described Imparato as "one of the kindest, funniest, most capable, most upbeat, and loving people I've ever known."
"As a producer, Jon is known for taking great care of everyone involved in his productions—protecting them from distractions and outside pressures to ensure that they can do their very best work, nurturing them through any difficulties that arise," she said. "He keeps the whole team buoyed, encouraged, and appreciated."
Imparato considers his decades overseeing Cultural Arts at the Center as "the greatest gift of my life" and he is confident the strong foundation he has built will continue to evolve and grow under fresh leadership.
"No one is going to do the job the way I did, nor should they," he points out. "It's going to be different. I'm sure they will take it to the next level, be cutting edge, and continue to serve diverse communities. One thing that will never be different is The Village being home to so many people. It's a great, safe place."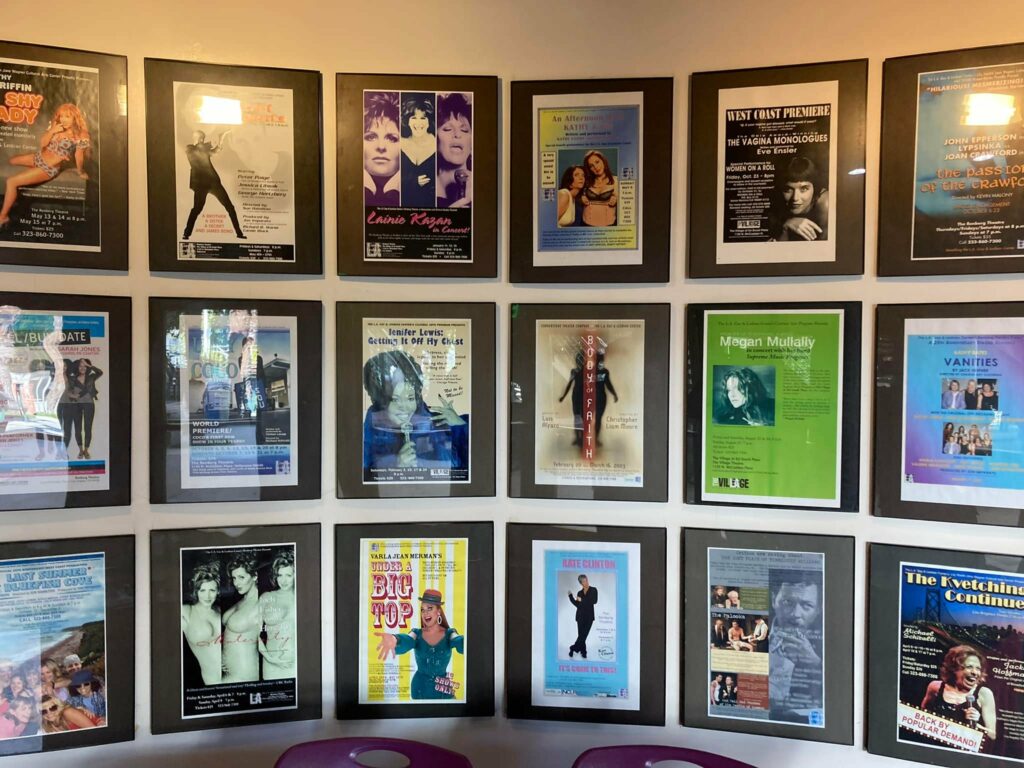 Related Story: From Liza to Lainie, Some Delicious Name Dropping With Center's Cultural Arts Director Jon Imparato