By Greg Hernandez
What do 400 pounds of roasted turkey, 300 pounds of stuffing, 265 pounds of mashed potatoes, 120 pounds each of green beans and carrots, 22 gallons of cranberry sauce, and 15 gallons of gravy make?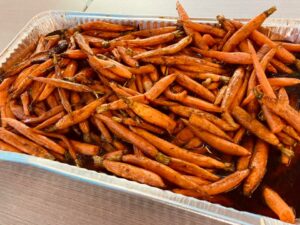 Thanksgiving meals for nearly 900 people!
In the largest undertaking so far for the Los Angeles LGBT Center's Culinary Arts program, the meals were prepared in recent days in the commercial teaching kitchen that is part of the Center's Anita May Rosenstein Campus.
Hundreds were packaged by an assembly line of volunteers inside the Campus's Pride Hall early Tuesday morning and then delivered by another fleet of volunteers to senior clients throughout the city.
"We made double what we did last year," said Culinary Arts Executive Chef Instructor Leslie Riley. "We were looking to make the meal traditional but to give it a little extra flavor, and that's why we have the ginger-orange-cranberry sauce and the thyme-and-maple-glazed carrots. We wanted to make it special."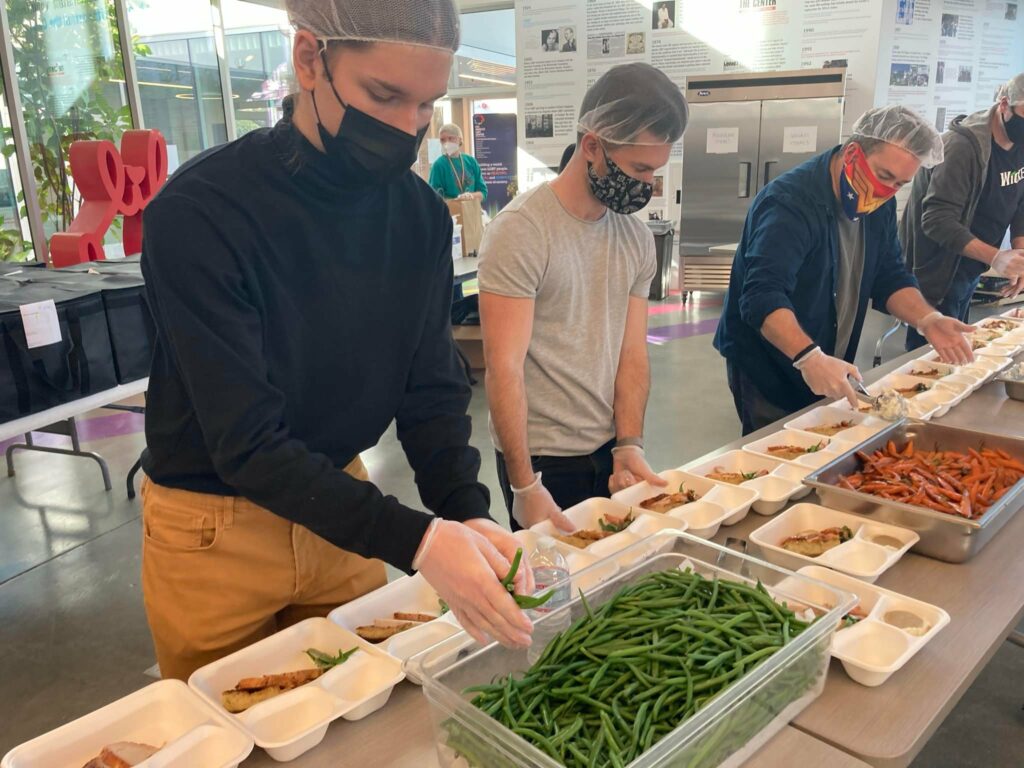 The massive meal program, sponsored by Comcast NBCUniversal and First Republic Bank, was available to any registered participant of the Center's Senior Services.
Launched in 2019, the intergenerational Culinary Arts program is comprised of the Center's youth members and seniors. In addition to the special Thanksgiving meals, the normal 426 meals prepared daily for youth members and senior clients also were made and distributed on Tuesday.
"That's a lot of food!" said Director of Culinary Training and Operations Nick Panepinto. "It's the largest number of meals ever produced in our kitchen at any one time."
"Team Gravy" Steps Up
More than 100 volunteers donated their time throughout the day in different ways including the hard-working group assembling all of the meals into to-go containers for distribution.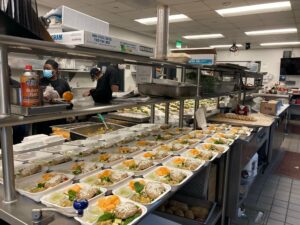 "It's been a really efficient, well-oiled machine here," said Isaac Salazar, during his shift scooping green beans. "I think it's fantastic to be doing this, and I think it's really important. I've always really liked the Center and its programs, and I'm happy to help in any way."
Phoenix Mandel spent hours ladling gravy over mashed potatoes and had the gravy splatters on their clothes to prove it.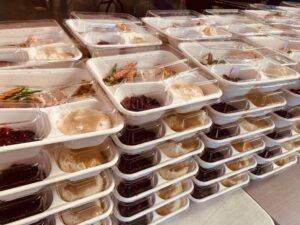 "Team Gravy was one of the riskier positions to take—it's a little messy, and we wanted to make it perfect," Mandel explained. "When people are moving fast, gravy can go all over the place. Team Gravy and Team Cranberry were really like the SEALS of this operation. It was intense being Team Gravy or being Team Cranberry, and I think we did a bang-up job!"
Mandel said there was nowhere else they would've rather been.
"The holidays are a particularly hard time for me in regards to family and some challenges related to my queerness," they shared. "I really wanted to come and be a little bit of a light for other people at this moment in time."
Looking at stacks and stacks of meals waiting to be delivered, Mandel added: "I was really impressed with the organization, with the chefs, with the teamwork of everyone on the line. It felt great! My only note for next time would be to have some tunes while we're working."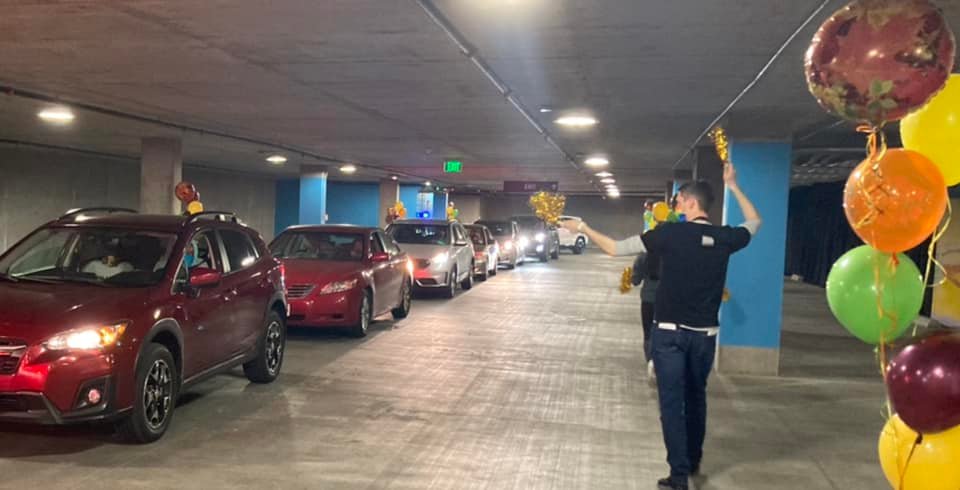 Delivery volunteers drove their cars to the Campus underground garage and patiently lined up as staff members loaded their cars with the packaged meals and provided them with their delivery routes.
"When I saw it was for seniors, it was very easy to say yes," said Mykel Crerie who was delivering meals for the first time. "I want to give back to the Stonewall generation which allowed all these rights that I have including being married. It wouldn't have happened if it hadn't been for them, and I want to give thanks."
Mark Mullin and his wife Tracy Do were excited to be taking part in the deliveries.
"What brought us out was wanting to make a difference and wanting to help people who might need help," Mullin said. "Our daughter is a lesbian, and we are big supporters of the LGBT community. We're longtime supporters to the Center but just wanted to do something different this time around."
Before getting into his car to deliver some meals, Center Executive Director Joe Hollendoner thanked the volunteers in Pride Hall for packaging them.
"I was blown away by the number of volunteers and the number of meals they were putting together," he later said. "The team was well-organized and in great spirits. It was just so uplifting! Then, to see all the cars wrapped around the block filled with volunteers who are committing their morning and afternoon to delivering meals to our seniors, I was so moved."
Very Special Deliveries
Hollendoner, who will succeed Lorri L. Jean as Chief Executive Officer upon her retirement in July 2022, found the meal delivery experience to be deeply rewarding.
"When I arrived on my first doorstep and knocked on the door, I was greeted immediately with a warm smile and words of gratitude towards the Center," he recalled. "To hear all the ways in which the Center had supported them, it just made me feel so much gratitude for the staff and volunteers of the Center and for our clients and the community that we serve."
Thanksgiving meals also were delivered to seniors living in the Center's Triangle Square and at the newly-opened Ariadne Getty Foundation Senior Housing. The Center's Senior Services staff members personally delivered those meals to the doorsteps of those residents who had signed up for them.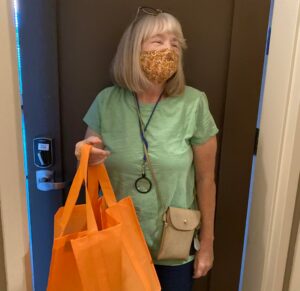 "I'm grateful," said resident Diane Rhodes, as she stood in her doorway beaming. "I love this place. Everybody is so wonderful. It's hard to even get a small turkey because I'd have to be eating it for the next month! So this works out."
Resident Janice Yarbrough had three words to say after opening her door and looking inside the bag: "Nummy, nummy, nummy!"
"I'm very excited," she added. "Can't wait to eat it."
For those seniors who opted to personally pick up their meals at the Campus, the Senior Services department decided to make it a full experience by holding a harvest festival in the Bayard Rustin Courtyard.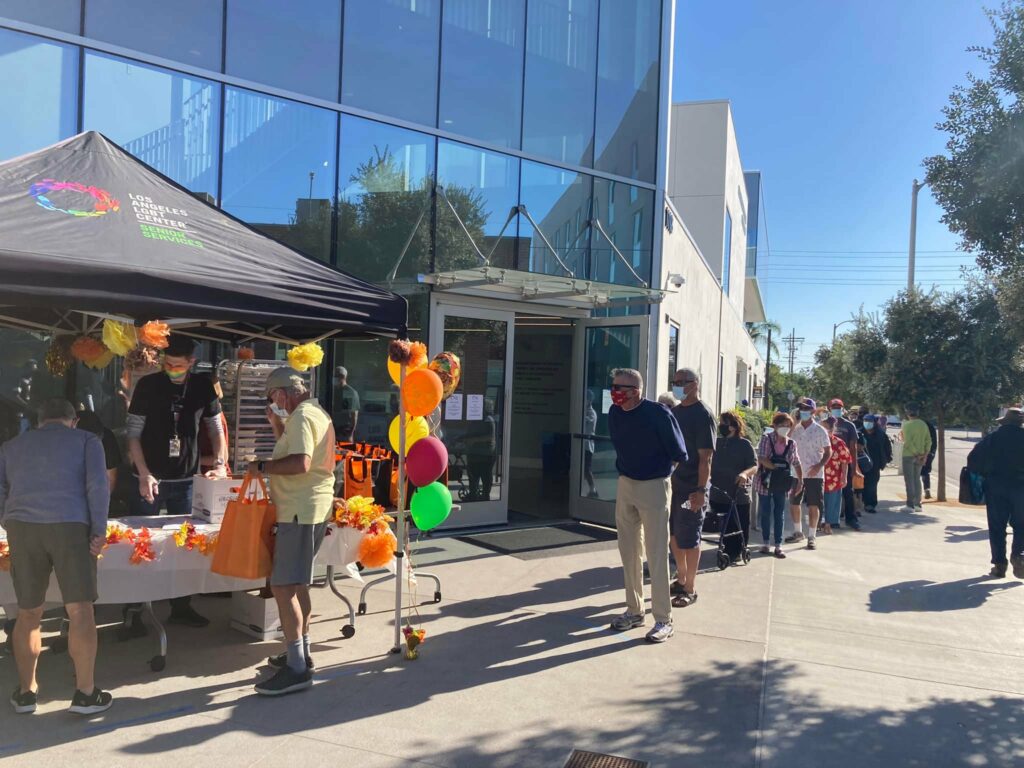 "We wanted to be able to offer something festive and community-centered even though our Senior Center is not yet open again," said Senior Services Director Kiera Pollock. "We wanted to be able to connect with people and make them feel like they are part of our chosen family."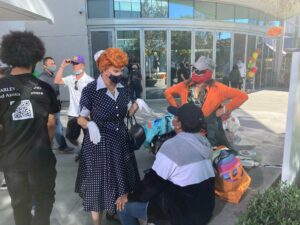 There were plenty of freshly-made donuts served alongside the hot cider, music, a photo booth complete with props, and a very convincing I Love Lucy impersonator provided by Comcast NBC Universal who remained firmly in character as Lucy Ricardo throughout the afternoon.
"How in heaven's name did they cook 900 turkey dinners?" wondered 65-year-old Jan Divine who retired as a registered nurse six weeks ago. "I normally spend Thanksgiving Day by myself, quiet and peaceful. But it's nice to be out here with people. I'm just enjoying life, donuts, and cider."
According to Pollock, seniors have experienced a lot of losses and not been able to really connect with other people during nearly two years of the COVID-19 pandemic.
"Many of our folks don't have family to share this holiday with so it's even more special they are getting this meal from our program so that they feel less alone," she said. "They have been extremely appreciative of having this gorgeous, delicious meal prepared for them and being able to share it with each other."
For more information about the Center's Senior Services, visit lalgbtcenter.org/seniors