The location of the Los Angeles LGBT Center's Mi Centro may seem a bit off of the beaten path in Boyle Heights.
But it turns out it's a great place for a party.
On November 16, the Center hosted a festive resource fair for the community that featured giveaways, Mexican food from Emily's Tacos, and tunes from DJ Harlow.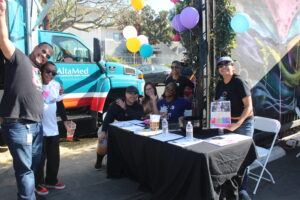 "We want to make sure the community knows about all the services that are available to them and that Mi Centro is their home," said Caín Andrade, the Center's social networks group coordinator. "They are able to drop in, say hello, and let us know what kind of services are needed. If we can help, we'd love to."
Mi Centro is the Center's first facility on the eastside of Los Angeles and is operated in conjunction with Latino Equality Alliance (LEA). It offers bilingual services operated by the Center and LEA including counseling, HIV/STI testing, legal services, discussion groups, and youth and senior activities and services.
"I think it's wonderful that the Center has ventured over the bridge to a culture that is begging for more excitement," said local resident Joseph Reilich. "People are introverted, especially when they're seniors, and when they have more to do, it can change their lives."
Located at 553 S. Clarence St., Mi Centro is just a 15-minute walk from the Mariachi Plaza and Pico/Aliso Gold Line stations and one block from metro bus lines at 4th and Boyle Streets. It is housed within City Labs, a locally owned, purpose-driven collaborative space for innovators, entrepreneurs, and creatives.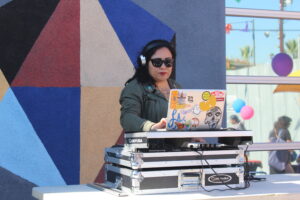 This year's resource fair was more ambitious than last year's inaugural event. This year the Center staffed tables representing various departments including Health Services, Senior Services; Volunteer Resources; Legal Services; Cultural Arts; Children, Youth & Family Services; and AIDS/LifeCycle.
Also present at the fair were representatives from local and national organizations, among them Jovenes Inc.; AltaMed; Heritage Clinic; Home Instead; L.A. Dot Transit; Alzheimer's Association; St. John's Well Child & Family Center; East L.A. Family Care Resource Center; The Broad Museum; U.S. Census; Chrysalis; and L.A. Metro.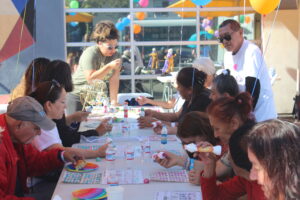 Attendees had a chance to win one of 20 free turkey vouchers donated by Northgate Market. Also raffled off were $500 worth of Northgate Market gift cards donated by City Labs.
"We wanted to create an environment where everyone could get to know each other and become familiar with Mi Centro and the services here," said Yelba Carrillo, manager of social services for the Center's Senior Services, "because, within the Latino community, it's all about family and everyone looking out for each other. We also wanted to give back to them because this is an underserved community."
For more information about services provided at Mi Centro, visit lalgbtcenter.org/micentro