By Greg Hernandez
As he took to the stage of the Los Angeles LGBT Center's Renberg Theatre on Saturday night, singer-songwriter Joshua Martin was excited but also beyond nervous.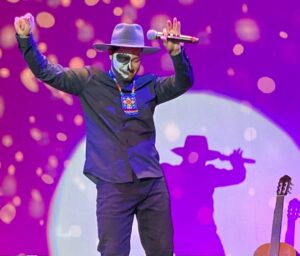 "This is my first time performing live so be extra nice," he said to the crowd gathered for An Evening of Latin Music, the Center's first in-person entertainment event in nearly two years.
Martin was among the eclectic group of seven artists who performed two- or three-song sets that had the crowd at times deeply moved and at other times dancing in their seats.
"I was quarantining with my husband and I started writing the song and I had so much brain fog at the time and luckily he helped me finish it," he explained before launching into his Spanish dance-pop song Dulce Amor which he wrote while recovering from COVID-19.
The evening's host was Cynthia Gonzalez, entertainment director and advisor for CineArte – A Latinx Queer Film & Art Festival produced by the Center. Gonzalez started the program by promising the audience "you're going to be inspired, you're going to want to dance and probably want to go home and probably make love or write a poem."
Because of the COVID-19 pandemic, no live performance of any kind had taken place at the Renberg since early 2020.
"We're back!" the Center's Director of Cultural Arts Jon Imparato said as he greeted the crowd. "We're thrilled we're here. We've got amazing talent here for live, beautiful music. I'm just so happy to be on the stage with a microphone to be honest."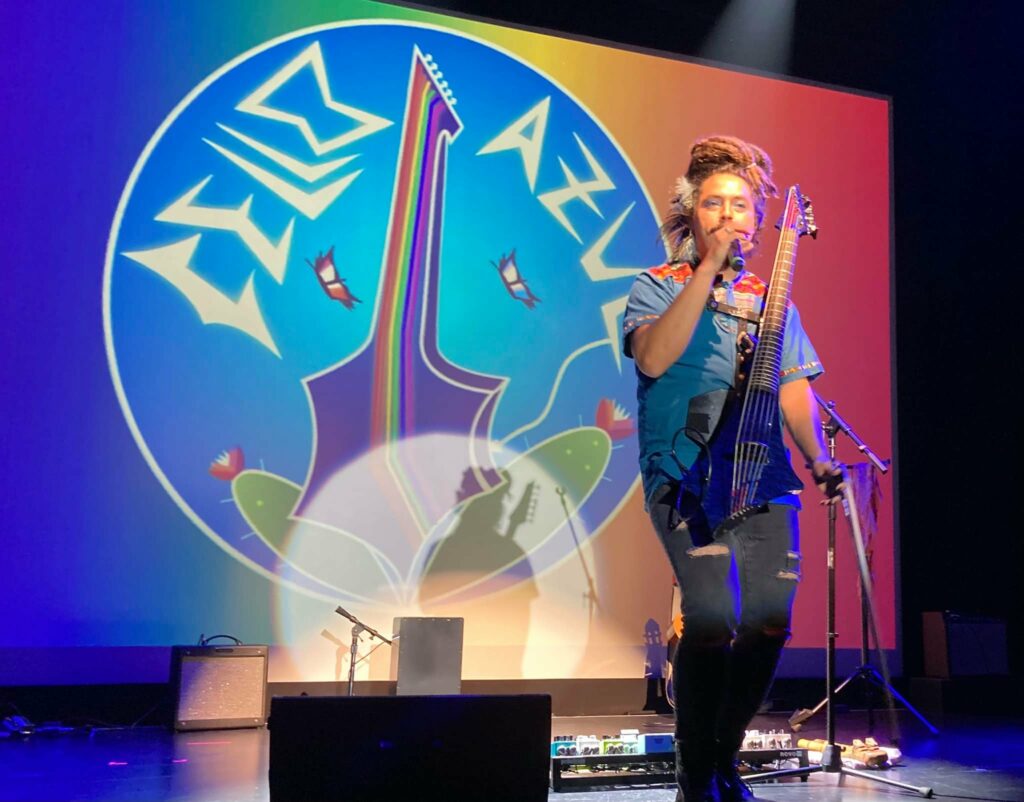 In addition to Martin, the line-up was comprised of mariachi singer Magaly Meza (better known as Magaly La Voz De Oro), singer-songwriter Irene Diaz, the band Porfin, Latinx drag queen Joey Flamboyant, multimedia artist Jose Richard Aviles, and Latinx cellist Cello Azul.
"This is such a treat," Azul said at the start of his set. "As artists we've been stuck indoors like everyone else and social media has been our only outlet. Now we're here, we're queer, let's make it happen!"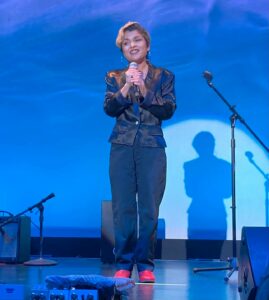 Diaz, who recently released her debut album Lovers & Friends, sang her song You and movingly dedicated it "to everybody who has ever made you feel like you could be yourself, like you could do anything that you want, love how you want to love, and just be you."
Meza, who had appeared on the STARZ series Vida, opened and closed the show with some powerfully sung mariachi songs.
"Thank you for coming despite the crazy traffic and the pandemic and all of the stuff going on," they said. "I haven't had a live performance for two years. So you are my first victims of 2021. I'm really happy to be here."
Audience members seemed thrilled to be back attending a show inside of the 200-seat Renberg.
"I wish it was longer!" Daniel Nieto said after the 90-minute show. "I came here specifically to see Cello Azul because he's amazing but everyone else here was amazing. Everybody here was full of talent and it was great being around everybody again."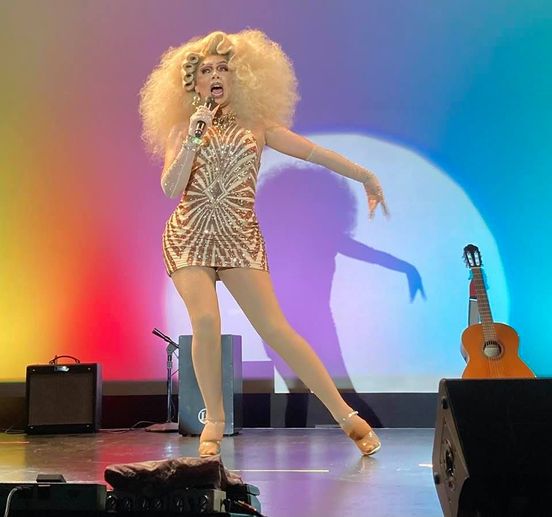 T.J. Little moved to Southern California just four months ago to attend college and jumped at the chance to see some live music and attend a Center event.
"I want to get to know people and get to know the music scene," he said. "I was very excited and I saw that it was free which is amazing for a student. Everyone had so much energy."
The show left Deborah DiGiovanni feeling deeply moved.
"There was so much and it was so emotional," she said as she exited the Renberg. "It was Spanish music which is great and it was all queer. It is just so emotional to be alive."
Imparato said he wanted to hold the free concert as a way of welcoming people back to the Center's Lily Tomlin/Jane Wagner Cultural Arts Center which is comprised of the Renberg and the 50-seat black box Davidson/Valentini Theatre as well as The Advocate & Gochis Galleries.