AIDS/LifeCycle@HOME kicked off a busy week of virtual events on May 31 as nationwide protests in the wake of George Floyd's death continued to escalate.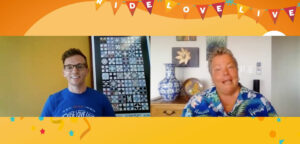 Los Angeles LGBT Center CEO Lorri L. Jean and San Francisco AIDS Foundation CEO Joe Hollendoner spoke about the unrest during the Opening Ceremony broadcast online.
"As we begin a week intended to foster community and connectedness, the senseless murders of George Floyd, Breonna Taylor, Ahmaud Arbery, Tony McDade, Nina Pop, and countless other black people are front of mind for everyone," Jean said. "Many of us feel grief and rage and a sense of helplessness. Yet all of us can—and should—participate in efforts to seek justice and create accountability for such racist actions."
Jean pointed out that both organizations "sit at the intersection of racism, heterosexism, transphobia, and stigma."
Hollendoner said the Foundation and the Center are committed to racial justice work and called on everyone to unlearn any taught racism.
"We commit ourselves to listening, learning, and taking fearless action to interrupt anti-blackness and all other forms of racism," he said.
The seven-day, 545-mile bike ride from San Francisco to Los Angeles, benefiting both the Foundation and the HIV/AIDS-related services of the Center, was changed in March due to health and safety concerns over the COVID-19 (coronavirus) pandemic. The world's largest single event HIV/AIDS fundraiser continued as a virtual fundraising event. AIDS/LifeCycle@HOME is a reimagined version of some of the ride's favorite events: Opening and Closing Ceremonies; at-home workouts each morning; virtual hangouts and coffee talks during lunchtime with Hollendoner and Jean; virtual dance parties; and a talent show.
The week of AIDS/LifeCycle@HOME has set the goal of making sheltering in place "a little more interesting, a little more fun, and a lot more connected," Hollendoner explained.
The Opening Ceremony including a moving presentation featuring members of the Positive Pedalers team committed to building a supportive and inclusive community through participation in public and visible activities like AIDS/LifeCycle.
Poz Peds President Charles A. Lougee, who has participated in AIDS/LifeCycle for 10 years, paid tribute to the unsung heroes in the fight against AIDS.
"It takes a community like this—friends, family, partners, colleagues, strangers, and spouses alike—all committed to a singular goal: ending AIDS," he said. "There is no more powerful thing on Earth than a group of committed people such as these—focused, determined, and unwavering. This is why we are here, and this is why we ride."
Lougee said those lost to the disease will remain on participants' minds and in their hearts this week.
In order to maintain the current level of HIV/AIDS services provided to the community amid the physical ride's cancellation, both organizations have set a joint fundraising goal of $13 million—of which more than $7 million has already been raised by the ride's participants.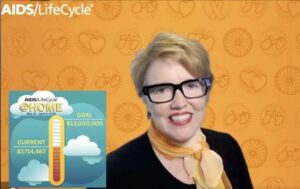 "When all is said and done, we have a $6.8 million gap for continuing the critical work at the Los Angeles LGBT Center and San Francisco AIDS Foundation," explained Ride Director Tracy Evans. "Both agencies have had to get creative in how the programs and services are being delivered to the clients. We need to ensure that they are able to continue even during this crazy time."
The work of both organizations continues during the public health crisis.
As a first-responder to the LGBT community, the Center is providing direct support to LGBT seniors and youth (including housing and meals), uninterrupted HIV and AIDS-related health care, and virtual support for mental health care and social networking groups.
The Foundation is providing virtual support groups, mental health services, and social support to seniors, people who use substances, and those living with or at-risk for HIV.
"While there is no doubt that our hearts will continue to be heavy over the coming week and beyond, we hope that coming together as an AIDS/LifeCycle community will be restorative and empowering," Jean said. "I believe that it is the power of community that gives us the strength to fight injustice. The AIDS/LifeCycle is only one powerful example."