By Greg Hernandez
Sonja Brenna will never forget the day she went to the grocery store to pick up a few items. She was "feeling beautiful" with her long blond hair flowing and her make-up applied with great care.
After ringing up her purchases, the male cashier casually said to Brenna, "Thank you, sir."
"I wasn't paying attention to my voice," the transgender woman recalls. "It was kind of a shock and it was the first time I thought to myself, 'I've got to do work on it.'"
While the misgendering at the grocery store was painful, it set off a chain of events that led to the launching of a series of TrueVoice vocal development program workshops offered through the Los Angeles LGBT Center's Trans* Lounge.
Since 2018, the program has helped hundreds of gender expansive people learn tools to develop their voices in ways that represent them more authentically and expressively.
Serendipitously, Brenna was meeting her friend, Ryland Shelton, for drinks not too long after that day in 2017 and he happened to work as a private vocal coach for musical performers.
"I made some observations about her holding onto her voice," Shelton recalls. "She was barely able to be heard even in one-on-one conversation."
Brenna admitted to being worried that whenever she opened her mouth, whatever people heard might undo everything she'd worked so hard to present in terms of her gender identity.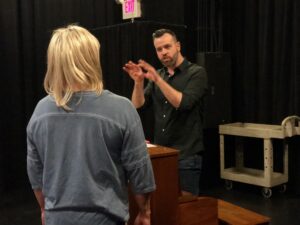 Since he was working with singers on expanding their range and getting them to lean into the qualities that make their voice uniquely theirs, Shelton wondered if he could help Brenna by using the same technique.
"I thought maybe there was a crossover, something I could do that could help her by working with the language that I know, which is music." he explains. "We got into a groove and through musical technique, she started using a range of her voice that was totally unfamiliar to her and it still felt like it was coming from her. It didn't feel like it was a cartoon voice or a character."
Shelton immediately saw an opportunity for others to benefit from voice work which uses music to help speak to the brain in a different way than speech and unlock possibilities that aren't entrenched in the habits of how a person has always used their voice.
"For someone going through a gender transition, it's hard to break those habits with just using your voice the same way you've always used it," he explains. "You have to have something to shake it up and get you thinking about your voice in a different way."
The Trans* Lounge Connection
Brenna had been actively attending Trans* Lounge groups and activities for years. She suggested that Shelton meet with Program Manager Gina Bigham to see if there was a need or an opportunity to create some kind of group workshop within Trans* Lounge, which serves to empower and uplift the TGI/ENBY+ (Trans, Gender Non-Conforming, Intersex & Non-Binary) community.
"I was passionate about this and knew that trans people needed to be heard and not just seen," Shelton says. "If they're not comfortable using their own voice, then how do we hear their stories? This is how I saw that I could help make change."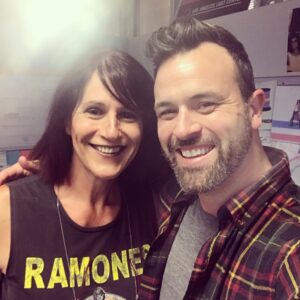 He and Bigham immediately hit it off and started figuring out ways to proceed. Shelton ended up presenting his first TrueVoice workshop to Trans* Lounge members in February 2018.
"Never have I met such a kind and passionate ally," Bigham says. "He is truly invested in our TGI/ENBY+ community and the mission of helping our folx find their true voice. His class has become a mainstay of our programming and he is definitely one of our most popular instructors."
Workshops were initially held at The Center's Village at Ed Gould Plaza and were limited to 15 people per session. When the COVID-19 pandemic hit in 2020, Shelton, Bigham, and Trans* Lounge Program Supervisor Ash Nichols brainstormed to find a way to present the workshops online.
"Suddenly, as many people who wanted to could come to the seminar," Shelton says. "There was no longer a cap."
He has presented eight online sessions so far with one session drawing an astounding 92 participants. During the two hours, he gives vocal tools, experiments with and explores resonance and range.
Nichols is among those who have personally benefited from the workshops.
"I hadn't realized how much fear and tension I was carrying in until I started to work with Ryland, and that work completely changed the relationship I had to my voice," Nichols says. "I continue to be impressed by Ryland's ability to cultivate a space that invites folx to feel safe enough to bring their whole selves and vocal ranges to the table and learn what their future selves might be capable of."
The online experience is then extended for a limited number of people per webinar who get a private session to go further with their individual goals. Private sessions are awarded after each workshop to nine attendees via lottery.
Amie Dorsey, who was losing her voice because she was straining it so much, was happy to be one of the recipients of a free private session.
"Relearning how to talk is not necessarily at the top of people's mind when they think about transitioning," Dorsey says. "But I certainly like my voice a lot more now."
Workshop participant Elyse Jackson thinks TrueVoice is especially effective because Ryland approaches the voice in a way that isn't highly technical and is actually very accessible.
"I really wanted my voice to match who I am and it had been a real struggle trying to learn from different guides online," she says. "I was really struggling with my voice before I started working with Ryland. I have found a remarkable difference both on the phone and talking to people in person. Just having that confidence in myself and in my own voice really helps."
Liam Wang says it made him "feel awful" to be misgendered so he has attended three of the workshops.
"Ryland explains everything from highs to lows and I was able to learn to speak at a lower tone," he shares. "He teaches you safety things and what to do to protect your voice while you are learning. I was practicing and a friend of mine thought I'd already started testosterone! Now I can speak at that lower tone and keep it there. People on the phone are calling me sir."
Another participant, Grace Browne, simply sums her feelings up this way: "Listening to myself talk is now joyful for me in a way that it never was before."
"You Get to be in Your Own Space"

While Shelton was initially relieved that TrueVoice was able to successfully transition to an online workshop, he was pleasantly surprised to discover this format was actually preferred by many.
"There is something so attractive about the comfort and the privacy, especially for people in a nascent period of gender transition," he says. "There's something about the stability of being in your own home, of being in your space. I've witnessed that provide freedom for people."
"We will go back to in-person workshops someday in some way but doing them online has helped in getting people feeling comfortable enough to use your voice," Shelton adds. "We're there to break down the things that make you feel uncomfortable about your voice, that make you feel like you don't want to talk. You get to be in your own space. The comfort and the security has really meant a lot to people and it's gotten them motivated to do work that is just for them which they could have a million excuses not to do."
As a vocal coach, Shelton remains busy with clients that include professional entertainers, actors, singer/songwriters, and musical theatre artists.
But his work with trans and gender non-conforming people has continued to grow and given him a deeper appreciation for their journey.
"I see how committed the community really is to caring for themselves and for each other," he says. "It's all been kind of amazing and unexpected. They are absolutely tireless and are constantly looking for ways that they can improve the community."
To find out more about our Trans* Lounge program and services and to sign up to become a member, go to translounge.org