By Greg Hernandez
It was a night worthy of gold.
More than 5,000 people gathered at the Greek Theatre on September 21 to celebrate a half-century of LGBT struggles and historic victories through music, comedy, and personal stories.
Pop icon Sia opened the Los Angeles LGBT Center's star-studded Heart of Gold 50th anniversary concert and multimedia show with two of her hits The Greatest and Titanium accompanied by her troupe of dancers, among them her muse Maddy Ziegler from Lifetime's reality show Dance Moms.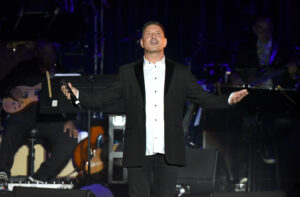 Country music star Ty Herndon had some in the crowd confused when he launched into his classic hit What Mattered Most about his heartbreak over a woman.
Halfway through, he stopped singing and explained to the audience: "I remember standing in the studio 25 years ago singing that song, but I knew I could never do it truthfully because the pronouns were wrong. I was hiding in an industry that I loved with all my heart. But I knew they would hate me if they knew I was gay."
Herndon, who came out publicly as a gay man in 2014, opened up about the price he paid for living a lie.
"It led me down some pretty bad, dark roads—through addictions, through secrets, through lies and eventually, it almost took my life," he shared.
He then resumed the song with male pronouns "not only as a gift to the song, but a gift to all those amazing [LGBTQ] kids out there. We want them all to know that they're not broken. They're beautiful. They're perfect just the way they are."
Other musical performances included Vox Femina Los Angeles, Gay Men's Chorus of Los Angeles, and Trans Chorus of Los Angeles performing This is Me, the anthem from the film The Greatest Showman; RuPaul's Drag Race Season 9 contestant Valentina lip-synching the Donna Summer classics I Feel Love, I Love to Love You Baby, Last Dance, and other songs; Thelma Houston belting out her 1977 number one hit Don't Leave Me This Way; and Rufus Wainwright's stirring rendition of the Judy Garland classic Somewhere Over the Rainbow.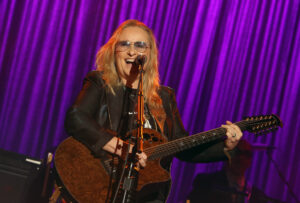 Midway through the concert, there was a surprise performance: a two-song set by Grammy-winning Melissa Etheridge who crooned Come to My Window and I'm the Only One.
"The Center's been open as long as I've been gay," she joked between songs. "We are strong, and we are real, and we are true. Speak true, my friends. Lift your voices!"
Actress-singer Jenifer Lewis, currently co-starring on ABC's Black-ish, energetically performed the comedic number Black Don't Crack before closing the Hearts of Gold concert with the classic Motown hit Ain't No Mountain High Enough.
Queer Eye stars Karamo Brown and Bobby Berk, as well as Nico Santos of the film Crazy Rich Asians and NBC's Superstore and Zeke Smith of reality show Survivor, were among the evening's celebrity presenters.
"When I moved to Los Angeles 10 years ago, all I had was spare change and a dream. I was so broke," Santos recalled. "If it weren't for the Center's sliding scale clinic, I wouldn't have had access to health care. I'm pretty sure I still owe them money. But we can call it even, right Center? I'm doing this for free!"
Other presenters included comedian Tig Notaro; singer-dancer-actor Frankie Grande; singer Hayley Kiyoko; and the cast of Freeform's Good Trouble: Maia Mitchell, Cierra Ramirez, Emma Hunton, Josh Pence, and Zuri Adele.
 "Fiftieth anniversaries are special for this community"
Longtime Center supporter Lily Tomlin teased the crowd by joking that openly gay presidential hopeful Pete Buttigieg "is going to jump out of giant cake in a bikini."
It didn't happen.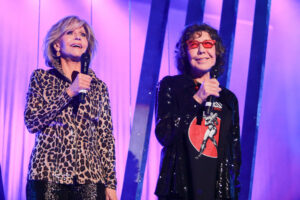 Instead, Tomlin reflected on her and wife Jane Wagner's involvement with the Center since the 1970s which included chipping in to fix the Center's leaking roof on a rainy night.
"Jane and I have been so thrilled at being a part of the Center," Tomlin gushed. "I can't tell you how proud we are to be a part of its story."
Tomlin was then joined by her on-screen partner Jane Fonda with whom she has starred in the Netflix comedy series Grace and Frankie since 2015.
"Oh, Lily, what I wouldn't give to be 50 again and know what I know today," Fonda said after wishing the Center a happy birthday.
Retorted Tomlin: "I wish you could be 50, too, so we could be the same age."
On the giant TV screens, Fonda showed a photo of her and Harvey Milk, a copy of which she auctioned off for $50,000 to benefit the Center. "How could you not support a place that does so much good? You've got to love the Center," she said, "a place where everyone is welcome and seen and supported no matter what stage of life that they're in."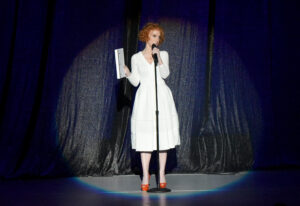 Comic Kathy Griffin admitted she was struggling to be on a bill with so many other performers: "I'm going to do three minutes which, for me, is very tough. I'm usually still saying hello after like an hour."
She made note of the Center's growth to its current 10 locations throughout Los Angeles (including the new Anita May Rosenstein Campus) and joked that the Center is now "bigger than the Pacific Design Center."
"We've been down in the mud together—fighting and canvassing together," Griffin said. "Fiftieth anniversaries are special for this community."
Comic and writer Bruce Vilanch, also a longtime member of the Center's Board of Directors, opened his set with a slew of jokes but grew tearful when he spoke of the AIDS epidemic.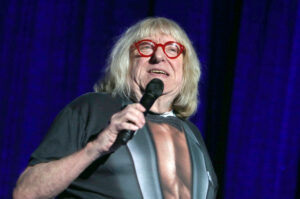 "Like a lot of gay men of my generation, it never occurred to me that I would ever live to be a senior," he said. "I could fill this theatre with people I've lost as a lot of you could as well. But, I lived to see the Anita May Rosenstein Campus come to fruition."
Opened in April, the much-heralded intergenerational Campus brings together a multitude of programs and services for youth and seniors within one full city block. It includes the Harry & Jeanette Weinberg Senior Center, a youth drop-in center, 99 beds for youth experiencing homelessness, The Ariadne Getty Foundation Youth Academy, the Center's administrative offices, and more. Phase II of the Campus construction, which will include 98 units of senior housing and 25 micro-apartments for youth, will be completed in mid-2020.
"That Campus is particularly meaningful to me because of its senior component," Vilanch said. "Before this, there was only one facility where senior gays could look to as they aged: Palm Springs. [The Campus] is an assisted living metropolis."
Through the Years
"It's so important to celebrate milestones like the Center's Golden Anniversary," Center CEO Lorri L. Jean told the crowd. "It reminds us that, for 50 years, the Center has triumphed in good times and in the worst of times. We owe our strength to extraordinary people like you and a truly inspiring vision: building a world where LGBT people thrive as healthy, equal, and complete members of society."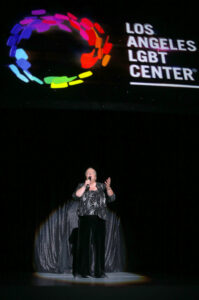 Jean pointed out no one could ever have imagined in 1969 the progress that would be made by the Center and by the LGBT movement.
"Against unbelievable odds, our community persevered," she said. "No matter the challenges we faced over the succeeding decades, we kept serving and we kept fighting—through the harrowing years of the AIDS epidemic right up until now in the midst of another epidemic of violence against our transgender brothers and sisters, especially trans women of color. And, despite a seemingly unending pandemic of ignorance and bigotry, we persevere."
Several key people from the Center's history shared their stories at the Greek Theatre.
Lillene Fifield, who began her career at the Center as a volunteer, wrote a landmark $1 million grant that led to the creation of the Center's Alcoholism Program for Women. It was the first time any gay, lesbian, or women's organization had ever received such a large amount of money.
Center founder John Platania shared a harrowing story of being arrested as a young man in a police sting operation in Griffin Park. He lost his job as a city planner but began his life as an activist.
"Was it the end of my life? Of course not," he said. "It's the beginning of your life. When you have a problem, share it with someone else. Share it with our family."
Black AIDS Institute President and CEO Phill Wilson recalled finding himself on the doorsteps of the Center in 1982 just as the AIDS epidemic was starting to get attention. He began attending a weekly rap session and was eventually recruited to run Stop AIDS Project, the Center's first AIDS prevention program.
A photo of the program's staff was shown on the giant screens. Wilson pointed out he is the only male in the group still alive.
"It reminds me of what we lost. It reminds me of how important the work of the Center is," he said. "Fifty years after its founding, the Center is still leading the charge to build community for all of us. I am so proud to have been a small part of that history. I am so proud that we are not resting until the job is done."
 To see more photos from the Hearts of Gold celebration, go to the Center's Facebook page.