By Greg Hernandez
During the height of the COVID-19 pandemic, the Los Angeles LGBT Center's Health Services remained open—and there's no sign of closing its doors as the global health crisis inexorably heads toward the two-year mark.
Chief Medical Officer Dr. Kaity Duffy says this dedication to remain open is keeping with Center tradition.
"Health services at the Center has very sacred roots in the early days of HIV when it became this place for people to come for care when nobody else would see them," said Duffy. "That's such a sacred history to have: to be this medical home. We have since grown and opened our doors to the wider queer community."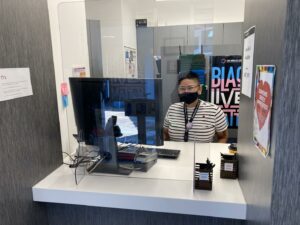 The Center, one of the largest and most experienced providers of LGBT health and mental healthcare, is also one of the few Federally Qualified Health Centers with providers who specialize in primary care for LGBT people and people living with HIV. 
During the first nine months of 2021:
The medical clinic cared for more than 7,500 patients who amassed more than 18,000 visits
The bustling pharmacy filled 142,000 prescriptions
Mental Health Services, including psychiatry, cared for 3,175 patients amounting to nearly 25,000 visits
The Sexual Health and Education Program consulted with 8,700 patients who amassed 16,000 visits
Additionally 4,392 doses of COVID-19 vaccines have been administered this year to clients and staff.
A Call to Action During Pandemic
Eric Rodriguez oversees a team of clinic liaisons who are the first point of contact whenever anyone calls or walks into the McDonald/Wright Building, the Center's main medical facility.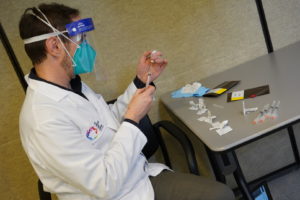 "It's been a call to action during a pandemic," said Rodriguez. "Health care doesn't stop, it never stops. Patient care doesn't stop. We can equate this to what happened in the 1980s and 90s with HIV and AIDS. You have to step up and be there for your community. It's kind of a make-or-break situation, and we just have to keep going."
In March 2020 the Center implemented a telehealth platform which enabled a majority of routine appointments to be conducted by phone or online. As a result, 80 percent of this year's visits have been done through telehealth; 20 percent conducted face-to-face.
"I was very happy and surprised when we were able to transition to a telehealth environment within two weeks of the initial pandemic lockdown," said the Center's Director of Performance Improvement Claudia Alvarez, R.N. "We've learned from this past year that certain things can be accomplished without all of us having to be under the same roof."
According to Alvarez, much of the care during the first year of telehealth was reactive.
"Our initial mindset was 'let's take care of people—what do they need right now?'" recalled Alvarez. "Now we have begun to ask 'how do we redesign workflows so we can work on preventative health?' For example, although people are not coming in for visits, we can work on mailing colorectal and cervical cancer screening kits to them."
Testing Needed Because Sex Still Happens
Jeffrey Rodriguez, who oversees sexual health and education programming, says it has taken flexibility and ingenuity to have  patients tested continuously for HIV and Sexually Transmitted Infections (STIs) and to maintain PrEP (pre-exposure prophylaxis) and PEP (post-exposure prophylaxis) services uninterrupted.
"Other agencies that were doing testing completely shut down. They just stopped because they didn't know what they were—or were not—capable of doing," said Rodriguez. "We felt like the Center still needed to be offering testing and treatment. Sexual contact was still happening. It may have slowed down for some people, but patterns of behavior don't necessarily change overnight even during a pandemic."
Much of Health Services' vital work can be credited to the 12-member team doing lab work for HIV rapid tests and the measurement of transgender clients' hormone levels.
"Our techs never received any time off or had the ability to work from home. How can you draw blood from home?" stated Assistant Laboratory Supervisor Brandi Francis. "We just banded together and actually became a closer team during the pandemic. We had to figure out a way to get everything done within a smaller amount of time."
Increased Need at Trans Wellness Center 
For staff members of the Trans Wellness Center (TWC), their work has also been non-stop and as critical as ever. The Center's location in Koreatown served 600 more clients during fiscal year 2021 than in the previous fiscal year.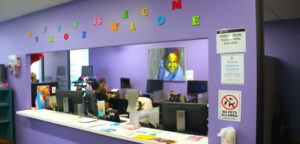 "Some clients didn't even know COVID-19 had hit Los Angeles yet because they didn't have regular access to news. So, we were breaking the news to them," recalled TWC Site Manager Cameron Varney. "It made us appreciate how needed are the services we provide. It made us feel like we truly have a sense of purpose."
Bringing together services and resources under one roof for trans and gender non-conforming people, TWC is a partnership between the Center and five local organizations: APAIT (Asian Pacific AIDS Intervention Team); Bienestar; Children's Hospital of Los Angeles; Friends Community Center; and Translatin@ Coalition. The Center is the lead agency coordinating management and operations.
"Our clients had nowhere else to go," said Varney. "We thought our attendance numbers would go down, but they went up significantly—it was really eye-opening."
Knowing that many Health Services staff endured the stress of the pandemic and their ongoing workload, Duffy admires them all the more. She encourages those who took care of others to start taking care of themselves.
"We've really never had a breather or time to decompress," said the chief medical officer. "It's going to be a challenge moving forward."