Election Day is right around the corner, meaning it's all hands on deck at the Leadership LAB. The Los Angeles LGBT Center's deep canvassing operation is currently knocking on doors in Buena Park, working to mobilize voters in one of the country's most hotly contested congressional districts. Below, Leadership LAB field manager Eden Mayle answers five frequently asked questions about the LAB's work in the weeks leading up to the midterms.
What is the Leadership LAB?
We're a program of the Center's Policy and Community Building department that specializes in voter engagement using a tactic called deep canvassing, which we developed at the Leadership LAB during the fight for marriage equality back in 2008. Deep canvassing is a method of using vulnerability and curiosity to connect with people in a meaningful way that has been proven to change hearts and minds around issues that directly impact the LGBTQ community.
Since 2018, we've been using deep canvassing to explore how this technique could be used to change people's views on voting itself. We believe we're a progressive country, but we're also a non-voting country, and empowering like-minded but unlikely voters is key to building a long-lasting progressive movement.
How does deep canvassing work?
Our process begins before we even do our first knock. Before we go out to knock on doors, our canvassers are trained in how to share the particular type of stories we employ to connect with voters—stories about people we love. We help our canvassers access more genuine vulnerability and get prepared to be in that space before we even knock on our first door.
It's really our goal to get personal in the conversation as quickly as we can. And we know how to do that through this story exchange. We share our personal story about someone we love, and most importantly, we try to elicit a story from the voter. So, the purpose of sharing our own stories isn't to change someone's mind, but to really give space in the conversation for them to reflect on their own experiences, their own values, and their own motivations to vote. They're really changing their own minds; we're just giving them the space and listening.
Once we're able to elicit that from the voter, we then make the case that voting is an act of love. It's a gift that we give to the people in our lives and to our community when we show up to vote.
Who can volunteer?
Anyone who's interested! I think deep canvassing is a skill everyone can learn. It's a skill we can even use in day-to-day life. Our work uses skills of connection, learning to be more curious, being more vulnerable, and being genuine. We walk around in our day-to-day lives with a lot of walls, and being more comfortable connecting with others—with strangers—in a genuine and authentic way is something that we all can use.
And I recognize we're not all extroverts, which is why we really try to offer support to folks who are new to this. When you're doing this your first few times, you'll have a partner at the door, and you'll be going through the whole process together.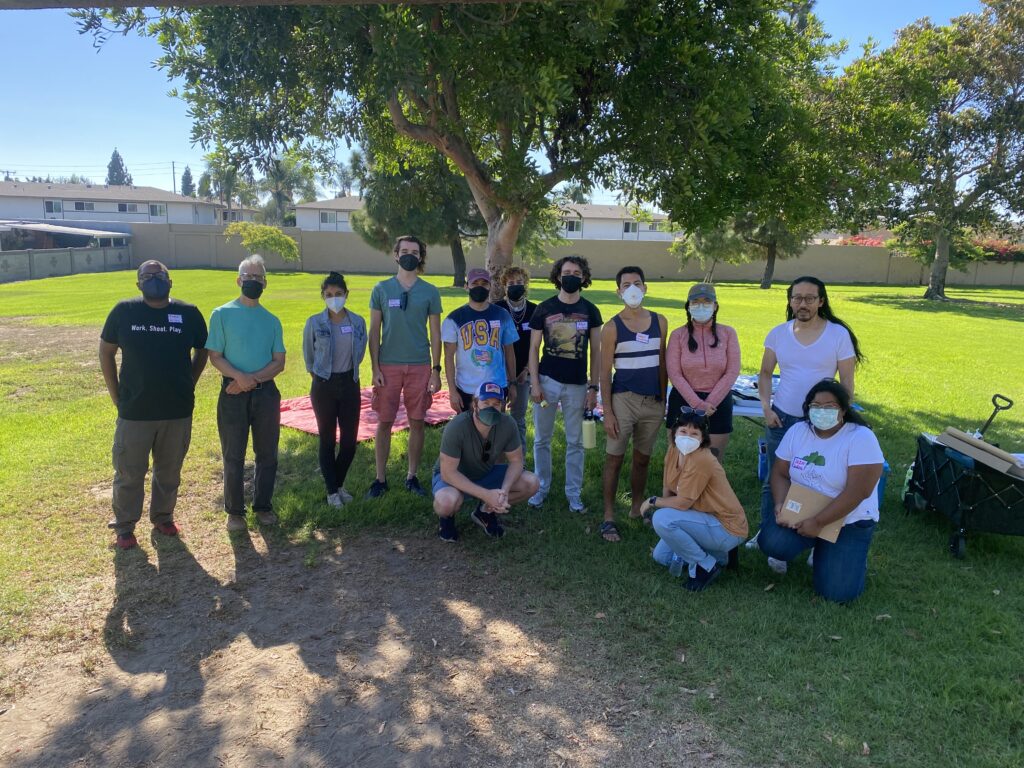 What should I expect when I sign up?
Expect to be welcomed onto a team that is really going to be invested in helping you feel good about this work. Expect to be a part of a project that is constantly experimenting and reflecting on how we can continue to do this work in the best way that we can. And expect to discover new things about yourself. We get pretty deep when we're talking about our personal experiences, and sometimes that brings things up for us. But we work to make this a joyful experience.
Why is this current campaign important?
The reason we chose District 45 and knocking on doors in Buena Park is because of how much this race can impact not just our communities here in California, but really across the country. We're invested in finding races that are very competitive, where the voters that we mobilize could have the biggest impact. District 45 is projected to be one of the closest congressional races in the entire country. There are actually three or four races in Southern California that fit this description, which is just a reflection of how split we are, even here in California. Talking with voters in a district that's going to be so close and will likely be decided by turnout is definitely where we can have the biggest impact this November.
On top of the competitiveness of this particular race, the significance of midterm elections cannot be understated. Midterm election years like this where we're voting on our local and state representatives both determine how much power the president will have for the remainder of their term and have impact on our day-to-day lives. With current voting trends, most people are unlikely voters in midterm elections – and we're working hard to change that!
For more information about the Leadership LAB, visit leadership-lab.org, or sign up for canvassing at tinyurl.com/38btkkvc.