James Sie was already working on his second novel, All Kinds of Other,when he began volunteering at the Los Angeles LGBT Center three years ago.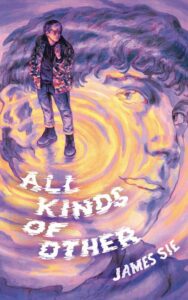 The book, published this month by HarperCollins, is a queer-themed coming-of-age love story centering on the relationship between high school students Jack and Jules. Jules is a basketball player still trying to figure out what it means to be gay; Jack is transgender and a new student at the school.
Sie had been impacted by his volunteer work and made his recent book launch into a fundraiser for the Center which raised more than $800.
"I wrote the book to offer support for the queer and trans kids out there, and it only seemed fitting that the celebration of the book should do the same," Sie tells LGBT News Now. "Choosing the Center was a no-brainer. I've been amazed not only by the number of programs it offers but the grace by which it carries out those programs. I've always felt welcomed, appreciated, and part of a greater good."
Sie volunteered in various capacities with Senior Services, Trans Pride, and Models of Pride. Over the past year, he began delivering groceries from the Center's Pride Pantry to the clients' homes.
"The way I find my community now is at the Center—just being there, seeing all the business that goes on, and feeling the sense of community.," Sie says. "At the Center, I've never felt belittled. I've never felt like I didn't know what I was doing. Everyone is so welcoming, and everything you do is so appreciated."
Among those whom Sie has met while volunteering is Center employee Ash Nichols who works with Trans* Lounge. Sie enlisted Nichols to read his manuscript for authenticity and to moderate a virtual reading on May 7 hosted by SkyLight Books in Los Feliz.
"We actually met over a binder exchange table. James was the volunteer in charge of the binder giveaway table," Nichols told the audience. "I had no idea that James had written a book about a trans masculine character and had no idea about James' qualifications to run that table. Then James asked me if I would be an authenticity reader of the book which I was very happy to do."
In writing All Kinds of Other, Sie tried to strike a balance between being affirming and writing a book that was hopeful, yet not minimalizing, of the very real challenges experienced by queer teens.
"When I started writing it, I had a sense of what trans issues might be. Then, when I started doing the research, I realized what a lazy ally I had been. Because as a gay man, you're in that LGBTQ spectrum and you think, 'I'm a G so I'm close to the T. So my issues are their issues and, if I'm feeling better and empowered, I bet they are, too,'" he said at the reading. "It's kind of uncurious, and I realized that, in writing this, the great gift it gave to me was realizing that you really need to invest to be an ally. You need to educate yourself, you need to make mistakes, and then learn from the mistakes. I feel deeply invested in the community now, and I think that has changed me long term."
The book's release comes during a time of high visibility for trans youth in politics, proposed legislative bills, and debates on participation in competitive sports.
"I think with the visibility comes this backlash of people using it in opportunistic ways. It's hard enough for a kid to grow up and try to find out what kind of person they are without this huge onus upon them of everybody staring at them, this huge spotlight upon them," Sie said. "That's why I think this book is so important—to view these kids as kids. They're real kids, they're going through this experience, and they don't need the added societal pressures."