By Greg Hernandez
Frankie Grande and his famous friends helped raise $54,870 for the Los Angeles LGBT Center on May 14 by headlining its first virtual fundraiser Rainbowthon, a three-hour show livestreamed on the Center's Facebook, YouTube, Vimeo, and Twitch channels.
All proceeds benefited the Center's CARE Fund which was established in response to the COVID-19 pandemic.
Dancer, actor, singer, producer, television host and YouTube personality Frankie shared the spotlight with such stars as Kristin Chenoweth, Margaret Cho, Jewel, and three of the judges from RuPaul's Drag Race: Michelle Visage, Ross Mathews, and Carson Kressley.
Frankie is a regular participant in AIDS/LifeCycle, the seven-day, 545-mile bike journey from San Francisco to Los Angeles which raises millions for San Francisco AIDS Foundation and the HIV/AIDS-related services of the Center. In order to maintain the current level of HIV and AIDS services provided to the community, both organizations have set a joint fundraising goal of $13 million—of which more than $6.5 million has already been raised by the ride's participants through the virtual My 545 challenge. Instead of actually riding a bike outdoors, the virtual campaign gives people the opportunity to take on a different physical challenge of their choosing within the parameters of social distancing and sheltering in place.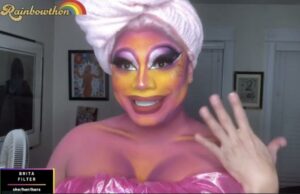 Frankie raised $38,000 last year for AIDS/LifeCycle and wanted to surpass that total by raising at least $40,000.
"In place of the ride, I decided to do this charity fundraiser and call it the Rainbowthon because I'm everything glitter, rainbows and sparkles, and just wanted to share my friends' talents with you guys," he explained. "Everyone said yes, and I'm blown away by everyone's support."
Tony Award winner Chenoweth sang a bit of Somewhere Over the Rainbow and said of the Center's mission: "There are so many young people who need our love and support in times when they've been kicked out. Can you imagine, now? Not having a place to stay or not having any food? That's why it's important to donate. Thanks to everybody who works at that Center and for all you do. I send my utmost respect and love."
DJ "Shangela" Pierce had a lively interview with Frankie and also sang a bit of Somewhere Over the Rainbow to compete with Chenoweth's earlier rendition.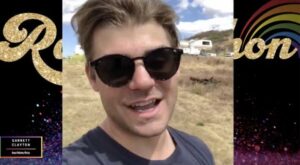 Actor Garrett Clayton sang a portion of Cabaret's title song and spoke out in support of the Center: "They do such incredible work year-round for so many people in our community, giving opportunities and chances to people who would otherwise not have it, giving life support help in the medical field, counseling. The list goes on."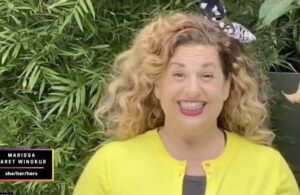 Marissa Jaret Winokur, another Tony Award winner, did a full-scale musical video depicting herself cleaning her house while belting out the ballad The Rose and ending the performance by wading into her backyard swimming pool — fully clothed.
Other highlights included singer-actress Deborah Cox singing her answers in a split-screen Q&A with Grande and a comedy bit from the trio of RuPaul's Drag Racejudges.
There were also songs and appearances by Jewel, Shoshana Bean, Taylor Dayne, Betty Who, VINCINT, Alexandra Grey, Emma Hunton, Susan Egan, Salina EsTitties, Brita Filter, Gigi Gorgeous, Gregory Zarian, GloZell Green, Kimberly Nichole, Laura Osnes, Perta, Courtney Reed, Stephanie's Child, Justin Sylvester, and Charles Jones.
Frankie ended the show with a performance of the song This Gas Shall Pass which he performed as the character Frankini (largely based on himself) in a quarantine-themed musical episode of the Nickelodeon sitcom Henry Danger.
Watch the full Rainbowthon at rainbowthon.com.
To donate to the Center's CARE Fund, visit lalgbtcenter.org/care.