By Greg Hernandez
Joe Hollendoner knew the enormity and the symbolism of the moment.
Last November, more than 300 sustaining donors had been invited to the Los Angeles LGBT Center's Anita May Rosenstein Campus for a celebratory appreciation event to thank them for their ongoing and impactful support during the challenges of the COVID-19 pandemic.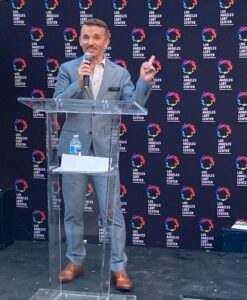 Longtime Center Chief Executive Officer Lorri L. Jean introduced Hollendoner — for the first time at an in-person, public event—as the man who would be taking the reigns of the organization upon her retirement in July 2022.
"Here I am today, standing on this Campus about to become the CEO of this iconic organization, and I am truly moved beyond words," Hollendoner said to the group. "It's a pretty overwhelming thing coming into this organization and to be its new leader on the heels of its incredibly successful CEO like none other our movement has ever seen. There is no better organization for me to fulfill my life's mission than the Los Angeles LGBT Center."
Speaking directly to Jean and retiring Chief of Staff Darrel Cummings Hollendoner then said: "I just want to guarantee you and Darrel that your baby is in good hands."
How A Leader Was Born
Hollendoner led San Francisco AIDS Foundation (SFAF) as Chief Executive Officer from 2016 until he began at the Center in July 2021. During his tenure, he spearheaded the adoption of a new five-year strategic plan in 2019 that prioritized the expansion of health and social services and established racial justice as a fundamental principle to guide the organization's growth.
During his time at SFAF, the organization's revenue grew by 84 percent, and corporate and private donations to support the organization's life-saving services increased significantly.
Prior to leading SFAF, Hollendoner was chief of staff and first deputy commissioner at the Chicago Department of Public Health, the nation's third largest health department.
From 2001 to 2012, he served in several roles at Howard Brown Health, the Midwest's largest LGBTQ health organization, and ultimately became its vice president and chief program officer. While at Howard Brown, Hollendoner was one of the founders of Broadway Youth Center (BYC), a comprehensive health and social services center for LGBTQ+ youth experiencing homelessness.
Hollendoner has been part of the LGBTQ movement since coming out as gay at the age of 16. He got a lot of support from his family at this time but not at his all-boys high school in the suburbs of Chicago.
He shared with the crowd at November's sustaining donor event how a group of guys cornered him at school one day and started calling him anti-gay slurs and throwing punches. He remembered running to the school principal's office with tears and blood rolling down his cheeks and asking: "What are you going to do to keep me safe?" The principal paused and said, "I'm going to pray for you."
"I knew in that moment I had one of two choices: I could either sink into a further depression or I could go get the help I knew that I deserved," he recalled.
Hollendoner went to the public library to do research and found out about a nearby youth drop-in center for LGBT people.
"The moment I walked through the doors, my life changed forever," he remembered. "In that moment, I not only found my community, but I discovered a safe space where I could be my authentic self. It was at that group where I ultimately found my life's mission which was to make sure that no member of the LGBT community ever went without the support that they deserve and that my life's mission was going to be committed to the liberation of all LGBT people."
Hitting the Ground Running
With nearly 25 years of LGBTQ movement leadership, Hollendoner joined the Center in July 2021 with the temporary title of Executive Director and has since been working alongside Jean and Cummings in leading the world's largest LGBT organization.
He quickly began immersing himself in the organization's work and culture. He embedded himself in various Center programs including volunteering at the youth shelter and Pride Pantry, spending time at the Trans Wellness Center, Mi Centro, and Center South, and with seniors at Triangle Square. He even took a cooking lesson alongside Culinary Arts program students in the Center's commercial kitchen.
"I'm so proud that the Center has been able to evolve and innovate its work during the pandemic to make sure that we're responding to the ever-changing needs of our community," he observes. "Not only is the demand high, what we are seeing from our clients and community members is that the needs they are experiencing are more dire and more complex than before the pandemic."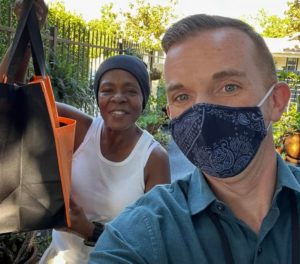 Hollendoner has also been a presence at most of the in-person events the Center has been able to hold during the pandemic and was among the volunteers who personally delivered Thanksgiving meals to the homes of seniors that were prepared by Culinary Arts students and staff members for nearly 900 people.
"When I arrived on my first doorstep and knocked on the door, I was greeted immediately with a warm smile and words of gratitude towards the Center," he shared that day. "To hear all the ways in which the Center had supported them, it just made me feel so much gratitude for the staff and volunteers of the Center and for our clients and the community that we serve."
An Emerging Vision
One of Hollendoner's initial goals has been to address race and gender-based health disparities within the LGBTQ+ community through significant expansion of programming at existing Center community sites.
He has made it a priority to expand the services at the Center's Audre Lorde Health Program and at its Mi Centro located in Boyle Heights with full-time staff members dedicated to the programs. This and a number of other initiatives have been made possible through new multiyear grant funding provided by Gilead Sciences.
"Within my first few months at the Center I met with staff serving on committees for both Audre Lorde and Mi Centro," Hollendoner explains. "The conversations in those two meetings were very similar; staff spoke of how proud they were of what had been accomplished but identified the need for a full-time manager to help truly fully the program's vision. Hearing this feedback and recognizing the importance of these two programs, I left both meetings committed to securing funding to hiring these roles."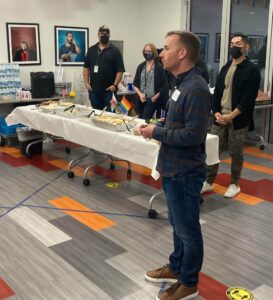 Hollendoner has further displayed a commitment to diversity with the hiring in January of Gerald Garth as the Center's first director of Diversity, Equity and Inclusion (DEI).  Garth is working with Center leadership and staff on creating a racial equity plan to establish actionable and measurable initiatives in every Center department to further the effort of dismantling systemic racism.
When it comes to getting to know some of the Center's nearly 800 employees spread out over 10 locations, Hollendoner has sought to connect virtually when it hasn't been possible to in person.
He personally led Wellness Wednesday virtual sessions for Center staff during the entire month of January when most were working remotely due to a surge of the Omicron variant and launched a Cup of Joe video feature in which he has coffee and casual conversation with a different staff member about their background and their role at the Center.
"As a social worker who spent most of my career in direct service, I know what it is like to be on the frontline and how challenging it can be," he says. "Something that is important to me is that Center employees have the support they deserve to do often unimaginable work."