The Advocate & Gochis Galleries are currently host to a special exhibition featuring the work of artists from the Senior Services program. Introspections, the Center's first senior art exhibition, showcases work from two of the Center's programs, an autobiographical painting class taught by Carly Strauss and a hanging art class taught by Seth Randal.
"A number of folks are experienced artists who have been doing painting and or sculpture work other things," said Michael McFadden, associate director of programs for Senior Services. "For some folks, this is the first time that they ever painted. So, it's just a great opportunity for everyone, newcomers and into existing artists. I've already had people asking, What's the next workshop? Can we do this? We have a couple ideas in mind that we're excited about."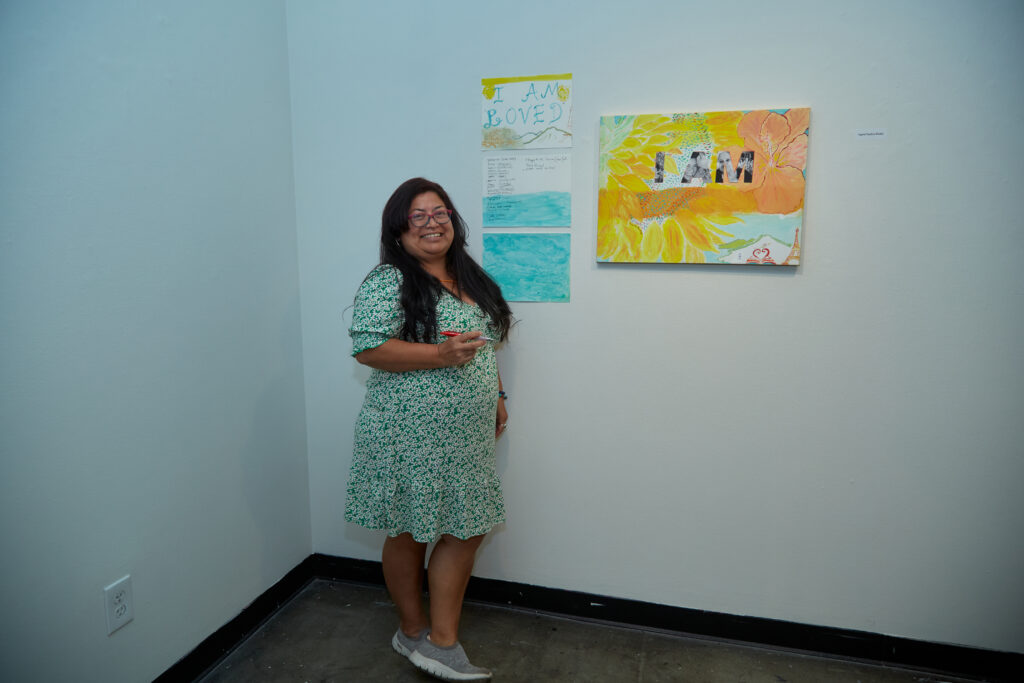 For Ingrid Paulina Rodas, the exhibition created an opportunity to bring her art to life. Her autobiographical piece, titled "Dialog," extended beyond one canvas to allow visitors to fill in the prompt, "I am…" with a single word or phrase. After the exhibition, those answers will be incorporated around the frame of the piece.
"I wanted everyone to be part of it," she said. "Because that's part of who we are as human beings. We like to interact."
The hanging art class, which invited students to create three-dimensional pieces that are suspended from the gallery ceiling, was taught by Seth Randal, a resident of the Center's Ariadne Getty Foundation Senior Housing. Both classes were made possible by grants from the Los Angeles County Department of Arts and Culture and the National Endowment for the Arts.
"For many of our participants, the act of creating art unlocks creativity, facilitates healing, and can be an act of resistance and activism," said Director of Senior Services Kiera Pollock. "Arts programming is a core part of our Senior Services programming to support active aging within our community. Without the support of these grants, we wouldn't have been able to provide these important arts programs to our participants."