Johanna Clearwater has been looking for a place to work where she can be open about being a transgender woman and not face harassment.
She found some possibilities on November 7 when she joined more than 250 job seekers at the Los Angeles LGBT Center's Village at Ed Gould Plaza for the 11th annual job fair for trans, non-binary and intersex people.
"I'm trying to be more forthcoming and work for companies that are for me and people like me," said Clearwater, who spoke with four companies at the fair. "I had really bad experiences tied to my gender. I was living stealth and my information got disclosed by people. It became a very hostile environment."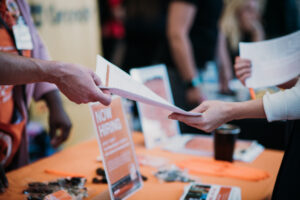 The Center's Transgender Economic Empowerment Project (TEEP) co-hosted the event with the City of West Hollywood and Citi Community Development. TEEP invited more than 40 companies and organizations to participate in this year's fair.
"We really like the diversity of the candidates that we meet here," said Whitney Howard of AEG (Anschutz Entertainment Group). "We have a big array of openings at any given time from part-time seasonal staff to full-time entry level to executive level. We are looking to get our brand out there and getting people to look at the opportunities that we have."
The Broad, the museum in downtown Los Angeles, was at the fair on a diversity mission.
"Like our visitorship, our staff represents a much younger and diverse group of people than a typical museum," said Zach Andrews, a supervisor in visitor services. "Growing on representation and inclusion is a very important thing for us."
"It's really affirming to be around this many trans people at once"
One job seeker named Shane spoke to The Broad about a position as an art preparator and was hopeful about that and a few other conversations with companies and organizations.
He currently works freelance as an artist, guitar tutor, and event bartender but has yet to work full-time for a company on his own terms as a transgender person.
"Now that I am presenting more as myself, it's nice to come to an event like this and, from the get-go, it's understood that we're going to be talking to transgender, non-binary, and intersex people and pursuing them for employment," Shane said. "It's really affirming to be around this many trans people at once—I never get to do that."
Max Loeb (whose preferred pronouns are they/them) was enjoying looking for work as their binary self.
"They can see me dressed as me with nail polish and eyeliner and not judge me," Loeb said. "There are so many different people here presenting as themselves. These companies are supporting it."
They recently suffered through a job where they were required to wear a male uniform.
"It actually helped me realize I'm non-binary because of how masculine and binary the rules were," they said. "Men could not have long hair or nail polish or makeup or any earrings. It was very strict, very rigid, and it gave me a lot of anxiety. I'm looking for a place that actually lets people present as individuals and not as clones of each other."
"Mama needs a job to live"
Heem Black, who has a full beard, showed up at the fair in an eye-catching outfit that included a soft pink headwrap, a colorful blazer, and a faux diamond broach.
"I am truly a vision," joked Black who describes himself non-binary and uses he/him pronouns. "What I'm wearing now is a but cumbersome, but I like to go as my most advanced self so none of this is a surprise when I walk in on the first day."
Black has a Master's Degree in Library Science and has an unpaid job as executive director of the Non-Binary Union of Los Angeles (NEBULA).
"Mama needs a job to live," Black explained. "It's truly been a challenge and how I look certainly does work against me. I have been told 'we went with someone with more experience' even for entry level jobs. We all know what's going on here. You ask why and they never really tell you. They aren't going to be honest. It's always couched in language that makes you feel like you've done something wrong. But they know, and I know, what's real."
Eve Harms began her medical transition less than six months ago and up until then had presented as male at previous jobs. She is currently doing freelance website development and until recently had been using her birth name professionally.
"I was working from home so it was a non-issue, but every time I heard my dead name it felt kind of strange," she admitted. "It felt like double life even if I don't see the clients in person."
The timing of the job fair was most welcome because, Harms said, "transitioning is a very vulnerable place to be."
"If you can eliminate a few of the stress factors that cisgender people don't have to worry about, you are in a better position to not feel so desperate," she said. "You can go about job seeking with a clear mind and talk about what you can offer to an employer."
For more information about the Transgender Economic Empowerment Project, visit lalgbtcenter.org/teep.