Actress and activist Keke Palmer took the stage at the Los Angeles LGBT Center's annual Gala on Saturday, accepting the Center's Vanguard Award for her achievements in the entertainment industry and for her commitment to using her platform to uplift people from marginalized communities.
Palmer was presented the award by Queer Eye star Karamo Brown, who called her "a woman I deeply admire" in his introduction. Palmer reciprocated his admiration, shouting out Brown's trailblazing appearance on The Real World as a source of inspiration.
"You owning who you are as a Black man on national television gave more nuance to what the world now understands is the very beautiful and colorful LGBTQ+ community," she said. "I truly believe you played a major part in changing that in pop culture. Your success brings me such joy."
In her heartfelt and emotional acceptance speech, Palmer underscored her unwavering commitment to the LGBTQ+ community and offered a glimpse into the passion that drives her activism.
Over the years, Palmer has demonstrated her unwavering commitment to the cause, consistently standing up for LGBTQ+ rights and championing acceptance. Through her outspoken support for the Black Lives Matter movement and its intersection with queer and trans rights, Palmer has consistently used her voice to amplify marginalized voices and bring attention to the unique challenges faced by Black women and LGBTQ+ individuals.
On stage, Palmer rejected the constricting labels and boxes put on her by society—and by herself.
"Why did my gender have to define the power that I have in the world? Since I was a young girl, I questioned the boxes I was forced to be in. It starts with who you're supposed to be as a child. Who you're supposed to be as a Black person—or whatever background you're from—Who you want to be as a woman?" she said. "Those walls try to cage you in from every damn angle."
"Who you are as a creative, a friend and even when you decide to choose something, when life evolves you, you feel isolated again stuck in this label that you've designed for yourself. Worried that you are betraying one part of yourself for the other. At least, that's how I felt," she continued. "All I've ever wanted was to be ME! You know?"
Palmer's speech also highlighted the importance of the Center as "somewhere anyone can go to get help, to find community, to find a caring and welcoming place to figure it all out."
"Throughout my career, I have made sure I was advocating for youth to be able to fully express themselves—especially in the media and entertainment industries," she said. "I would like to offer my deepest gratitude to the Center staff who are working on the frontlines to keep our young people safe and celebrated. Sadly, that work feels more urgent than ever. But please know: I am with you!"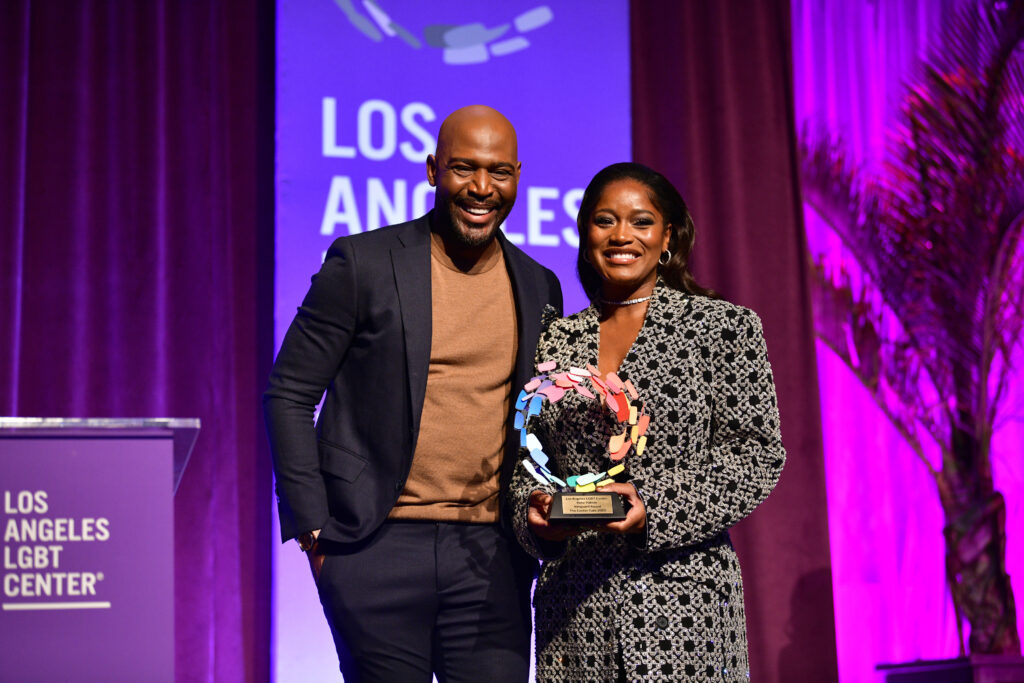 Palmer was recognized at the gala alongside fellow actress and activist Pamela Anderson, and the late comedy legend Leslie Jordan. Jordan's "Call Me Kat" costar Mayim Bialik and his longtime collaborator Del Shores took the stage at the event to introduce the inaugural Leslie Jordan Award for Excellence in the Arts. The evening was hosted by social media star Ts Madison and featured performances by R&B-soul sensation Durand Bernarr.
"As someone who is fighting for our liberation every day, words cannot describe how sickened I am by the wave of anti-LGBTQ sentiment in our country. But as the political attacks worsen, the need for our work and the financial resources to support it increase," said Joe Hollendoner, the CEO of the Los Angeles LGBT Center, who addressed the audience at his first Gala. "No matter how hard they try to take us backwards, the only direction the Center will ever move is forward."
The Center Gala raised over $1 million for the Center's life-saving services dedicated to the LGBTQ+ community. If you'd like to support our mission, you can donate here.