By Greg Hernandez
On his 40th birthday, Los Angeles City Councilmember Mark Ridley-Thomas celebrated at a popular jazz supper club called Marla's Memory Lane, owned for decades by actress Marla Gibbs of The Jeffersons and227 fame.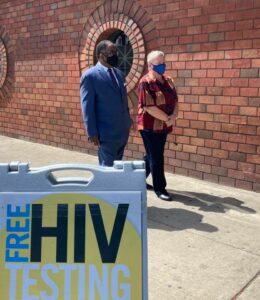 The councilmember, who represents the 10th district, returned to the building—now known as Center South—to tour the transformed space near Leimert Park, meet with staff members, and present an LGBT Heritage Month proclamation to Center CEO Lorri L. Jean.
"I'm proud to recognize the contributions of an organization that is an unstoppable force in the fight against bigotry and the struggle to build a better world right here in Los Angeles," said Ridley-Thomas.
He described Center South as "a welcome and much-needed presence" in the heart of the district with its range of resources and services that predominantly serve the LGBT community and people of color living in South Los Angeles who are disproportionately at higher risk of contracting STIs and HIV.
"As a longtime supporter of health education and health advocacy, I'm pleased to see that the Center is here and ready to take off again," the councilmember said. "I have great hope and great expectation that this will be an asset well beyond what might have been imagined, and I am committed to helping to make it so."
Located on the northeast corner of W. Martin Luther King Jr. Boulevard and 2nd Avenue, Center South opened in January 2020—barely two months before the COVID-19 pandemic hit. The staff has continued providing programs online and has been connecting with the community through Pride Pantry, a program in which bags of fresh produce and dry goods are distributed twice a month.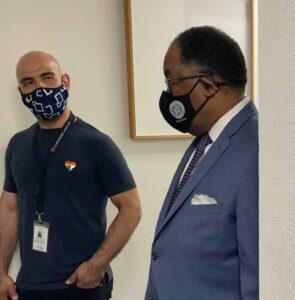 "It's really about community building," said Center South Senior Program Manager David Flores to Ridley-Thomas. "We know that we are very focused on LGBT issues, but we know that, in this area, there are families whom we want to make sure we connect with. They may have a child or an uncle in their family who is LGBT. So, by directly serving them, we are building a rapport."
Programs and services are provided for free or at low cost to everyone with a focus on serving the needs of young gay and bi men of color ages 12 to 29 and trans women of color. In addition to HIV and STI testings, Center South's services include access to PrEP (pre-exposure prophylaxis) and PEP (post-exposure prophylaxis) services; linkage and retention to HIV care; housing and employment navigation; mental health services; legal services; a drop-in space for community meetings and events; and a CyberCenter stocked with new desktop computers, made possible through the David Bohnett Foundation, for community members to use.
The 5,500-square-foot facility recently achieved Federally Qualified Health Center status, resulting in plans to provide health services.
Jean described Center South as "one of the real jewels in the crown of the Center over the last many years. We've been embraced by the community."
In presenting the proclamation to Jean, the councilmember lauded her as "one of the most seasoned and effective leaders in the civil rights struggle around the rights of LGBT people for many years. She's been a transformative leader of the Center."
Jean is retiring in 2022.
"She's worked tirelessly for four decades," he added. "Lorri, thank you for your countless contributions making our community more equitable and inclusive."
Follow Center South on Instagram @centersouth_