By Greg Hernandez
A chance meeting in a hotel lobby three years ago between AJay Komosinski and Paul Nicholls during the White Party Palm Springs weekend resulted in their teaming up for a pair of "Legendary" birthday parties benefitting the Los Angeles LGBT Center.
The pair, joined by Komosinski's husband Karl Wood, recently presented the Center's incoming Chief Executive Officer Joe Hollendoner with a check for the $35,000 raised at a Legendary Ajay Foundation event held last November.
"For my 60th birthday in 2019, I wanted to do something more than just have a party with all my friends," Komosinski told LGBT News Now. "My whole goal was to raise money to benefit the programs at the Center for youth experiencing homelessness. We want to help get people off the streets and in where they can get services and get on the road to success."
The COVID-19 pandemic delayed a second Legendary event until last November when a party was held to celebrate the 50th birthday of Russell Roybal, chief advancement officer of San Francisco AIDS Foundation which teams with the Center each year on AIDS/LifeCycle.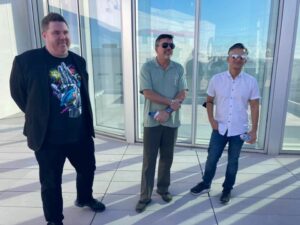 The $35,000 was raised at the party for Roybal while $31,000 had been raised through Komosinski's birthday event three years earlier.
"AJay and Paul are very generous and very community-minded and they want to give back," Roybal explained after the check presentation. "I think the innovative work that the Center does with queer and trans homeless youth is really important and we want to support that. Being able to participate and help them with the event really meant a lot to me. It was a magical experience."
Komosinski and Nicholls said they are determined to "put L.A. back on the map" when it comes to nightlife and philanthropy.
"I think queer nightlife is really important in a sense that it's also been a reason why our community has advanced," said Nicholls. "As queer people came together in safe spaces, it led to our evolution and it's kind of a core part of our culture. I believe it's super important to maintain that part of our culture and at the same time give back to our community."
Nicholls, director of promotions for both Rocco's and Heart in West Hollywood, is proud to have the Center benefit from these first efforts.
"I always use the Center as an example of the strength and power of our community," he said. "LGBT people are unique in the sense that we're always minorities—even within our own families. It really shows how our community comes together and the Center really is that beacon of what we're capable of as a community when we support each other and work together and we remember to give back. In a way it represents our family, our broader family as LGBT people."