John Platania and Lillene Fifield—two pivotal figures from the early days of the Los Angeles LGBT Center—took the stage at the Greek Theatre during the Center's 50th Anniversary Hearts of Gold concert to connect today's Center with the one they helped shape decades ago.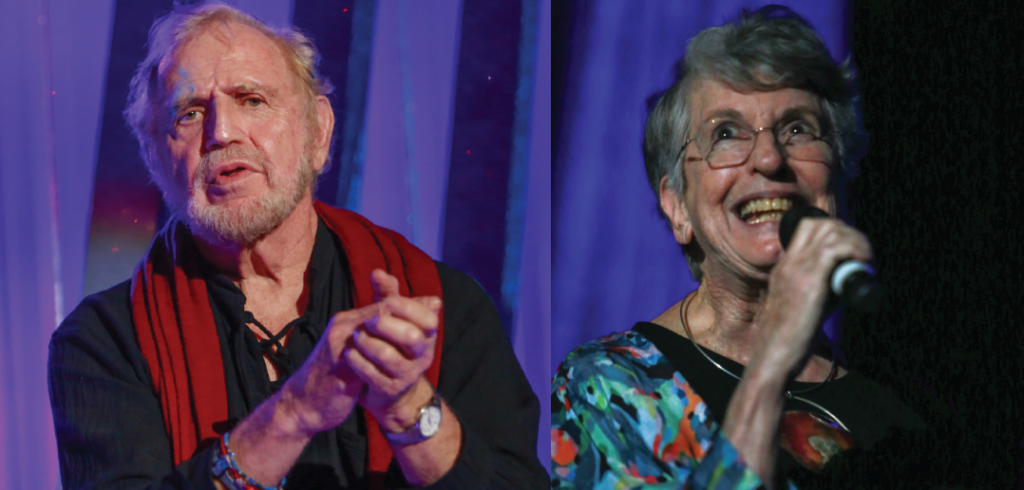 Founding board member Platania was first to put the key in the door when the Gay Community Services Center, as the organization was named then, opened its first headquarters in a run-down Victorian house on Wilshire Boulevard in October 1971. Early services including legal help to anti-Vietnam War protesters, peer rap groups, and STD testing and treatment. Platania also jokingly refers to himself as the original "housemother: in one of the Center's first Liberation houses, which provide room and board for homeless youth for $1.50 a day.
"We wrote a proposal before the Center ever opened and it included a vision of what the Center might be," he recalled. "The proposal stated that we'd have senior citizen housing, youth programs, a medical clinic. We had about $250 at the time. People said, 'Well, you have certainly been smoking a lot of dope. That's never going to happen.' It has all happened. It's so magnificent to have a dream become a reality.
Platania, who moved to Berkeley decades ago, considered the Center's celebration of its five decades "the biggest and most important kind of political statement that we could possibly make."
"I feel safe here tonight—I don't care who hates me," he said. "I know who loves me. And that's what our queer power is all about: Who loves you? Who's your family?"
Fifield traveled from her home in Oregon to take part in the anniversary festivities and described herself as "blown away" when she toured the various Center locations, including the new Anita May Rosenstein Campus, during the week leading up to the show at The Greek.
"I couldn't have imagined the Center would ever grow to be what it is today," she said. "It's beyond my wildest dreams, my best fantasies. I couldn't be more delighted, more excited."
Fifield became involved in the Center after a trip to Fire Island, where she kissed a woman in public for the first time then later had a life-changing epiphany.
"I found myself so angry I was jumping up and down screaming: 'Dammit! I have a right to my place on this planet!'" she recalled. "I got back to LA and I heard this rumor about there this funky old Victorian and I went to check it out. Sure enough, it said Gay Community Services Center out front. I walked in, I met Founding Executive Director Don Kilhefner and Founding Board Member Morris Kite and we talked for several hours. I was tired of how it had been and my dream was being presented to me right there."
Fifield decided to roll up her sleeves and get involved and even changed her college studies to master program design, program evaluation, and grant writing. She went on to succeed in getting a $1 million grant for Center to establish the Alcoholism Program for Women in 1974.
"It was the first time any gay, lesbian, or women's organization had ever gotten that amount of money," pointed out Fifield who authored the landmark 1975 study, On My Way to Nowhere: Alienated, Isolated, and Drunk, an Analysis of Alcoholism in the Gay and Lesbian Community.
"Need is the engine that ran the Center," Fifield added. "Every program developed because not only was there a need, but people who came in with that need stayed and volunteered and helped. The Center will always be there to satisfy need and the Center will always be there to continue progress."