By Greg Hernandez
It was tough emotionally for Clarence R. Williams to watch as others took to the streets this summer for Black Lives Matter marches and demonstrations.
He channeled his feelings into a poem he titled I Could Not March in which he wrote in part:
There will always be 
driving while Black,
shopping while Black,
jogging while Black,
and bird watching while Black.
And yes, Barbecues with loud music, Skittles, and ice tea.
 Allies, will you still stand after the photo ops
and Twitter feeds die?
Will you stand in the truth of justice and righteousness?
Or will you simply return yourself under the rock
of broken promises and complicity.
Williams (pictured, above) shared his poem on a Sunday afternoon in August during the finale of the My Life is Poetry workshop attended by more than 80 people virtually. The workshop has been offered to seniors for the past 15 years by the Los Angeles LGBT Center's Senior Services. However, the COVID-19 pandemic made meeting in person impossible this year so the 25 participants and their teacher, Steven Reigns, met virtually for five weeks to share and critique each other's works in progress.
"I am a person of a certain age with underlying medical issues," Williams explained. "By the time the class started, I had not been out into the world since March 13. It allowed me to have connection and not feel as isolated and allowed me a creative outlet which I did not have in my day-to-day life."
Students are taught how to excavate past experiences and turn them into poetry during the workshop created by Reigns, the poet laureate of West Hollywood from 2014 to 2016.
As the first of its kind in the country, the class is supported by a grant from the City of Los Angeles Department of Cultural Affairs.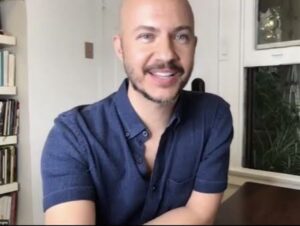 "I've always felt as if this workshop was vital in terms of documenting experiencing and creating community," shared Reigns (pictured, left). "With COVID-19, it felt more important than ever."
The poems have always been developed in what Reigns describes as a supportive and safe environment, both creatively and emotionally. Having to meet online this year didn't change the dynamics with participants who took part virtually from their kitchen tables, home offices, or couches.
"It's important for me that this workshop remained a safe space for others to explore and express details in their lives," he said. "The workshop being virtual seemed to increase feelings of safety and levels of disclosure. I'll never stop being in awe of the work created in this class. The poems are filled with craft, creative risk-taking, reflection, and care."
Life's challenges during a pandemic and the emotions sparked by the Black Lives Matter movement were the two most common topics covered.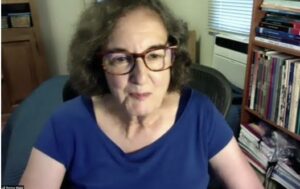 Ronna Magy (pictured, left) wrote of Los Angeles during the pandemic as "living in the margins of connection" and not being able to dine at her beloved Metro Café.
Remember his Serbian mother's soup with white beans?
The pieces of ham simmered in one pot.
Homey bones you could suck and then leave on the plate.
Thick pieces of bread dipped in red pepper sauce.
For that meal alone, one would return from the dead.
To sit at one of those tables again and muse with a friend is all I would ask of LA these days.
David Parke Epstein wrote candidly about the ongoing difficulty of isolation during the pandemic entitled No One's There which begins:
I'm 71
Prime meat for Killer Virus-19
So I hide from death
Inside three rooms
Two blocks
Southwest of
Hollywood and Vine
I sit alone
In quarantine
Five months
Vacuum-sealed
On a hard wood chair
Locked down
Half-crazed
For love and penetration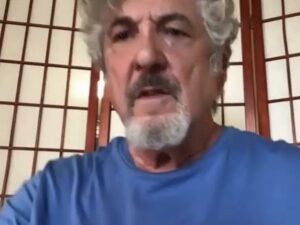 Epstein (pictured, right) had taken the class a dozen times before and was impressed by the strong, authentic work of his classmates during these tough times. He is grateful for the experience.
"I've known some of these people for 10–12 years, and you become friends with them," he said. "As a senior in isolation, it was reassuring to be online with people I've known for years. That familiarity was comfortable."
"It's unreal the kind of life that we're living," he added. "I knew I had to do something with these feelings. Honesty about my isolation was a way for me, in the end, to connect with people in my community. All of us were experiencing this quarantine. Everyone was in such a heightened emotional state because of the quarantine. Each week we were able to express ourselves."
Lainey Levitt had never taken the poetry workshop before but jumped at the chance since she had so much extra time at home.
"I have always enjoyed the written word, and this class really got me going again with writing," Levitt said. "We still managed to form a sense of family, of being together. It was really encouraging and great to listen to more accomplished writers."
Of her teacher Reigns: "He's a sly cat. He helps in a very subtle manner—subtle but direct. He's uncanny that way. He's very good at picking up on significant lines, and that's basically the way you start writing: one line or one stanza at a time."
To learn more about the Center's Senior Services, including upcoming activities and workshops, visit lalgbtcenter.org/seniors.