Today, the Los Angeles LGBT Center calls upon Bobby Cagle, director of the Los Angeles County's Department of Child and Family Services (DCFS), and the County Board of Supervisors to stop their intentional neglect of LGBTQ youth in the foster care system.
Thirteen years ago, the County abandoned the LGBTQ youth under its care when it stopped funding the system's only LGBTQ+-specific services. Despite expressly agreeing in the years since that such services are critical to properly care for and keep these youth safe from harm, and contrary to explicit promises to the Center and the State of California that they would remedy this situation, the County has failed to act.
"All we've seen from Bobby Cagle are empty promises," said Los Angeles LGBT Center CEO Lorri L. Jean. "The appalling consequences for LGBTQ youth have been dire, including emotional trauma, torture, and even death. Yet, the very agency responsible for their care and protection, knowing this for many years, has done nothing to change the situation. This intentional neglect must stop! The County knows that at least 1 in 5 youth under their care are LGBTQ; and 90% of these are youth of color. They know, too, that their failure to properly care for these youth is actually causing them irreparable harm. Yet, they can't manage to take even the simplest step of asking the Board of Supervisors for the resources necessary to prevent LGBTQ+ foster youth from a life of suffering. This shocking dereliction of duty is inexcusable. Queer youth of color are not expendable! It's time for our County to do whatever is necessary to save the lives of LGBTQ foster youth."
According to research commissioned by the Center and conducted by UCLA's Williams Institute in 2014, approximately 20% of foster youth identify as LGBTQ and more than 90% of them are youth of color. Other studies have indicated that as many as 30% of foster youth identify as LGBTQ. There is no dispute that LGBTQ youth are overrepresented in Los Angeles County's child welfare system yet there is zero investment in programs and services specifically for them.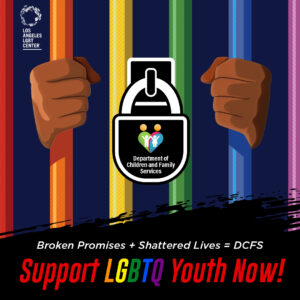 "DCFS has failed LGBTQ youth by denying them life-saving services," said the Center's Youth & Family Connections Manager Jo Cerda. "They need services and programs specifically designed for them to exist in the foster care system and enter the world as healthy, equal, and complete members of society. The failure of DCFS to provide culturally competent services to LGBTQ youth of color is causing actual harm to these youth. Our children are suffering and dying under the DCFS watch. They deserve better."
Amid the high-profile child fatalities of Gabriel F. and Anthony A., two youth under the care of DCFS who were tortured and murdered for their gender expression and perceived sexual orientation, the Center attempted to work with DCFS to prevent future horrific acts like these and to establish LGBTQ-specific services. In response to a DCFS request, the Center created a County-wide plan that detailed an achievable, comprehensive, and efficient approach to provide LGBTQ+-specific services, including positive identity development programs, mental health services, and case management. In response to a State audit into the death of Anthony A., DCFS promised to implement such vital services. Yet, DCFS has refused to allocate a single penny to the LGBTQ+-specific services that are necessary to prevent LGBTQ+ foster youth from irreparable harm.
"When LGBTQ youth end up in the foster care system, they deserve to find a social worker who understands them, aligns them with programs that affirm their identities, and addresses their unique needs in a nurturing way," said Erica Rodriguez, a Center clinician who provides direct mental health services to LGBTQ foster youth. "DCFS came to the Center and asked us for a plan. We presented a plan, yet DCFS has failed to share it with the Board of Supervisors for approval. Director Cagle and his DCFS staff need to act now before another youth dies."
The Los Angeles County Board of Supervisors has direct oversight of DCFS and Director Cagle. Contact your Supervisor now and demand that DCFS and Director Cagle immediately fund and provide LGBTQ+-specific services so our LGBTQ foster youth have the opportunity to live safe, healthy, and productive lives.
Take action by finding your Supervisor, contacting Director Cagle, and staying connected at lalgbtcenter.org/DCFS.