Today the Los Angeles LGBT Center began to administer the first batch of the Moderna COVID-19 vaccine to its frontline workers, including Health Services staff members and the Security and Facilities workers who support the Center's various health care sites.
The Center followed the requirements from the Los Angeles Department of Public Health in administering vaccine to frontline health care workers during Phase 1 of the vaccine rollout in Los Angeles. The Center received 400 total vaccine doses in this first batch and will continue to follow all requirements for future dissemination of vaccines.
"This is a momentous day—a pivotal time for us to help combat the deadly surge of COVID-19 cases in Los Angeles and beyond. Since the pandemic began, our dedicated frontline workers helped to keep our Center open for those in our community who rely on us. This vaccine will help us in that fight," said Center Health Services Co-Director Dr. Ward Carpenter. "I strongly encourage everyone to educate themselves and consider taking the vaccine—when given the opportunity—because it is the only way to defeat this highly-contagious virus, to save lives, and to bring normalcy and joy back to our lives."
The Center—the world's largest provider of programs and services to LGBTQ people—secured refrigeration units required to effectively store the vaccine and was approved earlier this month to serve as a vaccine distribution site. Adhering to all guidelines, the Center then began planning the vaccination rollout with first priority given to frontline workers.
The vaccines were delivered to the Center on Monday morning.
"I'm extremely hopeful that we are on the path to end the pandemic. As a Black man living in America, I have seen my community disproportionately impacted by COVID-19," said Health Services Quality Coordinator Keith Leach, the first Center employee to receive the vaccine. "I know firsthand just how dangerous COVID-19 can be. People whom I care about have been affected by the virus—it's hit me very close to home. I knew I needed to get the vaccine to protect myself and, hopefully, to show others that they should do the same. Getting vaccinated is essential to our wellbeing and our future."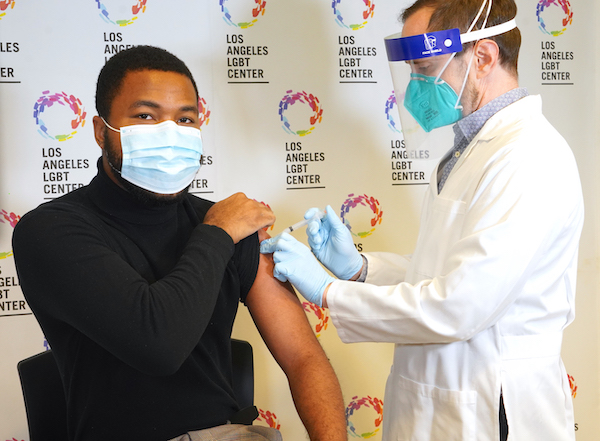 There is no live virus in the vaccine, according to health professionals, and it is not possible to contract COVID from the vaccine. People may experience a sore arm, fatigue, headache, muscle and joint pains, and body chills lasting two days on average.
"The pandemic has killed more than 9,000 Angelenos already and sickened more than 700,000," said Dr. Carpenter. "While some of us may be uneasy about receiving the vaccine, it is our only way back to the life we all remember: to holidays with family, to working side-by-side, to hugs, and to so many other things that make life worth living. This is our chance."
The vaccine does not provide full protection until after the second dose is administered 28 days after the first dose. Additionally, it is not yet known how effective the vaccines are in preventing asymptomatic spreading of COVID-19. Everyone, including vaccinated staff, should continue to maintain social distancing, wear face coverings, and practice frequent hand washing.
To amplify its support for COVID-19 vaccination, the Center will launch a social media campaign. Those who plan to receive the vaccine are encouraged to tag @lalgbtcenter on social media and using the hashtag #VDay.