Nurse Manager Rachel Bachar wasn't expecting to have smoked chicken with vegetables, rice, and salsa verde for lunch on Tuesday.
But she and other Los Angeles LGBT Center Health Services employees got just that (or tofu for vegans) when gourmet lunches from Border Grill restaurant were delivered to the Center's McDonald/Wright Building.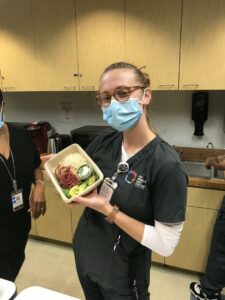 "Everybody works really hard here and we've been doing a lot to support the community through this COVID-19 pandemic," Bachar (pictured, right) said. "It was so nice to have them reach out like this to take care of everybody."
Business Office Manager Eric Rodriguez described the lunchtime gesture as "very nice and very sweet. It's nice to know that people care."
The lunches came with a written message from Border Grill owners Susan Feniger and Mary Sue Milliken: "Thank you for all you are doing to keep our community safe and healthy. We appreciate you!"
Feniger also serves as Co-chair of the Center's Board of Directors.
The Center is one of the nation's few Federally Qualified Health Centers with providers who specialize in care for LGBTQ people. A vast majority of routine appointments are currently taking place via telephone or online resulting in less traffic within the four-story building to help keep everyone safe.
"You just take one day at a time," Rodriguez said of working during the pandemic. "Patient care doesn't stop, and you have to keep going."
The lunchtime surprise was arranged through Human Resources Roundtable's Community Clinic Association of Los Angeles County. They have teamed with Border Grill and World Central Kitchen to provide lunch to healthcare heroes during the pandemic.
In all, 160 lunches were delivered to Center employees at the McDonald/Wright building, Center WeHo, Center South, and Trans Wellness Center.
"We definitely wanted to provide meals here for the essential workers here at the Center," said Human Resources Manager Angel Moreno."We wanted to show our appreciation to every employee who is coming in and providing the services that are critical here."