By Dan Allen
For Marissa Marqusee, the Los Angeles LGBT Center's global reputation in healthcare was so powerful that they moved to Southern California in 2018 with one specific goal in mind—to work at the Center. "Really the only reason I came out to L.A. was to pursue a career at the Center," says the Potsdam, New York native, who had been working as a nurse within Brooklyn's shelter system treating people experiencing homelessness. "If I didn't get it, I probably wouldn't have stayed." Fortunately, within six months of Marqusee's arrival, the Center did wisely hire them, and they began working as a nurse within the Transgender Health Program and Audre Lorde Health Program (ALHP) in 2019.
By the time ALHP's former Medical Director Dr. Kaiyti Duffy assumed her post as the Center's Chief Medical Officer last October, she knew well of Marqusee's talents and vision, and tapped them for the brand-new role of Program Manager for ALHP. Marqusee likens it to a rebirth for the program, which had struggled somewhat with direction and visibility since its inception in 2015. "Now having a dedicated person, myself, to help facilitate this program, I think it's really going to set us in a good forward motion," says Marqusee of their new role, which they took over in March.
We spoke to Marqusee about ALHP, its importance to the patients it serves, and their expansive goals for its future.
ALHP was originally known as the Audre Lorde Lesbian Health Program, and of course lesbian healthcare is still a huge part of its mission. But transgender and non-binary healthcare are important parts of what it does now too, is that right?
 Yes, that's right. I think over time—sexual orientation and gender identity have really transformed—so there are all these different layers of community. People who have identified as a woman or girl at some point in their lives, trans women included, as well as people who have a uterus and people who have a cervix—they have special healthcare needs, and to not exclude them by just saying the Audre Lorde Health Program kind of encompasses that community in a more affirming way. But that doesn't mean that we don't prioritize lesbian, bisexual, and queer healthcare—people who identify in those spaces, this is the place for them.
Transgender and non-binary healthcare are things that binary people often understand very little about. Could you talk about some of the unique healthcare needs of trans and non-binary people, and how Audre Lorde meets them?
Of course. Part of my goal working at the Center, and my passion for the work that I do, is I am an openly lesbian-identified non-binary person. And in my education, in my adolescence, I did not have anybody who looked like me, who identified as I did in a professional setting, in medical settings, or in school settings. And so going through my training, in wanting to care for people, and then being the person I am, I see the lives of my patients through this holistic and intersectional lens. Knowing that going to a clinic and seeing somebody that looks like them, having somebody who can ask the right questions in a respectful way, building that trust in a healthcare professional so that they can pursue health equity—this all means they're in charge of their health, they understand what's happening, and they can be open and honest, which oftentimes in visits for people who are transgender or LBQ, there are providers who will just not provide medical care for them, and it's because they don't understand those people's lived experiences. And that discrimination, it makes people shy away from seeking help, and things like cervical cancer screenings are really important for people who have a cervix. If you don't have a trusting relationship with your medical provider, knowing when to ask for that, or to show up at the right interval for some sort of screening test, it can really deter people from just routine health maintenance. The special thing about the clinic and the providers at the Audre Lorde Health Program is that they are of the community, and they do have these trusting relationships where the patients can come in and they can ask for the things they need. They can advocate for themselves because they have somebody who's willing to listen, who can understand, and when they talk to them, they don't have to explain themselves. It's this understanding that somebody who's had the same experience has had.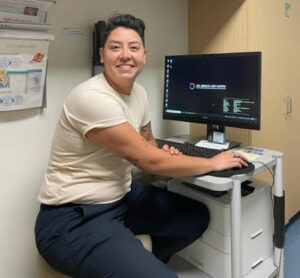 Would you say those same things apply for lesbian healthcare as well?
Absolutely. If you don't understand the sexual practices that your patient who identifies as lesbian is participating in, you're not able to ask about health risks, you're not able to address any sort of intervention in any sort of need. The most important thing I think lesbian-identified patients need from their providers is to not have to explain themselves. Because you don't want to go into a medical appointment where you're asking for information and taking the time to give all that information just for the person to be able to make that determination for you. That's a unique need for lesbian, bisexual, queer, and trans women. Sexual pleasure for people isn't often talked about, like safe sex practices that are catered towards this community are not normalized enough in medicine. So those things get overlooked.
Since you welcome anyone who has identified as female at any point in their journey, that must include some patients who now identify as men.
Yes, we are a welcoming space for transmasculine trans men, and non-binary, gender non-conforming patients. Trans men need cervical cancer screening if they have their cervix. And even if you have top surgery, there's still breast tissue in the chest, and there are specific, special needs that need to be addressed for them at that point in their lives as men. So having a trauma-informed medical provider who can affirm the gender in which you feel most comfortable, as well as understanding that there's still healthcare needs that have to be addressed, Audre Lorde Health Program is great about that. We have this male doctor who is well versed in LBQT healthcare, and who does pelvic exams for trans men, where a pelvic exam has been traditionally thought of as like a gynecological, women's-health-type thing. But to be able to have a man provide this kind of personalized care for you, it actually brings more gender affirmation that it's a healthcare thing, not a gendered healthcare thing. They then have the space that they can be in that feels comfortable and empowered.
I'm guessing that you must also see patients whose identities evolve along the way, and that you're still able to treat them.
Yeah, and that's really important, and something that the Center is very good at. The gender spectrum is really non-existent in my mind, because that's creating a binary sort of scale. Really one of the first things I learned at the Center is that it's a gender journey, and that it changes, and that it's up to the individual. A lot of what sets us apart from other clinics is that it's really a patient-driven health program, that these things do change, feelings change. And whatever presentation that manifests into, whatever way the patient feels the most comfortable at every step, we're aware and affirming, no questions asked.
You've worked in the past with people experiencing homelessness. Has that work continued at the Center?
Yes, we have a lot of patients who experience homelessness, whether it's chronic homelessness or just housing instability. Even if they don't have a place with four walls and a roof, our patients still need to access health care, they still have chronic conditions that need attention, and there's a room for them in our clinic. We treat them and care for them just like anybody else.
Do you do any kind of outreach to them to let them know that you're there?
Dr. Kaiyti Duffy and I did a health fair outreach at a women's shelter in Skid Row in downtown L.A. We did education about cervical cancer screening, breast and chest health, diabetes, high blood pressure, and offered services and information to come to the clinic and access those services, and we want to continue doing outreach like that.
Have you implemented any big changes at ALHP since becoming program manager, or do you have anything planned?
Yes, I have big hopes for the Audre Lorde Health Program. You know, I didn't even realize in my nursing career that I had spent so long looking for a community of like-minded people to work with. It was always hard to find that because part of what I want to do is be inclusive of aspects of sexual and reproductive health care, and a big part of that for me is addressing the need for abortion access, and how that is an LBTQ issue. And with all of the legislation that's going on around that and trans health care, I'm hoping that I can implement some sort of medication abortion program with Dr. Duffy. After the Supreme Court's decision to overturn Roe vs. Wade this summer, we know the time is now, and that the clock is ticking. To be the biggest and the best LGBT center in the world, we need to be able to offer full-spectrum services, and part of that is having a home to access abortion, to be in charge of the health care that they want. And if this is the place that's safe for them, they should be able to get it from us. So that is a big goal for me, something that I'm really striving for. Bisexual women and queer women need abortions too, and if we don't offer it, it is a way of erasing that community's need.