By Greg Hernandez
With far fewer people riding buses or trains these days, LA Metro is doing its part to keep people connected during the coronavirus pandemic through a series of virtual Community Conversations highlighting certain neighborhoods, such as Chinatown, Little Tokyo, and the San Fernando Valley.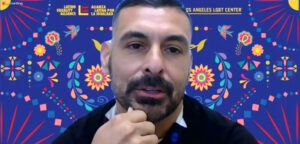 On February 3, the focus was on Mi Centro, the Los Angeles LGBT Center's eastside location managed in partnership with the Latino Equality Alliance (LEA).
"Some people may think Mi Centro is just for LGBTQ," LEA Executive Director Eddie Martinez (pictured, left) pointed out to viewers. "We are a very inclusive space, and very welcoming, to any folks who need help."
Martinez was joined by two Center leaders:  Director of Strategic Initiatives Alan Acosta and Youth & Family Connections Manager Jo Cerda.
"One of the purposes of Mi Centro is to ensure there is visibility for queer people on the eastside," Acosta explained. "I think having a place where people can come and be their full selves, and not have to leave anything at home or behind, and express who they are—that is what has driven us."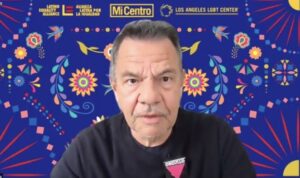 "On the one hand, we wanted to provide services to LGBTQ people. But, on the other hand, we wanted non-LGBTQ people to know that we're here, we exist," Acosta (pictured, right)  added. "People who are not LGBTQ are looking for help in dealing with family members [coming out]. We've been really surprised and happy that we have seen very, very little of that resistance that we thought we might get."
Located at 553 S. Clarence St., between the 4th and 6th Street bridges, Mi Centro is housed within City Labs Boyle Heights. Services include HIV testing, mental health, legal services, immigration and housing support, transgender support services, youth and senior programming, and family counseling and empowerment programs. Health care services, including primary care, are slated to be offered in April.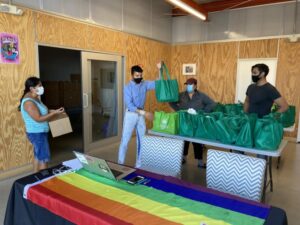 Mi Centro has also become a space for community gatherings and, since the pandemic began, a Pride Pantry where residents can pick up fresh produce and dry goods every Friday for free.
"Pride Pantry was useful to help with the U.S. Census and education about COVID-19," Martinez said. "There was a kiosk for people to complete the Census. We were able to provide PPE [Personal Protective Equipment] and talk about how to stay safe."
Mi Centro's steadfast presence in the neighborhood and its outreach efforts has helped reduce stereotypes about the LGBTQ community.
"When folks, allies, come into the space, they say 'I never knew LGBT folks were just like us. This feels like family,'" shared Cerda (pictured, left). "There's this misconception that it's all about the party scene and being promiscuous. It's really nice to be a myth buster. At the end of the day, it's just a space to be able to build community, build education, receive information, and have a sense of family. It's like an extension of your own family dinners or get-togethers. Really, just come in as you are."
While Mi Centro provides a space for LGBTQ youth to feel safe and empowered, it also provides space for their parents to get involved. This includes monthly Familia Afortunadas meetings, a Spanish-language support group for parents who have a child or loved one who is part of the LGBTQ community.
"I wanted to create a safe space for all folks to come into the conversation authentically and say whatever it is they feel," Cerda said. "Let's bring this conversation into our community and welcome folks to be able to be vulnerable, to be themselves, to come in without having this agenda of 'I have to come in and know the proper terms, or I have to be able to feel a certain way because I'm going to be judged for not knowing, or saying, hurtful things.'"

For more information about the Center's services and locations, visit lalgbtcenter.org
You can watch the entire Community Conversation below: