Popular YouTube personality MacDoesIt quickly declared himself the ideal person to host the Opening Session of the Los Angeles LGBT Center's 28thannual Models of Pride conference because of this year's theme: Fierce, Fabulous, Free.
"I like to live my life authentically, and I think that's what makes me fierce and so that's why I am your host today," he explained. "Fierce, fabulous and free. You think of that, you think of Mac, right?"
MacDoesIt remarked that he had to get up a little earlier than usual for the hosting gig but didn't have to leave his house since the world's largest free conference for LGBTQ youth and allies ages 12–24 was being streamed globally for the first time.
The ongoing COVID-19 pandemic made it impossible to gather on a college campus as in previous years, yet the shift made it possible for nearly 1,000 youth, parents, and professionals from among 34 states and eight countries to take part in the two-day virtual event held Nov. 14 and 15.
"I see people from Singapore, South Africa," MacDoesIt said as he read Facebook comments live. "We got Utah, we got Germany, we got Sweden, Canada. Hello, Texas! Hello, Scotland! Arizona! Turkey! No matter what you're here for, know that you belong here. This space is for you. It is your time, it's your safe space. Be free, be yourself, be authentic, find some new friends."
Organized by the Center's Youth Development program, the conference offered 25 life-enriching workshops and presentations designed to help young people build confidence and self-esteem and develop valuable life skills. The Parent & Professional Institute portion of the conference offered workshops for parents, caregivers, educators, social service providers, and other youth-serving professionals.
Center CEO Lorri L. Jean spoke to attendees about the damaging, anti-LGBTQ policies of the Trump administration and said the energy and activism of young people is still needed as President-elect Joe Biden prepares to take office.
"We continue to work for change, for equity, for representation, and for full inclusion," Jean said. "But we can't do it alone. We need help. We need you. As young people, you have more power than you know. By living your most authentic life, by spending some of your time giving back to your community, you can change the culture and change the world."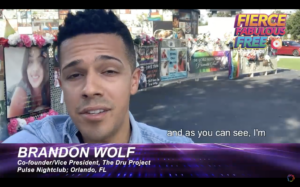 The Opening Session also featured a pre-recorded segment entitled The History of Resistance with guest speakers presenting from four significant locations nationwide, including two early sites of protests against anti-LGBTQ mistreatment and brutality: The Black Cat nightclub in Silver Lake and The Stonewall Inn in New York City.
Brandon Wolf, a survivor of the 2016 Pulse Nightclub shooting, appeared from the Orlando site where 49 people were killed and 53 others wounded. He spoke of losing two of his best friends in the shooting and how he has become a national advocate for LGBTQ civil rights and gun safety reform.
"I wasn't sure that my voice would matter, that my one story would make a difference," he said. "But the reality is, it's our collective stories, our collective voices that cultivate change in this country. So be that change. Organize, mobilize, rally your communities."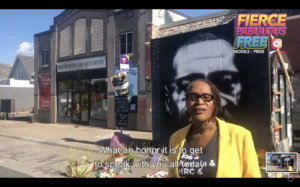 Andrea Jenkins, an openly trans member of the Minneapolis City Council, appeared from her city in front of the George Floyd Memorial. She spoke about the intersection of Black Lives Matter and the LGBT community.
"When Black, trans women are safe, we all are safe," Jenkins said. "We must lift up the most marginalized in our society. It is up to us to be the change we want to see in the world."
Emmy winning writer, creator, productor, and actor Lena Waithe participated in the conference as a panelist for Amazon Studios' discussion Queer Leadership in Entertainment. Waithe, creator of the current hit shows The Chi, Boomerang, and Twenties spoke about the process of bringing ethnic and LGBTQ diversity to the screen and how it creates more opportunities.
"It's about these communities seeing themselves," she said.
"There's always a fight, but we have a little more of an advantage at this point. We get to kind of go in there and say, 'Hey, we want to tell this story and you know why? Because you don't have this story on your streaming service, on your network—and that is unacceptable. I'm not asking for a handout. I'm asking you to listen to how dope this is.'"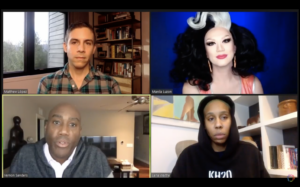 The panel, moderated by Manila Luzon of RuPaul's Drag Race, also included Vernon Sanders, co-head of television at Amazon Studios, and playwright and screenwriter Matthew López whose acclaimed play, The Inheritance, had award-winning runs on Broadway and London's West End.
Sanders pointed out that the new generation of diverse storytellers are getting themselves noticed on their own terms.
"Young people are not waiting for Hollywood to give them permission to tell their stories," he said. "Because of technology, because of social media, we're out here looking around and seeing who's influencing culture before they are officially in some deal. I think it's only going to grow more over time."
Models of Pride wrapped up with its always popular Entertainment Hour which featured trans actress, host, and singer Roxy Wood as emcee and performances by surreal world performer Matthew "Poki" McCorkle; comedian and drag performer Greasy Bouffanti; American Idol Season 14 finalist Rayvon Owen; instrumentalist and hip-hop artist Mike Xavier; music artist and songwriter Tish Hyman; and book author, astrologer and psychic medium, and podcast host Jessica Lanyadoo.
To watch or re-watch Models of Pride's Opening Session, which featured a standout performance by America's Got Talent Season 15 semifinalist, Celina Graves, and to see the Entertainment Hour, visit modelsofpride.org.