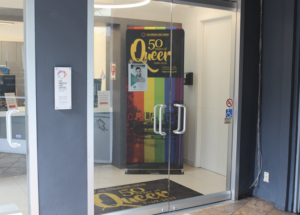 Nearly four years after openings its doors along Santa Monica Blvd., the Los Angeles LGBT Center's West Hollywood location is now operating its own pharmacy on-site. Medications for shorter-term treatments, such as antibiotics, can be dispensed there and most often in seven-day increments. Clients can also pick up their refills at Center-WeHo instead of the Center's main pharmacy located in the McDonald/Wright Building or at a retail pharmacy.
"We've always been able to administer medication for clients, but we could never give them anything to take with them on the spot," explained Nicole Thibeau, the Center's director of pharmacy services. "Now we can."
Center-WeHo provides HIV and STI testing and treatment, PrEP (pre-exposure prophylaxis), and PEP (post-exposure prohylaxis). One of the Center's biggest initiatives is to increase the number of PrEP prescriptions; Center-WeHo's pharmacy is key to achieving that goal.
"Our clients can now leave Center-WeHo with PrEP on the same day," said Thibeau. "And by having a pharmacist on-site, they will feel encouraged to stay on their regimen because there's that extra level of monitoring and adherence."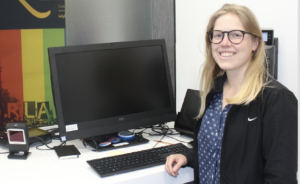 Pharmacist Samantha Christie has been working full-time at the Center-WeHo pharmacy since July 1. She is able to have private, face-to-face consultations with clients about HIV drug regimens and their side effects.
"Our clients are pretty excited about having access right away to start their medications," Christie says. "Getting their insurance cleared at a retail pharmacy can result in a day or two without medication—medication which needs to be started immediately. At the Center-WeHo pharmacy, that barrier is now gone."
For those being treated at Center-WeHo or at the Center's Jeffrey Goodman Special Care Clinic in the McDonald/Wright Building, the pharmacists have an extra level of access and can contact a client's doctor easily, if needed. Contrary to other pharmacies outside of the Center's network, they can also review clients' medical records and charts.
"A client can come in, talk to Samantha, and review their medications. She can see everything else they're taking at our pharmacy and talk to them about it," said Thibeau. "Having a pharmacist at Center-WeHo adds an extra level of client care."
Center-WeHo, located at 8745 Santa Monica Boulevard on the second floor above Gym bar, is open Monday thru Friday, 11 a.m–2:30 p.m. and 4–7 p.m.
HIV and STI testing services are available on a walk-in basis or by appointment by calling 323-993-7500. For additional information about Center-WeHo, visit lalgbtcenter.org/WeHo.