Tessa Villegas has made a tradition of watching the LGBTQ cult classic movie But I'm a Cheerleader each year on National Coming Out Day, October 11.
She was especially excited about it this year because she got to join more than 250 people on the rooftop of the Hollywood parking structure located at 1400 Ivar Ave. behind the Cinerama Dome and ArcLight Hollywood for a drive-in screening presented by the Los Angeles LGBT Center and Lionsgate.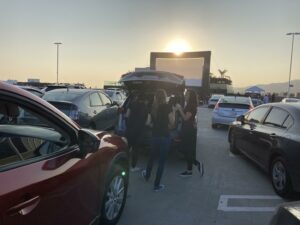 "I grew up in Kuwait so when I got to the United States, one of the things that I learned about gay life was cult movies like this," Villegas explained before the movie began. "I got into it, fell in love with it, and had to show it to my friends."
Her friends, Taylor Rutherford and Terra Caruso, were not only excited to see the movie for the first time, but they were happy to be outdoors seeing a movie—period—during the COVID-19 pandemic.
"Even if you're not sitting closely with other people, we're in an environment right now where we know we're all family in a way, we're all community," Rutherford remarked. "So, it's nice that we're all gathered here for the night."
Known as OUT Under the Stars, the socially-distanced event took place during the 20th anniversary of the film directed by Jamie Babbit and starring Natasha Lyonne, Clea DuVall, Cathy Moriarty, RuPaul Charles, Melanie Lynskey, Eddie Cibrian, and Michelle Williams, among others.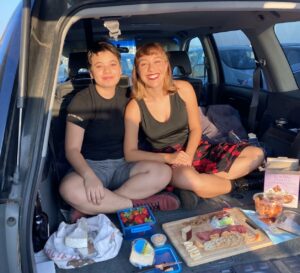 The whimsically edgy comedy tells the story of a high school cheerleader whose life is upended when her parents suspect she may be a lesbian. They send her to a strict "rehabilitation" camp where she tries to follow the program but soon develops feelings for another female camper.
"It's the first lesbian movie I'd ever seen. I think it's really well done, and I like that aesthetic of it," said attendee Tina Tsoiasue as she enjoyed a cozy pre-movie picnic with Jessamy McQuinn from the back of their car.
"It's a cult classic," Tsoiasue said. "This is the fourth time I'm seeing it but the first time on a big screen—and not at home on a computer screen."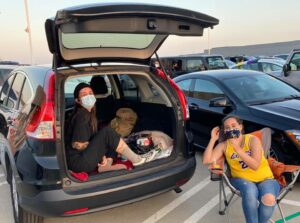 Kyra Kaesemeyer brought her childhood friend Monique Gutierrez to the event because Gutierrez had not seen the movie before.
"This is a lesbian movie, and I'm gay, we're gay. This is just a perfect opportunity to be socially distant but also just be part of the community and watch an awesome film," Kaesemeyer said. "I'm pretty paranoid about COVID-19, and I haven't really been able to do any gay outings. But, I feel super safe here."
Heather Schuster and fiancé Vanessa Herman decided to go all out for the occasion and purchased one of the limited VIP packages that included socially distanced premier outdoor seating in front of the screen and a picnic package with snacks and wine for two.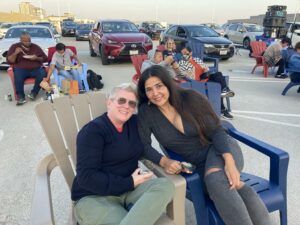 "I'm newly out so Coming Out Day has extra meaning for me," Herman shared. "This is great. It feels safe and fun, and the Center has done a great job in organizing this in a way that we feel really comfortable."
Center CEO Lorri L. Jean was also among those in the audience. "It's so exciting to be out of our backyards and to be able to come and have a socially-distanced, fun, entertaining evening," she remarked.
The occasion led her to reminisce about past drive-in experiences.
"When I was in high school, I drove a 1967 Ford Galaxie 500, and I could fit four girls in the backseat," she remembered. "And then I could hide more girls in the trunk to bring them into the drive-in!"
While the movie attracted a heavily lesbian crowd, there were also plenty of other people in attendance.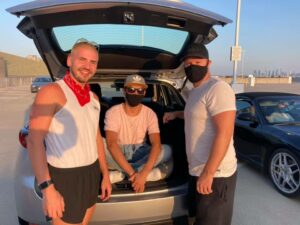 "I wanted to see a drive-in movie because I haven't been to one in like 50 years," joked Francisco Medina as he tailgated with two male friends. "It's such a great idea to enjoy the fresh air, be out here with your friends, and do something different.
The drive-in crowd was the first audience to see a new director's cut of the movie which includes a few additional scenes.
"I uncovered some amazing lost scenes that I wasn't able to include in the original film and am so happy to see them added back into this cut," Babbit said in a pre-recorded Q&A with cast members Lyonne and DuVall preceding the screening. "This film is so special to me, and I can't wait for everyone to fall in love with it all over again."
"To be part of something in this life where young girls were coming up to us and saying, 'Maybe it's okay that I am who I am in this life.' It's crazy that it has that kind of power," Lyonne shared.
DuVall still hears from fans who tell her the movie "helped them feel like they had a friend who was like them before they had a community. It's very powerful."
Proceeds from OUT Under the Stars benefited the Center's work to continue providing vital programs and services to those who need it the most during the COVID-19 pandemic.